ASCONA LT108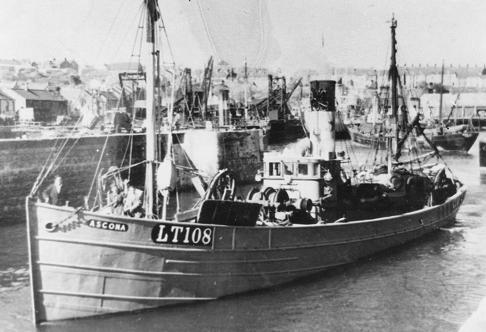 Courtesy of Robert Kettle
Official No: 149226 Port and Year: Lowestoft, 1930 (LT108)

Description: Steel side trawler; single screw, coal burning. Drifter. Ketch rigged.

Crew: 9

Built: 1930, by J. Chambers, Oulton Broad. (Yard no. - )

Tonnage: 138 grt 59 net.

Length / breadth / depth (feet): 98 / 20.6 / 10.4

Engine: T 3-Cyl. 280 bhp. Engine and boiler: Crabtree & Co., Great Yarmouth

Owners:

Mar 1930: N. G. & W. J. Utting, Lowestoft

1945: Vigilant Fishing Co., Lowestoft

c.1953: Norrard Trawlers, Docks, Milford

Landed at Milford: 2 Mar 1953 - c. 1970

Skippers: Jack Chenery ('King Jack'); Charles Manthorpe; Jack Clarke

Notes: 13 Nov 1939: Requisitioned by the Admiralty and converted to a minesweeper (P.No. FY.949)

Nov 1945: Returned to owners.

25 Oct 1957: Went to Lowestoft to be converted to diesel.

7 Mar 1958: Returned to Milford, under Skipper C. Manthorpe.

1970: Broken up at Blythe.
Accidents and Incidents
From the West Wales Guardian of Friday 19th June 1953:

A five ton haul of "blubber", which landlubbers would call jelly fish, caused a broken mast on the Milford drifter-trawler "Ascona", which returned to port on Tuesday after only three days fishing. The weight of the jelly fish in the trawl bag as it was hauled in caused the forestay to part, bringing down the mast. Fortunately, no one was hurt in the accident which might have been serious.

The "Ascona", under skipper Jack Chenery, returned to port and grossed £311 from her catch of fifty nine kits.

~~~~~~~~~~~~~~~~~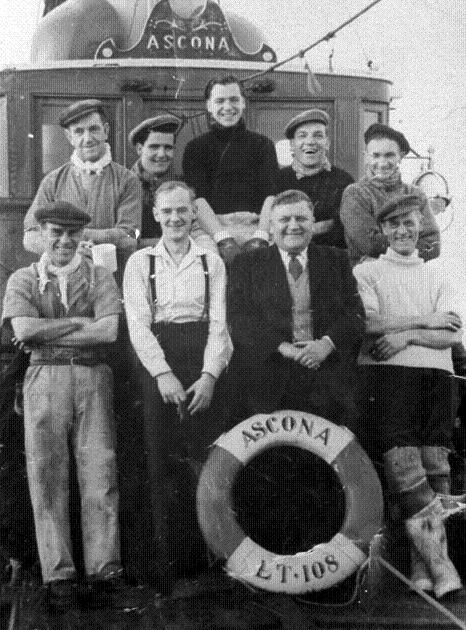 L to R, back row: Ch.Eng. George Read (5 Glebelands, Hakin) , Bosun Gordon Bennett (2 Mount Villas, Steynton), Deckhands Alun Funge (47 Priory Road, Milford) and Frank Reynolds, Deckhand Trimmer John White (Observatory Avenue, Hakin)

Front row: 2nd Eng. John Peek (65 Meylor Crescent, Milford) Cook Wilfie Reek (47 Robert Street, Milford) Skipper Jack Chenery (King Jack), and Mate Ted Chillendon (44 Marble Hall Road, Milford)

Taken for the West Wales Guardian of Friday 26th November 1954

John Stevenson Collection

~~~~~~~~~~~~~~~~~~~~~~~~~~~

From the West Wales Guardian of Friday 25th October 1957:

Another Milford trawler, the drifter Ascona, owned by Norrard Trawlers Ltd., is on her way to Lowestoft for conversion from coal burning to diesel. Work on the vessel will be carried out at LBS Lowestoft, and she is expected back in Milford early in February.

This is the second Norrard trawler to be converted in the last year, the other being the Latania. The Company, one of Milford's most successful and enterprising in the drifter-trawler class, also owns a modern diesel ship, Norrard Star, which was built at Pembroke Dock last year, and the coal burner Lord Suffolk.

The drifter Ascona will be back just in time to start the Trevose season.

~~~~~~~~~~~~~~~~~~~~~~

From the West Wales Guardian of Friday 28th February 1958:

Fourteen weeks after leaving Milford Haven to be converted from coal burning to diesel, the drifter trawler Ascona has returned with a new look. Owned by Norrard Trawlers Ltd., the ship now has a streamlined funnel and bridge, and is reported to have behaved outstandingly well on her fishing trip round from Lowestoft.

She was converted at the LBS Lowestoft, and is the second Norrard vessel to be modernised, the other being the Latania. The firm also owns the diesel trawler Norrard Star.

The Ascona, in charge of Skipper C. Manthorpe, is due to land on Monday.

~~~~~~~~~~~~~~~~~~~~~~~~~

From the West Wales Guardian of Friday 23rd June 1961:
DIED ON DECK OF TRAWLER
80-YEARS-OLD SKIPPER
Minutes after the trawler Ascona dropped anchor mid-stream in Milford Harbour on Thursday night, an 80 years old member of her "skeleton" crew, retired skipper Wm. Griffiths, 1, Hakinville, collapsed and died on the deck.
The trawler, in charge of skipper Jack Ryan, had been taken out of dock into the stream at 11.30 p.m. ready for her sea-going crew to join her in the morning. Mr Griffiths was standing near the winch when just after the anchor was dropped he suddenly collapsed and died within a few minutes.
Loud blasts on the trawler's siren indicated that she needed help and her call was answered by skipper Dick Hannaford, who was on watch on Milford Tug Services tug Cleddia, lying at the Mackerel stage.
He went off to the trawler to investigate and returned at once to inform the authorities what had happened.
Dockmaster Captain George Thomas informed the town police and a Milford Conservancy Board launch was used to convey Mr Griffiths's body ashore.
The deceased was a well known figure in the port and despite his age was remarkably active. He leaves a son and daughter to whom sympathy is extended.
...............
[ Mr Griffiths' nickname was "Oilcan Billy" ]
~~~~~~~~~~~~~~~~~~~~
From The Irish Times of Tuesday 11th September 1962, p.5:
FISHERMAN BROKE ARM IN WINCH
While the British motor trawler Ascona, registered in Lowestoft, was fishing off the Wexford coast on [Monday?], an unidentified Welsh member of her crew became entangled in the winch as the net was being hauled on board. He was being dragged around the barrel when one of the crew [reached?] the winch and stopped it. The fisherman's arm was broken and he received other injuries also. The Ascona made for Milford Haven, Pembrokeshire, South Wales, where, in response to a radio message, a doctor was standing by.
~~~~~~~~~~~~~~~~~~~~~~
From the West Wales Guardian of Friday 21st May 1965:
Mr Billy Owens, deckhand of the drifter trawler "Ascona", met with a painful accident when the drifter was fishing off the Smalls on Wednesday. A slip hook flew off the gallows and split his nose. Skipper Charles Manthorpe immediately returned to Milford, and Mr Owens was put ashore for treatment.
~~~~~~~~~~~~~~~~~~~~
From the West Wales Guardian of Friday 13th December 1968:
IN DRY DOCK.— Dry docked almost in the heart of Gloucester is the Norrard Trawling Company's drifter Ascona. She arrived there yeaterday in charge of Skipper Jack Clarke for repairs to her bow, damaged some weeks ago in an accident at the dockhead. It is hoped that the Ascona will be back in service by Christmas.
~~~~~~~~~~~~~~~~~~~~~~~~
From the West Wales Guardian of Friday 5th June 1970:
Last Voyage
Two veteran trawlers of the Norrard Company's fleet left the port on their last voyage on Wednesday night, bound for the breaker's yard at Blyth, Northumberland. In charge of the Lord Collingwood and Ascona on their last trip were Skippers Walter Robson and Jack Utting. The Company hope to replace both vessels.
Back to Other Registrations A-H