LOUISE SA50
BAHAMA FD414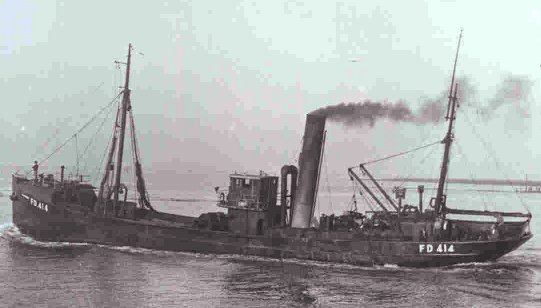 Courtesy of Fleetwood Maritime Heritage Trust and The Bosun's Watch
Official No: 124720 Port and Year: Swansea, 1907 (SA50)

Fleetwood, 1917 (FD120)

Fleetwood, 1925 (FD414)

Description: Steel side trawler; single screw, coal burning. Ketch rigged

Crew: 11

Built: 1907, Smith's Docks Co., North Shields. (Yard no. 353)

Tonnage: 270 grt 98 net.

Length / breadth / depth (feet): 125.7 / 22.1 / 12

Engine: T 3-Cyl. 75 rhp. Shields Engineering Co., North Shields

Owners:

As LOUISE SA50

Aug 1907: Colonel Arthur Thomas Slooett, Paignton

Mrs Marion Louise Ryde, Godalming

Manager: Crawford Heron

13 Mar 1913: George Hogarth Douglas Birt, Docks, Milford.

1917: Taylor & Tomlinson, Fleetwood.

Renamed BARON L DONNY

Feb 1920: M.J. vander Eb & Dresselhuys, Scheepvaart Maats, Rotterdam

Manager: J. Nierinck, Ostend.

5 Oct 1922: Jules H. Nierinck, Fleetwood

Renamed TOM MELLING FD414.

1925: Melling Steam Trawlers Ltd, Fleetwood

Manager: Henry Melling

Renamed BAHAMA

1932: Alexander Keay, Fleetwood J

31 Jan 1941: J. Marr & Son Ltd, Fleetwood

4 May 1942: The Crampin Steam Fishing Co., Grimsby

Manager: H. G. Crampin

Mar 1945: Pettit & Youds, Docks, Milford.

Manager: Frank L. Youds

[Information supplied by "The Bosun's Watch" website.]

Landed at Milford: As LOUISE: 19 Mar 1913 - 6 Aug 1914

As BAHAMA: 29 Jun 1945 - 20 Jan 1957

Skippers: W. H. Cherrington (1945); Matt Owston (1949); Victor Thomas (1956)

Notes: August 1914: Requisitioned by the Admiralty and converted for minesweeping duties (Admy. No.144)

1915: Admiralty Number became 965.

1920: Returned to owners.

Nov 1945: Ran aground on Berehaven Island. [See story below.]

Apr 1949: In collision with P & Y. [See story below.]

1956: Broken up at Brugge, Belgium.
Accidents and Incidents
From the Haverfordwest & Milford Haven Telegraph of Wednesday 26th February 1913:

Two of the best of the local fleet of steam trawlers have been time chartered by the government for mine / trawling operations and training, such as those conducted at the leading fishing ports during recent years. They will be fitted out in the same way as those that visited Milford last year, and the charter extends for a period of twelve months. The Raywernol (Mr. G. H. D. Birt) is one of these, and has already been delivered at Pembroke Dock, whilst the other trawler, Xylopia (Sellick, Morley and Price), was brought back last week from Fleetwood, and is being prepared. We are pleased to hear, however, that Mr. Birt is adding another trawler to his fleet, viz., the Louise from Swansea, sister ship to the Marion, which was recently acquired from that place. Both these vessels are of the best class

~~~~~~~~~~~~~~~~~~~~~~~~~

From the Haverfordwest & Milford Haven Telegraph of Wednesday 22nd October 1913:

On Friday morning a wire was received by Mr G. H. D. Birt, owner of the steam trawler Louise, from the skipper who had put into port of Berehaven, Ireland, stating that a serious accident had occurred to Walter Insole, deckhand, who by some means had got his leg entangled round the bollard. After being landed he was conveyed to the North Hospital, Cork, some forty or fifty miles distant. A subsequent message stated that it had been necessary to amputate the leg below the knee and that the operation had been successful, and the patient bore it well. Further news was eagerly awaited.

On Saturday morning, we regret to say a telegram from the hospital told the sad news that the young fellow has passed away. Insole was only eighteen years of age, and until lately was a cleaner in one of the Great Western Railway sheds. He had made a few pleasure trips on a trawler recently, but this was his first trip as a fisherman on the Louise. The circumstances are distressing as a few years ago his father died suddenly on the dock. Much sympathy is therefore felt for his widowed mother and family who reside in Starbuck Road.
Back to Other Registrations I - P
From a local newspaper, probably the West Wales Guardian of Friday 12th October 1945:
Another drowning tragedy occurred in Milford late on Thursday. The victim was trawler fireman Jack Lyons, who had been making his home in Trafalgar Road. Mr Lyons, an Irishman was a fireman on the steam trawler "Bahama", owned by Messrs Youds Bros. The vessel was standing outside the dock waiting to proceed to sea when the fireman fell overboard.
~~~~~~~~~~~~~~~~~~~~
From the West Wales Guardian of Friday 9th November 1945:
Two Milford trawlers went on the rocks in bad weather off the Irish coast this week. On Monday morning the steam trawler "Bahama", (Pettit & Youds) came to grief on Berehaven Island. All the crew are safe, and the vessel so little damaged that it will be refloated on the next tide. Skipper Cherrington is the master, with a crew of fourteen........
~~~~~~~~~~~~~~~~~~~~
From the West Wales Guardian of Friday 22nd April 1949:
Two of Messrs Pettit and Youds steam trawlers collided in thick fog off St.Ann's Head at noon last Saturday. The vessels concerned were the "P&Y", returning for repairs after being aground off Ireland, and the "Bahama", outward bound for the fishing grounds.
Both vessels were damaged, but the "Bahama" returned to sea on Tuesday after repairs. There were no injuries to any of the crews. The respective masters were Skipper Matt Owston, Johnston (P&Y), and W. Reynolds, Stratford Road, (Bahama).
~~~~~~~~~~~~~~~~~~~~~~~~
From the West Wales Guardian of Friday 24th August 1956:
At Milford Sessions on Wednesday, Victor Thomas, 61 Observatory Avenue, was summoned as Master of the steam trawler Bahama for failing to return to the sea 26 stone of undersized haddocks. The prosecution was brought by the District Officer of the Ministry of Agriculture and Fisheries, Commander J. E. P. Brass.
Skipper Thomas did not appear, but was represented by Stanley Brown. The result was that Skipper Thomas was fined £5, the minimum cost was £10, and the defendant was ordered to pay one guinea towards them.
Back to Other Registrations A-H