BURNHAVEN LT164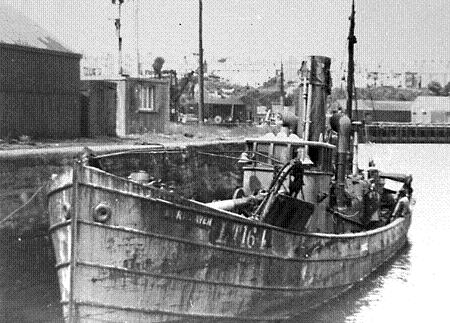 John Stevenson Collection
Official No: 137722 Port and Year: Buckie, 1922 (BCK73)

Lowestoft, 1945 (LT164)

Description: Admiralty Steel Drifter / side trawler; steam screw, coal burning. Ketch rigged.

Crew: 10

Built: Alexander Hall & Co., Aberdeen, 1918. (Yard no. 558)

Tonnage: 92 grt 38 net

Length / breadth / depth (feet): 86.2 / 28.5 / 9.2

Engine: 42 rhp

Owners:

As GUST

12 Oct 1920: Ministry of Agriculture & Fisheries.

Renamed BURNHAVEN BCK73

1922: R.Irvin & Sons, North Shields

W. Flett, Findochty.

As LT164

1945: Arthur C. Mitchell & Others, Docks, Milford.

c.1947: Frank A. J. Beckett, Milford.

Later: Merchants (Milford Haven), Docks, Milford

Manager: Cecil G. Lewis, 'Ivynook', Point Fields, Hakin.

Landed at Milford:28 Feb 1947 - 10 Aug 1952

Notes: 6 Dec 1918: Launched as minesweeper GUST (Admy.no. 3981)

12 Oct 1920: Ministry of Agriculture & Fisheries.

1922: Sold to mercantile

30 Aug 1939: Requisitioned by Admiralty for transport duties (harbour service) (P.No. FY.1607)

Jan 1943: Fleet Air Arm (torpedo recovery vessel).

1945: Returned to owners.

5 Aug 1955: Broken up at Llanelly.
Accidents and Incidents
From the West Wales Guardian of Friday 16th January 1953:

We understand that there was a very good attendance and a long discussion at a special meeting on Thursday night of Merchants (Milford) Ltd., an organisation set up by local fish merchants to purchase trawlers to supplement landings. Of the authorised share capital of £50,000, only £20,000 had been subscribed, but Merchants Ltd. have three drifter trawlers, and one boat of a pair which is now tied up.

It was pointed out at the meeting that if the increased capital required is forthcoming, the Company will purchase a pair, use the Agnes Nutten as a crabber, and bring the three drifters Twinkling Star, Genius and Burnhaven back to the port for as long a period as possible. It is hoped that the small shareholders will increase their holdings and that further investment will be made by businessmen on the Docks and in the town.

~~~~~~~~~~~~~~~~~~~~

From the West Wales Guardian of Friday 5th August 1955:

Mr. Desmond Donelly (M.P.) saw Sir Louis Chick, Chairman of the White Fish Authority, and as a result is hopeful that the Government may underwrite the whole of the extra costs involved in the latest increase in coal prices.

Meantime the situation remains grave. On Wednesday morning, two more drifter trawlers left for the scrap yard at Llanelly. They were the Burnhaven, owned by Merchants (Milford Haven), built at Aberdeen in 1918, and the Paramount, owned by Messrs. Harry Eastoe Rees. She was built at Selby in 1916.

This brings the number of ships at Milford Docks to 55, of which 15 are at present laid up, so that only 40 vessels are now operating.
Back to Other Registrations A - H