CONSTANT STAR LT1158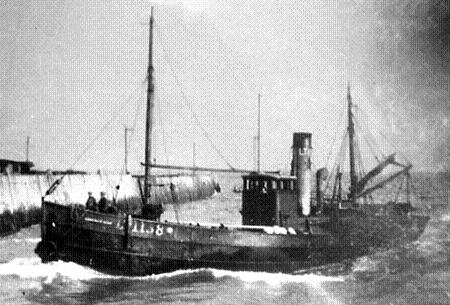 John Stevenson Collection
Official No: 132943 Port Number and Year: Lowestoft, 1911 (LT1158)

Peterhead, 1949? (PD38)

Description: Steel side drifter / trawler; steam screw.

Crew:

Built: Selby, 1911

Tonnage: 98 grt 43.13 net;

Length / breadth / depth (feet): / /

Engine:

Owners:

c.1930s : Star Drift Fishing Co., Lowestoft.

1939: Fred Ingram & Others, Docks, Milford

1946: United Trawlers, Docks, Milford

Manager: M. Laboa

As PD38

1949: William Foreman & Others, Peterhead

Landed at Milford: 24 Apr 1939 - 5 Apr 1949

Skippers:

Notes: Aug 1915: Requisitioned by the Admiralty and converted to a boom defence vessel.

1919: Returned to owners.
Accidents and Incidents:
From the West Wales Guardian of Friday 17th December 1948:

Twenty-one out of Milford's fleet of ninety-two trawlers are now idle, six of the smaller class boats having tied up this week owing to the present uneconomic trading conditions. On the face of it this is a very gloomy Christmas picture, but beneath it all is a feeling of confidence in the industry.

Owners of the eight trawlers tying up this week - Lord Cecil, Loyal Star, Cassiopeia, Poseidon, Constant Star, Framlingham, Lavenham and Lord Anson - will be taking the opportunity during the present "low" in the industry to repair and re-equip their vessels, and it is good to know that two of the ships which have tied up, the Ellesmere (Crescent Company) and Milford Prince (Milford Trawling Company), have been crewing up, and will return to sea again within a day or two after a six week stoppage.
Back to Other Registrations A - H