DAWN SPRAY LT465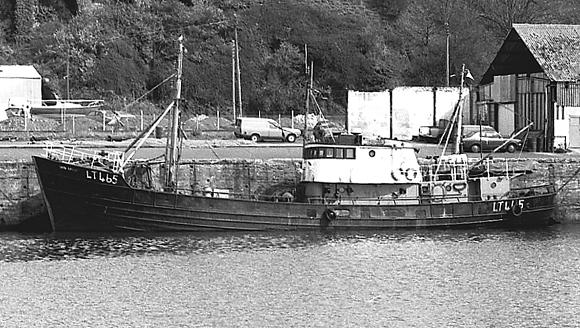 John Stevenson Collection
Official No: 185677 Port and Year: Yarmouth, 1952 (YH61)

Lowestoft, 1972 (LT465)

Description: Steel side drifter trawler; single screw, oil burning. Cruiser stern.

Crew: 12 men

Built: 1952, by Richards Iron Works, Lowestoft. (Yard no. 410)

Tonnage: 114 grt 46 net.

Length / breadth / depth (feet): 87.8 (96.5 oa) / 20.6 / 9.5

Engine: 6-Cyl. 360 bhp. = 10 kts. Engine by Ruston & Hornsby

Owners:

As OCEAN STARLIGHT YH61

1952: Bloomfields, Great Yarmouth

Manager: Cecil F. Mayo

Post 1963: Small & Co., Lowestoft

Managers: Hobsons (Lowestoft)

Renamed NEPTUNUS

1967: Danish owners.

Renamed DOLFIJN.

1970: Unknown owners.

Renamed STOIC LT465.

1972: P. F. Catchpole & Others, Lowestoft.

1976: Warbler Fishing Co., Lowestoft.

Renamed DAWN SPRAY.

1982: Putford Trawlers, Lowestoft.

1987: Norrard Trawlers, Docks, Milford.


Landed at Milford: Dec 1986 - c.1990

Skippers: Frank Reynolds (1986)

Notes: 1976: Converted to safety vessel for off-shore installations.

1982: Converted to a side trawler.
Accidents and Incidents
From the Fishing News of the week beginning 1st December 1986:
'SPRAY' SETS OUT
The revitalised Milford Haven fishing industry received a major boost this week when the recently-acquired Dawn Spray (LT465) sailed on her maiden trip from the port under the command of Skipper Frank Reynolds.
The 8oft. trawler, originally built in 1952 by Richard Ironworks Ltd. of Lowestoft, [as] Ocean Starlight, had recently been purchased by Norrard Trawlers at the port.
Dawn Spray was previously employed as an oil rig standby vessel and was owned by Putford Trawlers at Lowestoft.
The 114-ton vessel will be joining two other trawlers owned by Norrard at the port, Norrard Star and Bryher.
Two other trawlers purchased by Southard Trawlers last year, Anguilla (LT67) and Antigua (LT150), are also being made ready for sea.
~~~~~~~~~~~~~~~~~~~~~~~~~~~~~
From the Western Telegraph & Cymric Times of Wednesday 12th March 1986:
Port Watch
by the Rev. Andrew Hackett
..............
Following reports of several weeks ago that the fishing licence for the Milford-based trawler Dawn Spray has been sold, she has since returned to trawling using the licence transferred from the Norrard Star. ..... [which] is undergoing major engine repairs.
~~~~~~~~~~~~~~~~~~~~~~~~~~~~~
From the Fishing News of Friday 10th June 1988:
.................
Milford Haven has suffered another setback recently with the sale of one of its vessels with her pressure stocks licence. Norrard Trawlers, a sister company of Southard, sold Dawn Spray (LT465) due to financial pressure but the company hopes it may be able to buy back the licence in the future.
Norrard, along with Southard trawlers, bought Dawn Spray in 1986 from Putford Trawlers of Lowestoft.
The immediate future of Dawn Spray is uncertain but it has been suggested that she will be converted to long lining to fish for non-pressure stocks. It is believed the vessel will remain in Wales under her new owners.
~~~~~~~~~~~~~~~~~~~~~~~~~~~~~
From the Western Telegraph & Cymric Times of Wednesday 22nd March 1989:
Mate sailed without 'bit' of paper
Milford Haven magistrates criticised the Department of Transport on Wednesday after the leading trawler owning company in the port and one of its skippers appeared before them.
Norrard Trawlers and the skipper of the Dawn Spray, Mr. Anthony James, of Thornton, near Milford Haven, both pleaded guilty to a charge brought by the government department of not having a qualified second officer on board the trawler which sailed from the port on February 19th and returned three days later.
According to the regulations, the mate should have had a Class Three certificate issued by the Department of Transport. The mate who joined the trawler, David Picton, had previously been certificated by the department on for occasions.
But the only way he could have got his clearance was by travelling to Cardiff and as the weather had cleared, the trawler was ready to go to sea. The previous mate was ill, the magistrates were told.
Both Norrard Trawlers and Skipper James were each fined £50 and the magistrates dismissed a claim for £250 costs.
...................
~~~~~~~~~~~~~~~~~~~~~~~~~~~~~
From the Western Telegraph & Cymric Times of Wednesday 15th November 1989:
TRAWLER FISHES FOR UNUSUAL CATCH
A Milford Haven's trawler has literally become a sprat to catch a mackerel!
The Dawn Spray, which was bought for the port three years ago, has gone back to sea after a brief period ashore and is now fishing for gurnards which are sold for bait.
Even though the small, pink-coloured fish is edible, it is mainly used to bait lobster pots both in this country and the continent and the five-man crew on the 30-year-old Dawn Spray has been successful in catching large quantities in the Irish Sea.
...............
The 85-feet long boat, built in Lowestoft as a drifter trawler, was laid up for a few weeks earlier this year.
~~~~~~~~~~~~~~~~~~~~~~~~~~~~~~~~~~~~
From the Fishing News of Friday 15th March 1991:
Lay-up looms for Milford company
The issuing of redundancy notices to 30 shore based workers at Milford Haven has raised fears that the port's oldest firm, Norrard and Southard Trawlers, will soon lay up its seven aging trawlers.
Ways are being sought out [sic] of financial difficulties facing the firm, which has been hit by shrinking quotas and soaring costs. But the problems of the trawler firm are seen as 'the tip of the iceberg' at the troubled Welsh port.
..................
The Milford Haven company is the remains of a once powerful fleet that made the Welsh harbour a top landing port 30 years ago.
.................
Meantime it appears inevitable that Norrard's seven vessels — Norrard Star, Bryher, Antigua, Anguilla, Kinellan, Gilmar and Dawn Spray — will be laid up until a solution to the present crisis is found.
[In May 1991, only the Kinellan and Gilmar were still fishing; the other vessels were laid up.]
~~~~~~~~~~~~~~~~~~~~~~~~~~~~~
From the Western Telegraph & Cymric Times of Wednesday 12th February 1992:
Trawler's sale to pay dock dues
One of Milford Haven's trawlers is being sold to settle outstanding dock dues owed to the Milford Docks Company.
The Dawn Spray, one of seven trawlers previously operated by Westward Trawlers Ltd., now in receivership, is the only one of the fleet now up for sale which does not have a full fishing licence, but which can fish for shellfish and a number of other species.
The Milford Haven Port Authority announced this week that the vessel would be sold to recover outstanding dock dues of £2,600.
................
Several inquiries had already been received for the trawler, which can fish for roker, prawns and dog fish. The Dawn Spray is 88 feet long and has not fished since 1st July.
~~~~~~~~~~~~~~~~~~~~~~~~~~~~~
From the Pembrokeshire Telegraph & Cymric Times of Wednesday 18th March 1992:
Trawler fleet is sold to Ireland
BY JIM SMITH
Milford Haven's fleet of seven trawlers has been sold to Ireland and will leave the port shortly,
Even though the administrative receivers, Cork Gully — representing the creditors of the previous owning companies — refused to make any comments on the sale of the trawlers it is known they will shortly go to both Northern and Southern Ireland.
This follows the recent announcement by the government that decommissioning grants for the vessels will now be considered.
The trawlers include the Gilmar, which has been leased to the Milford Haven Port Authority and has been successful since returning to sea with its local crew. They have now been laid off.
The Gilmar, Kinellan, Dawn Spray, Norrard Star, Bryher, Antigua and Anguilla, were stopped from fishing last summer when the owning companies went into liquidation.
All the vessels have since been for sale and it was only the Gilmar which went back to sea — earning an estimated £1,000 a day.
..................
Port Authority manager, Mr. Mike Hyslop, said they were now hoping to encourage the new owners to operate the trawlers from Milford Docks and to, hopefully, employ local crews.
Back to Other Registrations A - H