ROSE HILDA YH73
DAWN WATERS LT90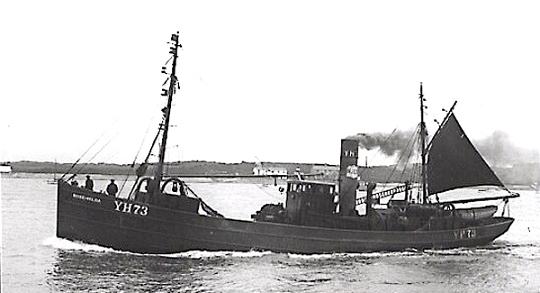 As ROSE HILDA YH73
Courtesy of Fleetwood Maritime Heritage Trust and The Bosun's Watch
Official No: 161631 Port and Year: Yarmouth, 1930 (YH73)

Lowestoft, 1954? (LT90)

Description: Steel side drifter trawler; single screw, oil burning.

Crew: 10 men

Built: 1930, by Fellows & Co., Great Yarmouth. (Yard no. ?)

Tonnage: 124 grt 50 net.

Length / breadth / depth (feet): 92.3 / 20.1 / 11.6

Engine: T.3-Cyl. 33 rhp. F.W. Carver & Co., Great Yarmouth.

Owners:

As ROSE HILDA YH61

1930: W. J. E. Green, Yarmouth

Renamed DAWN WATERS LT90

1954?: F. E. Catchpole, Lowestoft

1960: Gilbert & Co., Lowestoft

Manager: W. H. Kerr, Docks, Milford.

1961: Norrard Trawlers, Docks, Milford.

Manager: Fred Ingram.

Landed at Milford: As ROSE HILDA: 14 Feb 1937 - 13 May 1939

As DAWN WATERS: Dec 1961 - c.1966

Skippers: Tom Hawkings (1966)

Notes: Aug 1939: Requisitioned by the Admiralty as ROSE HILDA (P.No. FY740) and converted to a minesweeper.

Apr 1946: Returned to owners.

1970: Broken up.
Accidents and Incidents
From the West Wales Guardian of Friday 3rd November 1961:
Eight New Trawlers for Milford!
TWO ON WAY, SIX MORE NEXT YEAR
TWO NEW TRAWLERS WILL JOIN THE MILFORD FLEET IN THE NEXT FORTNIGHT AND SIX MORE VESSELS NOW UNDER CONSTRUCTION WILL BE FISHING OUT OF MILFORD BY THE END OF 1962.
These heartening facts were confirmed to the "Guardian" on Thursday by leading trawler owner and manager, Mr, W. H. Kerr.
First addition to the local fleet to arrive will be the 96ft. motor drifter Dawn Waters, now fishing a trip round from the East Coast in charge of Skipper Joe Utting and a Milford crew. The ship has been seen at the port in recent years during the Dunmore herring season but she will now be based locally for an indefinite period.
............
~~~~~~~~~~~~~~~~~~~~
From the West Wales Guardian of Friday 9th February 1962:
A rare fish, a three stones Meagre landed at Milford Haven, was only the second of its kind to be brought into Britain in a century. The fish, three feet six inches long with scales as big as pennies was caught by the drifter trawler "Dawn Waters", when she was fishing in the area of The Smalls twenty miles west of St.Ann's Head.
Skipper Herbert Foster and his crew immediately realised that they had netted a rare specimen and kept it to one side. The fish was bought on Milford Market by Mr Peter Wright, principal of Rollings and Company, fishmerchants, who resold it to a London firm Richards (Soho) Ltd, for display purposes.
The Meagre was despatched by train to the London firm who telephoned the B.B.C. to tell them about it. When Friday evening's "Tonight" programme opened, Cliff Michelmore was seen inspecting the Milford Meagre, then on display in the studio. The British Museum also took a keen interest in the big fish. Ministry of Agriculture records show that the last Meagre to be landed in Britain was in 1864. The fish is plentiful in the Pacific Ocean and is also found in the Indian Ocean and Southern Atlantic.
What brought the Milford-caught specimen to the wintry waters of the North Atlantic is one of Nature's mysteries.
~~~~~~~~~~~~~~~~~~~~
From the West Wales Guardian of Friday 19th August 1966:
NO BEER SO CHIEF ENGINEER AND BOSUN JIBBED
Two trawlermen who refused to sail because they were not allowed to have beer sent off to their vessel, appeared at Milford Court on Wednesday and pleaded guilty to wilful disobedience of a lawful command to go to sea on the trawler Dawn Waters.
Defendants were Chief Engineer Gilbert George Nicholls, The Caravan, Observatory, Hakin, and Bosun John Harding, of Croft Avenue, Hakin.
Mr. John F. Johnson (Messrs. Price and Kelway) appeared to prosecute on behalf of the Superintendent, Mercantile Marine, at Milford Haven, Mr. George Fryer.
The trawler Dawn Waters, belonging to Norrard Trawlers, Ltd., was put out in the harbour on the morning of August 10th, stated Mr. Johnson, and her crew, including Nicholls and John, joined her in the T.O.A. launch. The two defendants gave money to the ship's husband, Mr. Alec Adams, and asked that some beer should be sent out to the ship before she sailed. Mr. Adams went back to the firm's office and was told that the beer was not to be sent out.
IRRESPONSIBLE
At 2.30 p.m., on being told that the beer would not be sent out, the two defendants came ashore. They were ordered by the Superintendent of Mercantile Marine to return to their ship to go to sea but refused to do so. As a result the Dawn Waters had to be brought into dock and did not sail until the Friday.
"This is a clear case of irresponsible conduct," commented Mr. Johnson, "in an industry which it is difficult to keep going."
............
NOT DRUNKARDS
Bosun Harding commented: "It sounds bad, but this is being done. I've been going to sea for five years and I know. They are cutting down by three men and we were all asked to work a bit harder. We were trying to help the firm but they would not help us. We only asked for a few cans of beer. If we'd had the beer in our suitcases there would have been nothing said. But because we went down early to join the ship we asked our runner to get it for us. Two cases of beer wouldn't go far amongst six men. We are not a lot of drunkards."
Addressing defendants, the Chairman (Col. G. T. Kelway), told them that it was his view that imprisonment was the right punishment for this offence, except in certain mitigating circumstances.
"This time we feel that there are mitigating circumstances," he added.
...........
Defendants were fined £10 each and given a month to pay.
~~~~~~~~~~~~~~~~~~~~
From the West Wales Guardian of Friday 18th November 1966:
Due to return to sea after being laid up since August was the Norrard Company's drifter trawler Dawn Waters, in charge of Skipper Tom Hawkins.
Back to Other Registrations A - H