DEELUX YH84
© Barry Banham Photo Collection
(Also see below for appearance after conversion)
Official No: 161632 Port and Year: Yarmouth, 1930 (YH84)

Description: Steel side drifter trawler; single screw; coal (later oil) burning.. Ketch rigged.

Crew: 10 men

Built: 1930, by A. Hall & Co., Aberdeen. (Yard no. 628)

Tonnage: 125 grt 55 net.

Length / breadth / depth (feet): 94.3 / 20.1 / 9.7

Engine: T.3-Cyl. 39 rhp. By builders. 1958: 2 SA 5-Cyl diesel engine; 39 bhp = 9 kts. Crossley Bros.

Owners:

As OCEAN LUX YH84

1930: Bloomfields, Great Yarmouth

Renamed DEELUX

1955: William Henry Kerr, Ships' Chandler, Docks, Milford

Manager: W. H. Kerr, 'Stradbroke Lodge', The Rath, Milford

Landed at Milford: 8 Jan 1956 - c.1975

Skippers: Hubert Griffiths (1956); W. Reynolds (1969)

Notes: Nov 1939: Requisitioned as OCEAN LUX (P.No. FY.1503) and converted to a minesweeper.

Sep 1945: Returned to owners.

1958: Converted to diesel.

1975: While under tow by LORD RODNEY to Swansea for breaking up, came adrift and Tenby lifeboat called out to assist.

11 Feb 1975: Broken up at Briton Ferry.
4 Mar 1975: Fishing registry cancelled at Yarmouth.
Accidents and Incidents
From the West Wales Guardian of Friday 25th November 1955:

Application has been made to the Ministry of Transport for three Milford trawlers to be renamed. Mr. W. Wilcox is asking for permission to change the name of his drifter trawler Ocean Vim to Sally McCabe. Sally McCabe is the Mr. Wilcox's baby grand-daughter, whose home is in Cape province, South Africa.

Mr. W. H. Kerr has applied to change the names of his vessels Ocean Lux and Ocean Lifebuoy to Deelux and Deelite.

~~~~~~~~~~~~~~~~~~~~~~

From the West Wales Guardian of Friday 15th March 1956:

The drifter trawler Deelux (Mr. W. H. Kerr) returned to port on Wednesday, to land Skipper Hubert Griffiths of Llanstadwell, who was taken ill at sea. The ship sailed again this morning (Friday), in charge of the Mate, Mr. Bernard Davies.

~~~~~~~~~~~~~~~~~~~~~~~~~

From the West Wales Guardian of Friday 13th December 1957:

Mr. W. H. Kerr's trawler Deelux returned to port on Thursday morning to land the bo'sun, Mr. Gordon Davies, who had been taken ill. The sick man was landed, and with a replacement aboard her, the trawler left again for the fishing grounds soon afterwards.

~~~~~~~~~~~~~~~~~~~~~~~~~~

From the West Wales Guardian of Friday 26th September 1958:

One New Trawler and Three Converted

Another ultra-modern motor trawler for the Milford fleet will be launched at the Lowestoft yard of Messrs. Richards Ironworks on Monday for the firm of Messrs. Pettit and Youds. The launching ceremony will be performed by Mrs. Virtue Pettit of Milford Haven, and will bear her name, the M.T. Virtue Pettit. She is a sister ship to the 116

1 ft. "hake" class vessel Picton Sea Eagle owned by Picton Trawlers Ltd., and is expected to be in service within eight or nine weeks — a valuable addition to Milford's catching power. Today (Friday) Mr. E. E. Carter's "hake" class trawler Milford Star sails from Appledore for Milford after being converted from coal to oil burning at Messrs. C. K. Harries' yard. She was bought from Aberdeen earlier this year and was formerly the Star of the East. This week-end also at Messrs. Richards Ironworks Lowestoft yard, Mr. W. H. Kerr's drifter trawler Deelite is on her trials after conversion from coal to diesel power and she will rejoin the Milford fleet early next month. Another vessel of the same firm, the Deelux, is also being converted and when she is completed Messrs. Kerr's will have an all-diesel fleet. ...............

Altogether21 vessels will be oil or diesel powered at the port by the end of the year — nearly half the total fleet of forty-six ships.

~~~~~~~~~~~~~~~~~~~~~~~~~~~~~~~~~~

From the West Wales Guardian of Friday 5th December 1958:

First All-Diesel Fleet

After successfully completing her trials last weekend the newly converted diesel drifter trawler Deelux sailed from Lowestoft on Tuesday to "fish a trip" round to Milford. Her completion marks a significant achievement for a leading Milford trawling firm, Messrs. W. H. Kerr and Co., which now has the first all-diesel fleet of six vessels. They are the three years old "crabber" Diadem and the converted drifter trawlers Willing Boys, Deelite, Deelux, Lord Keith and Feaco. In addition Messrs. Kerr's manage the diesel trawlers Picton Sea Lion and Picton Sea Eagle for Picton Trawlers Ltd. Principal of the firm, Mr. W. H. Kerr, recently emphasised to the "Guardian" his complete faith in the Milford fishing industry's future and his policy of modernising his entire fleet bears out in deeds the optimism he expressed in words. The Deelux is in charge of one of the port's youngest and most successful masters, Skipper A. James.

~~~~~~~~~~~~~~~~~~~~~~~~

From the West Wales Guardian of Friday 31st October 1969:

The trawler Deelux (Skipper W. Reynolds), outward bound for the fishing grounds, was involved in a collision in Milford Harbour on Thursday with the drilling rig "Dem 1". She later returned to dock and her damage is being surveyed today.

The rig was lightly holed but has now resumed work.

~~~~~~~~~~~~~~~~~~~~~~~~

From the West Wales Guardian of Friday 1st June 1973:
Milford TRAWLER FIRM TAKEOVER
With the retirement from trawler owning of Mr. William H. Kerr, O.B.E., after 50 years in the industry, the well-known company of W. H. Kerr Ltd, has been taken over by the Boston Deep Sea Fisheries Ltd., of Hull.
................
Founded by its principal in 1932, the firm at one time owned 14 trawlers but now have only four, the Deelux, Willing Boys, Dicketa and Deeside. The two last named were specially built for Milford but are now fishing for the firm out of Lowestoft.
..............
~~~~~~~~~~~~
From the West Wales Guardian of Friday 31st May 1974:
............
Shock news for the industry, already reeling under soaring running costs, is that Boston Deep Sea Fisheries, one of Britain's largest trawler firms, is pulling out of Milford this week. This is just one year after announcing a complete involvement in the fishing industry at the port.
Mr. Hugh Kerr, Boston's local manager, confirmed to the Guardian on Thursday that the last two trawlers operated by the firm at Milford have been sold to private local buyers. They are the Willing Boys and the Deelux, which will continue to sail out of Milford under private ownership.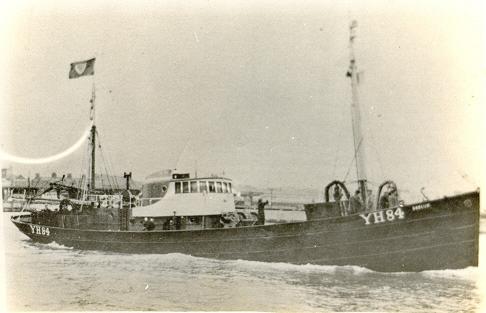 After conversion
Courtesy of Robert Kettle
Back to Other Registrations A - H