DELHI H742 / LT111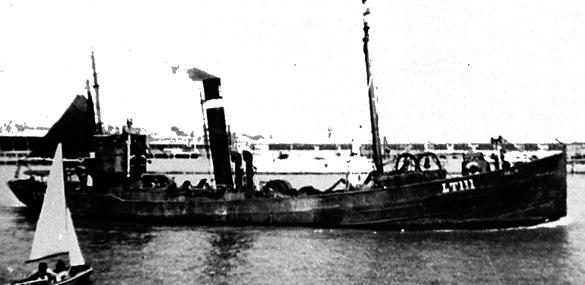 John Stevenson Collection
Official No: 118751 Port Number and Year: Hull, 1903 (H742)

Lowestoft, 1945? (LT111)

Description: Steel side trawler; steam screw, coal burning. Ketch rigged. Wheelhouse aft. Pareja (pair) fishing method.

Crew: 10 men

Built: 1903 by Cook, Welton & Gemmell, Beverley. (Yard no. 28)

Tonnage: 171 grt 67 net.

Length / breadth / depth (feet): 105 / 21.2 / 11.2

Engine: T 3-Cyl. 45 rhp. = 10 kts. Engine by Amos & Smith, Hull.

Owners:

As H742

1903: Hull Steam Fishing & Ice Co., St. Andrew's Dock, Hull

8 Dec 1933: W. James & Co., Docks, Milford

29 Nov 1934: Chamberlain & James, Docks, Milford

16 Jul 1937 : W. James & Co., Docks, Milford

1939: H. J. Horwood. Docks, Milford.

19 Apr 1940: Pair Fishing Co., Docks, Milford

Manager: H. J. Richards

As LT111

1945: W. H. Kerr, Docks, Milford.

1948: William Wilcox, Docks, Milford.

1949: W. H. Kerr (Ships' Chandlers), Docks, Milford

Landed at Milford: 4 Dec 1933 - 11 Aug 1945;

13 Oct 1948 - 28 Mar 1949;

16 Dec 1955 - 30 Apr 1957

Skippers: Joseph Huddlestone (1904-07)

Notes: 1917: Requisitioned into the Fishery Reserve.

1919: Returned to owners.

1957: Broken up at Ward's Yard, Castle Pill.
Accidents and Incidents
From The Irish Times of 29th December 1934, p.11

A MYSTERIOUS LEAK

COASTING STEAMER'S TRYING VOYAGE

The Liverpool coasting steamer Pansy, of 260 tons, arrived at Fleetwood on Thursday night, twelve days overdue, after a remarkable experience in the Bristol Channel.

The Pansy left Padstow, Cornwall, on December 13, in charge of Captain J. E. Owen, and sailed for Fleetwood with 650 tons of china clay.

Within a few hours of leaving Padstow the firemen discovered that the Pansy was leaking, but failed to find the cause. The pumps were manned, but the water rose steadily until the firemen were working waist deep to keep the fire going, so that steam would be available to work the pumps. The water, however, gained steadily, and the firemen were no longer able to remain at their posts. Captain Owen withdrew the men from the stokehold and ordered [the] lifeboats to be launched.

The men abandoned the vessel at 7 p.m. on the 13th, and for four hours they rowed towards the lights of a steamer, which they could see in the distance, and which proved to be the Milford Haven steam trawler Delhi.

The crew of the Pansy, who numbered ten, were taken aboard the trawler, which then steamed back to the drifting steamer, took her in tow, and beached her at Milford Haven.

The Pansy was at Milford Haven for eleven days before she left for Fleetwood.

~~~~~~~~~~~~~~~~~~~~
From the West Wales Guardian of Friday 8th October 1948:
Six trawlers are coming to Milford to replace boats which have been sold lately. Most of them have been owned by Milford [companies] for years and are returning to the port from the East Coast, where they have been based. Two of these are the Delhi (Wilcox) and Norrard (United). They could not be brought here before because of crewing difficulties, said an owner today. "The crew position has been eased by sales and these boats are now being transferred here."
~~~~~~~~~~~~~~~~~~~~~~
From the West Wales Guardian of Friday 6th May 1949:
The steam trawler Delhi, one of the older class of vessels in the port, was put up for sale by auction by Mr. J. F. Gwyther last week, and was sold to Mr. Wm. H. Kerr, the well-known docksman, for £1,000. Bidding started at £500 and was increased by two bidders only, to the figure at which it was knocked to Mr. Kerr.
We understand that the ship will continue to operate from Milford. The sale, it was stated, was brought about by a dissolution of partnership.
Back to Other Registrations A - H