EMPEROR H741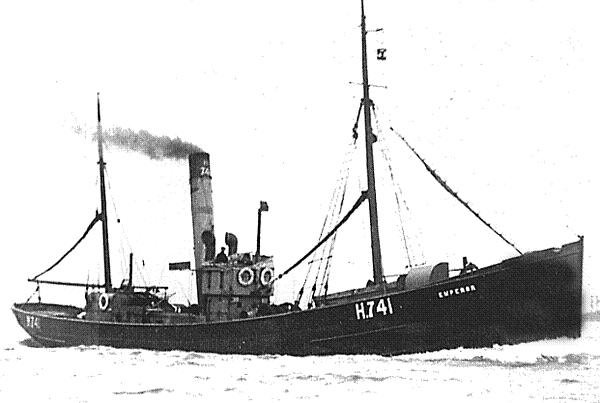 John Stevenson Collection
Official No: 116170 Port Number and Year: Hull, 1903 (H741)

Description: Side trawler, steel; steam screw, coal burning. . Ketch rigged.

Crew:

Built: 1903 by Cook, Welton & Gemmel, Beverely. (Yard no.30)

Tonnage: 183 grt 72 net.

Length / breadth / depth (feet): 109.1 / 21.5 / 10.6

Engine: T 3-Cyl. 48 rhp. Engine by Muir & Houston, Glasgow.

Owners:

As H741

1903: Hull Steam Fishing & Ice Co., Hull

1918: R. F. Scotter & R. Cammish, Scarborough

2 Jan 1930: M. M. Robson, Locke & Co., Docks Milford.

Managers: Brand & Curzon

1 Jan 1935: Herman Westenborg )

Mark Robson ) Docks, Milford

Bob Taylor )

Landed at Milford: 22 Nov 1929 - 18 Nov 1936

Skippers: Josiah Rowlands (1931)

Notes: Sep 1914: Requisitioned by the Admiralty and converted to a minesweeper (Admy.no.552)

Feb 1917: Transferred to the Fishery Reserve.

1919: Returned to owners.

Nov 1936: Broken up at Ward's Yard, Castle Pill.
Accidents and Incidents
From the West Wales Guardian of Friday 17th April 1931:

Sad news was brought to the port of Milford Haven on Friday night, when the Milford steam trawler "Emperor" returned to the port with the body of the trawler's skipper.

The skipper, Mr. Josiah Rowlands, had only left the docks that morning, and before proceeding to sea to the fishing grounds, had anchored off Chapel Bay to check and prepare his fishing gear prior to the start of the trip. The skipper was on the wheel, taking the trawler out through the Heads when he complained of feeling unwell. The third hand, who was in the wheelhouse with him, went below for a stimulant, but before he could return the skipper had collapsed and fallen to the deck. After uttering a couple of groans, he expired.

The trawler was then put about and returned to port. The cause of death was heart failure. Skipper Rowlands was only 55 years of age.
Back to Other Registrations A - H