EXMOUTH BL 16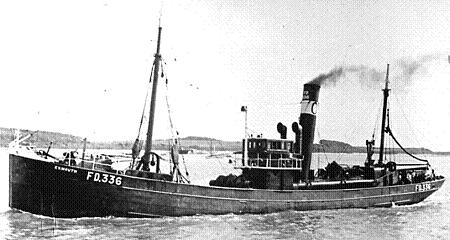 As FD336 (1919-38)
John Stevenson Collection
Official No: 127096 Port and Year: Bristol, 1912 (BL16)

Fleetwood, 1919 (FD336)

Description: Steel side trawler; single screw, coal burning. Ketch rigged: foresail, mainsail and mizzen.

Crew: 10

Built: 1912, Cochrane & Son., Selby. (Yard no. 514)

Tonnage: 236 grt 92 net.

Length / breadth / depth (feet): 120 / 21.5 / 11.7

Engine: T 3-Cyl. 66 rhp. Charles D. Holmes & Co., Hull

Owners:

As BL16

Apr 1912: Western Steam Trawling, Docks, Milford

Manager: Sidney Morgan Price

As FD336

Jul 1919: Vulcan Steam Trawlers, Fleetwood

Managers: New Docks Steam Trawling Co. (Fleetwood).

(From 1920: Taylor & Tomlinson.)

1927: Ora Trawlers Ltd, Fleetwood

Managers: J. N. Ward & Son

Landed at Milford: 7 May 1912 - 11 Aug 1914

Skippers: B. H. Galvin (1912)

Notes: Aug 1914: Requisitioned by the Admiralty and converted to a minesweeper. (Admy.No.146) 1 x 3 pdr.

Feb1915: Renamed EXMOUTH II. Employed on minesweeping training.

1919: Returned and reverted to EXMOUTH (BL16).

9 Mar1938: Stranded at Smaull Point, west coast of Islay, 8 miles north of Oversay; three crew lost. Declared total loss.

[ Information from the Fleetwood Maritime Trust and the Bosun's Watch website. ]
Accidents and Incidents
From the West Wales Guardian
of Friday 8th March 1912:
The Exmouth, another new trawler for Messrs Sellick, Morley and Price, was launched on Tuesday.
~~~~~~~~~~~~~~~~~~~~~~~~~~
From the Haverfordwest & Milford Haven Telegraph of Wednesday 11th September 1912:
Supplies have been on a fairly liberal scale all the week and prices especially good, the result being that some of the trawlers have done remarkably well. Hake ranged from 52/6d to 36/- during the week; herrings from 18/6d to 10/6d, while other kinds made a fair average. All records for some time past were eclipsed on Tuesday, when Captain Galvin in the steam trawler "Exmouth" (Sellick, Morley and Price) landed a remarkably fine trip of hake, 300 kits all told, and grossed a sum of £508 for a 14 days trip from dock to dock.
~~~~~~~~~~~~~~~~~~~~~~
From the Haverfordwest & Milford Haven Telegraph of Wednesday 18th June 1919:
Some excitement was manifested on the Milford Docks during last week when it became known that Messrs. Sellick, Morley and Price were disposing of their fleet of steam trawlers. For a considerable time negotiations had been proceeding with the Consolidation Company of Grimsby, but these recently fell through. It is gratifying to know that the greater portion of the fleet has been retained for the port, as will be seen from the following list. Several local gentlemen having come forward, the competition was very keen.
The Alnmouth, Weigelia, and Exmouth have been sold to Fleetwood firms, while the Charmouth, Macaw, Tacsonia, Rosa, Xylopia, Essex, Uhdea, Petunia, Lynmouth, Kalmia, Portsmouth, Weymouth, Syringa, Yarmouth and Magnolia have all found local buyers.
This opens out the question of the need for local trades people and others to invest in the staple industry of this fishing port, as has been done in competing fishing centres.
Back to Other Registrations A - H