FEASIBLE LT122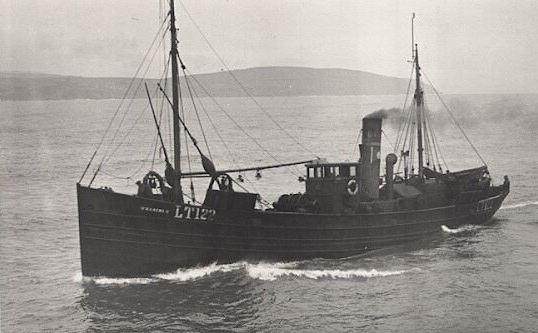 Barry Johnson collection.
Official No: 132963 Port and Year: Lowestoft, 1912 (LT1191)

Ramsgate, (R157)

Lowestoft, c.1937 (LT207)

Description: Steel side drifter trawler; single screw, coal burning. Liner. Dandy rig.

Crew:

Built: J. Duthie, Torry, Aberdeen, 1912. (Yard no. 373)

Tonnage: 103 grt 46 net.

Length / breadth / depth (feet): 86 / 18.6 / 9.1

Engine: T 3-Cyl. 25 rhp. Elliot & Garrood, Lowestoft

Owners:

As LT1191

27 Jun 1912: W. Catchpole, Kessingland, Lowestoft

Manager/owner.

30 Aug 1916: E. Catchpole, J. Utting, C. W. Dance Jnr., H. Baxter; Lowestoft

As R157

15 Nov 1919: R. Kinnear, Doncaster

1920: Danum Steam Trawling Co., Ramsgate

As LT122

10 Jan 1930: John Victor Breach, Lowestoft

Owner / manager

1937: Explorator Ltd., Lowestoft

Manager: J. V. Breach. (Died Jan 1944)

23 May 1945: Pevensey Castle Ltd., Lowestoft.

Manager: R. H. Self

Renamed MELOY

22 Jun 1946: Engebert Einarson, Haugesund, Norway


Landed at Milford: 8 Jan 1935 - 15 Feb 1938

Skippers:

Notes: Sep 1914: Requisitioned by the Admiralty as patrol boat and escort (Admy.no. 221). 1 x 6 pdr. AA

7 Oct 1915: Wireless telegraphy fitted.

1 Apr 1916: After collision near Elbow buoy between armed liner MACEDONIA and the Norwegian steamer CORRECT, the FEASIBLE made fast alongside the Norwegian vessel and began to tow. Tow parted and crippled vessel sank.
24 Nov 1917 Assisted in the destruction of German submarine U48, which had grounded on the Goodwin Sands in the English Channel. The submarine crew had scuttled and abandoned the boat. Nineteen submarine crew died and seventeen survived.

1919: Returned to owners.

31 Oct 1930: Damaged in collision with steam drifter PENCISELY at Ijmuiden.
23 Jul 1932: Towed the disabled STRIVE (LT133) into Fleetwood.
06 Aug 1933: Broke foremast at Tobermory.
06 May 1934: Damaged by BOY PHILIP (LT137) at Rathmulen.

05 Jan1936: Damaged and flooded by heavy seas off Milford Haven and towed by steam trawler GOZO [See newspaper report below.]

11 Nov 1939: Requisitioned by the Admiralty and converted to a minesweeper (P.No.FY.891)
22 Jun 1943: Towed the disabled steam drifter AMBITIOUS (LT519) into Lerwick.

Aug 1945: Returned to owners.

1946: Diesel engine fitted.

2002: Vessel restored at Bristol

[Information from Aberdeen Ships website.]
Accidents and Incidents
From the Western Telegraph of Wednesday 1st January 1936:
WASHED OVERBOARD
13 Hours' Fight for Life Off the Smalls
For thirteen hours the crew of another Lowestoft drifter, Feasible (managed at Milford Haven by Mr. J. Breach) battled for their lives off the Smalls.
Tragedy, however, followed in the wake of the boat, for one member of the crew, Edward Halliday (aged 27), of Lowestoft, was washed overboard and drowned.
With her compass gone and part of the wheelhouse washed away the Feasible signalled for aid and at 3 o'clock on Monday afternoon she was taken in tow by the s.t. Gozo, owned by Messrs. C. H. Brand and Co., Milford, and skippered by Mr. Chris Masterson (junior).
The drifter, a sorry spectacle after her buffeting, arrived in Milford behind the Gozo at 7 a.m. on Tuesday. Her crew, tired out, were taken to the Mission for Deep Sea Fishermen in Lower Charles Street, where, after a hearty meal they turned in and slept soundly until 1 o'clock.
Before the crew sat down to dinner, the skipper, Mr. C. Reynolds, gave our reporter a graphic story of their fight for life.
They left Lowestoft, he said, on the Saturday week previous and they had been fishing a trip of herring off the Irish coast. It was 7 o'clock on Sunday morning when they left the coast and the weather was gradually getting worse. About 3 o'clock on Sunday afternoon they got to the vicinity of the Smalls. They saw a number of trawlers about and decided to "dodge the wind" until the driving rain cleared. It was nearly six o'clock when they shipped a heavy sea and the vessel heeled over, but righted itself after a while. In this rush of water the top of the wheelhouse and one ventilator, as well as the small boat, were washed away. The mizzen sail was also carried away.
LOOK OUT!
"I saw the sea coming," Capt. Reynolds stated. "I shouted 'look out!' and then saw the water was over the top of me and the boat was over on the port side completely submerged, but she gradually righted. The engine room and cabin filled with water, but as the engines were still going I decided to try and get her up head to wind. Before I could do that she rolled another heavy sea aboard. I failed to get her around and decided then to go before the wind."
Skipper Reynolds, still feeling the effects of an awful experience, paused to collect his scattered thoughts. "The crew," he pointed out, "worked for thirteen hours getting the water out of the vessel - practically all through Sunday night."
"About 4 o'clock on Monday morning we were succeeding in getting the water out and the wind had moderated a bit until about 8 o'clock, when I saw big cargo and passenger boats passing the Smalls. I tried to get extra steam and at mid-day fetched the Smalls."
He recalled that when the top of the wheelhouse was washed away, the compass went with it, so all they could do was to keep the boat head to wind until assistance arrived. He had no bearings and had to steer as best he could lying on the floor.
Shortly after the top of the wheelhouse was washed away the mate told him that Edward Halliday had been washed overboard and washed back on board again.
COULD DO NOTHING
They were running before the wind shortly after and he thought the crew were still clearing water when another sea came aboard and he heard the cook say Halliday was in the water again.
Knowing the vessel would not come round he ordered full astern, but the ship would not respond. There was blinding rain at the time, the wind was high and their life-belts and boat had gone so they could do nothing for the poor man; they could not get the drifter near him.
"There was no panic or murmur with the crew," he reflected. "They behaved fine."
A big cargo steamer came into view and they sent up flares, but these were not noticed. The wireless on the drifter could receive, but not send messages and he could hear other drifters speaking about him, but could get no message to them. Eventually the Gozo picked up the messages and raced to the rescue. She reached the Feasible at 3 o'clock and took her in tow for Milford.
FISHGUARD LIFEBOAT OUT
CREW NOT SORRY TO GET BACK!
After standing in readiness throughout Sunday night the Fishguard lifeboat received a message about noon on Monday that a drifter (the Feasible) was in distress in an unknown position on the coast.
No time was lost in putting out and within half-an-hour a signal was received from the coastguard at Strumble Head that the position of the distressed vessel was still unknown. The lifeboat continued its course and when off St. David's Head met the Milford trawler "Victor", which gave the information that the drifter was now off the Smalls and was being assisted by another Milford trawler. At that time, the "Victor" stated, the trawler was gettingropes on board the foundering vessel.
In consequence of this message the lifeboat did not proceed any further and arrived back at Fishguard at about 4 p.m.
The Times, Wednesday, Jan 08, 1936; pg. 12; Issue 47266; col D

.................
SEAMAN WASHED OVERBOARD
A Lowestoft fishing boat which was believed to have foundered in Monday's gale-swept seas off the Pembrokeshire coast was yesterday found to have been taken in tow by a trawler heading for Milford Haven. The fishing boat was the 103-ton Feasible, which was severely battered by heavy seas. A member of the crew, Benjamin Halliday, 25, of Lowestoft, was washed overboard and drowned, and one of her boats was swept away.
Back to Other Registrations A - H