HECTOR GULL LO148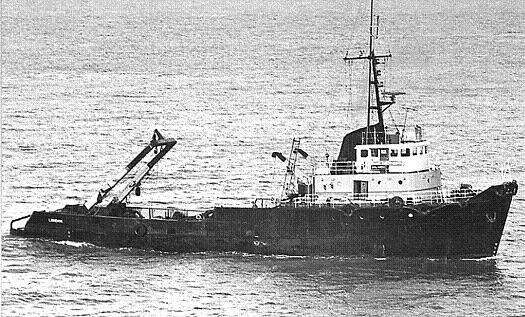 John Stevenson Collection
Official No: 304385 Port and Year: London, 1962

Description: Steel stern trawler; single screw, motor.

Crew:

Built: 1962, by P. K. Harries & Sons, Appledore. (Yard no. 527)

Tonnage: 362 grt 130.1 net.

Length / breadth / depth (feet): 130.1 / 29.11 / 14.6

Engine: 4 single acting 6 Cyl. 1160 bhp. Mirrlees National, Ashton u. Lyne.

Owners:

1962: Hector Trawlers, Sea Pool, London

Manager: William H. Kerr, Docks, Milford

1968: Unknown owners.

Renamed RMAS DOLWEN

1971: Ministry of Defence, as buoy tender; later safety vessel to RAE Aberporth

Landed at Milford: 12 Sep 1964 - 21 Dec 1967

Skippers:

Notes:
Accidents and Incidents
From the West Wales Guardian of Friday 14th December 1962:

............

After being in dock for twelve days for winch repairs, the stern fisher Hector Gannet sailed this morning (Friday) in charge of Skipper Alfred Beckett.

Her sister ship, Hector Gull, now nearing completion, will not now be joining the Milford fleet, but will fish out of Grimsby for the time being.

~~~~~~~~~~~~~~~~~~~~~~

From the West Wales Guardian of Friday 11th September 1964:

A second stern fisher, the Hector Gull, joins the Milford fleet today from Grimsby. Owned by Hector Trawlers, the Hector Gull has been used for some time on oil exploration work in the North Sea. At Milford she will join the Hector Gannet, which has been sailing out of the port under Messrs. Kerr's management for over two years.

"The Hector Gannet will be stopping for overhaul, but it is hoped the Hector Gull will sail on Monday," said Mr. Hugh Kerr this morning.

~~~~~~~~~~~~~~~~~~~~~~~~~

From the West Wales Guardian of Friday 28th October 1966:

FISHERMEN ILL.— Mr. H. P. Everitt, Marble Hall, bo'sun on the trawler Deelite, who recently fractured his ribs in an accident at sea has been discharged from the County Hospital, but is still under medical care. Mr. Eddie Ellis, Pill, second engineer on the Lord Collingwood, has been admitted to Glangwili Hospital. Mr. Eddie Harding, Marble Hall, mate of the same drifter-trawler, is also a hospital patient. Mr. Billy Hawkins, Wellington Road, mate of the Hector Gull, is ashore ill.

~~~~~~~~~~~~~~~~~~~~~~~~~

From the West Wales Guardian of Friday 22nd September 1967:

It is understood that the Royal Air Force establishment at Aberporth are interested in the stern fishing trawler Hector Gull, and made another visit inspection this week a view to charter.

The Hector Gull has been laid up at Milford for some months.
Back to Other Registrations A - H