HOSANNA LT167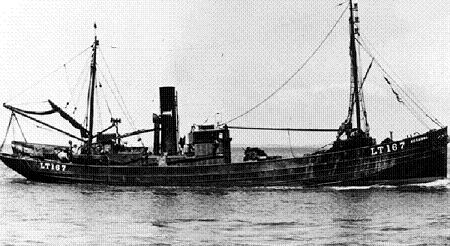 John Stevenson Collection
[Before conversion - see below for after conversion.]
Official No: 149242 Port and Year: Lowestoft, 1930 (LT167)

Description: Steel side drifter trawler; steam screw, coal burning. Crabber. Ketch rigged

Crew:

Built: 1930; J. Chambers, Oulton Broad, Lowestoft. (Yard no. 581)

Tonnage: 132 grt 62 net

Length / breadth / depth (feet): 96.3 / 20.6 / 9.8

Engine: T3-Cyl. 35 nhp; by Crabtree & Co., Grimsby. Replaced by diesel engine in 1960.

Owners:

1930: Edward A. Beamish, 146 The Avenue, Lowestoft.

c.1952?: R. P. Lewis (Haven Trawlers), Docks, Milford.

c.1960?: Scattan, Lowestoft.

Landed at Milford: 2 Mar 1950; 7 Jun 1952 - 3 Jun 1959; 4 Feb 1962.

Skippers: Albert Wiseman (1954-55)

Notes: Nov 1939: requisitioned by the Admiralty and converted to a minesweeper (P.No. FY.950). Based at Milford, and commanded by local skipper, Herbert Biddle.

Nov 1944: Returned to owners.
1960: Diesel engine fitted.

1976: Broken up.
Accidents and Incidents
From the West Wales Guardian of Friday 12th June 1953:

The trawler Deeside (Mr. W. Kerr), which left Milford in 1946 to fish out of Lowestoft, is returning to the port and is now fishing a trip round. At one time the Deeside, a crabber class boat, was paired with the Bellerophon.

Another trawler returning to Milford next week is the Hosanna (Mr. W. Wilcox), which has been fishing out of Fleetwood for some months. A third trawler, the Homeleigh, (Mr. H. Westenborg) is being brought back from Fleetwood by a scratch crew, but it is understood she will be going to the breakers' yard.

Two more small Milford trawlers left this week for the breakers' yard at Pill Point. They are the Rig and Loyal Star, which formerly belonged to Messrs. H. H. Rees and Co.

[There is apparently no record of the HOSANNA having landed at Fleetwood during the period stated.]

~~~~~~~~~~~~~~~~~~~~~

From the West Wales Guardian of Friday 30th July 1954:

The Milford trawler Hosanna (Skipper Albert Wiseman) towed the 200 ton ketch Progress into Milford Haven yesterday (Thursday evening), after she had been abandoned off Lundy on Wednesday evening.

~~~~~~~~~~~~~~~~~~~~~~~

From the Western Telegraph & Cymric Times of Wednesday 1st June 1955:
Dream Trip to Carribean [sic] Ends on Milford Dock Wall
_______________
HOW THE KETCH IS FOR SALE
On Monday Skipper W.MacCullum was not very talkative, but he admitted that his 200-ton ketch, "Progress" was for sale. In this vessel in the spring of last year he attempted to sail to the Carribean [sic] with his wife and 10 year old son. Early in the year he and his family left Falmouth on their long voyage, but after a short time the Angle lifeboat went to her assistance after three long gale-blown, storm tossed days.
A few weeks later the Milford trawler "Hosanna", under skipper Albert Wiseman, found the ketch abandoned in the Bristol Channel and towed it into Milford. It was discovered then that Captain MacCullum had injured his hand and had been taken ashore by the Appledore life boat. Since early summer the family has been living on the ketch, which is docked on the wall near the United Engineering Company.
When asked if he intended to purchase another boat, and set sail for the Carribean [sic] once more, Captain MacCullum threw up his arms and declared, "I don't know, and I don't intend letting anyone know what I am going to do."
~~~~~~~~~~~~~~~~~~~~~~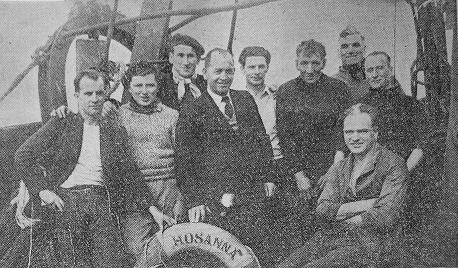 L to R: Ch.Eng. A.D. Thomas, Deckhands John Gillespie and Eddie Spillane, Skipper Albert Wiseman, Cook Michael Murphy, Deckhand/Trimmer Bob Wilson, Mate Victor Brown, Bosun W.E.T. 'Billy' Jeffs, 2nd.Eng. J.R.Evans
From the West Wales Guardian of Friday 25th March 1955
~~~~~~~~~~~~~~~~~~~~~~~~~
From the West Wales Guardian of Friday 23rd August 1957:
MUSEUM WANTS ITS HEAD
3¼ cwt. Sturgeon
Biggest at Milford for 30 years
The biggest royal sturgeon landed at Milford Haven for 30 years - a 3¼ cwts. fish, was brought in on Saturday by the drifter-trawler Hosanna (Mr. R. P. Lewis) in charge of Skipper Noel Bray, Stratford Road.
The sturgeon, a magnificent nine feet long, four feet girth, 26 stones specimen, was bought by Mac Fisheries, Ltd., for £73 - a record price for a sturgeon at Milford.
Mac Fisheries, Ltd., offered it to H.M. the Queen but it was declined with thanks.
On Monday the sturgeon attracted huge crowds to the Mac Fisheries branch in Kensington, where it was put on display. Later the fish was sold whole to a Kensington hotel.
The head will go to the British Museum, where it will be exhibited as one of the biggest sturgeons ever caught in British waters.
The Hosanna's sturgeon was caught during a seven day fishing trip near the Helwick lightship off the Gower coast, Skipper Bray told the "Guardian". "I believe it is the biggest landed at Milford Haven since Skipper Wilf Perrett brought in one about the same size in the trawler Solan about thirty years ago," he added.
..................
~~~~~~~~~~~~~~~~~~~~~~
From the West Wales Guardian of Friday 18th December 1959:
The Milford trawler Hosanna sent out a call for assistance at 5.20 p.m. on Sunday, from Milford Docks, where she was lying at the coaling quay. The call was promptly answered by the Milford Haven Fire Brigade, who found that the trawler was in danger of sinking due to the flooding of the engine room. All finished well.
Courtesy of Barry Banham
Back to Other Registrations A-H