GENERAL JOFFRE SN123
SOUTHLEIGH M158
LETTERSTON M158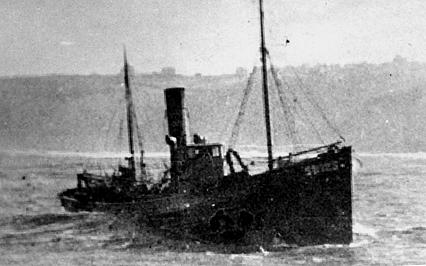 As GENERAL JOFFRE SN123
John Stevenson Collection
Official No: 137364 Port Number and Year: 21st in North Shields, 1914 (SN123)

4th in Milford, 1951

Description: Steel side trawler; steam screw, coal burning. Pareja (Spanish) method. Ketch rigged: mizzen sail.

Crew: 9 men

Registered at Milford: 18 Jul 1951

Built: 1914 by J.S.T. Eltringhan & Co., Willington Quay on Tyne. (Yard no. 307)

Tonnage: 194.05 grt 85.58 net.

Length / breadth / depth (feet):115.5 / 22.08 / 13.1

Engine: T 3-Cyl. 79 nhp.10.5 kts. Engine: 1914, by builders; boiler: 1914, Palmers Ship Building and Iron Co., Hebburn on Tyne

Owners:

As GENERAL JOFFRE SN123

1914: R. Irvin, The Grove, North Shields.

c.1940s: Reed Phillips & Co., North Shields

Renamed SOUTHLEIGH M158

18 Jul 1951: Atlantic Trawlers, Docks, Milford.

Manager: Henry James Richards, 'Goodleigh House', Bulford House, Johnston.

Renamed LETTERSTON M158 (from 9 Sep 1953)

19 Feb 1953: W. H. Kerr (Ships Chandlers), Docks, Milford

Manager: William H. Kerr, 79 Shakespeare Ave., Milford

5 May 1953: South Western Trawlers, Docks, Milford

Manager: John Charles Llewellin, Fenton, Crundale, Haverfordwest.

Landed at Milford: As GENERAL JOFFRE: 30 Sep 1950 - 19 Jul 1951

As SOUTHLEIGH: 1 Aug 1951 - 30 Oct 1952

As LETTERSTON: 26 Mar 1954 - 14 Apr 1955

Skippers:

Notes: Apr 1915: Requisitioned for war service and converted to a minesweeper. (Admy.No.1455). 1 x 6 pdr.

1919: Returned to owners

Cert. Cancelled & Milford Registry Closed: 13 Jun 1955. Broken up at Antwerp.
Accidents and Incidents
From the West Wales Guardian of Friday 11th July 1952:

The trawler Westleigh, belonging to Goodleigh Fisheries, has been sold to Plymouth. She has been paired with the Southleigh, which will now be used as a spare while the rest of the pair fleet have their annual refit.

We understand that the firm will probably be buying another ship later in the year to pair up.

~~~~~~~~~~~~~~~~~~~~~~~~~~~~~~
From the West Wales Guardian of Friday 13th May 1955:
The former pair trawler Crundale arrived at Ward's Yard on Saturday, and her sister ship Lydstep, and the Letterston are expected to follow soon.
Back to Other Registrations A-H
Back to Trawlers 1940-1988