PITUFO A309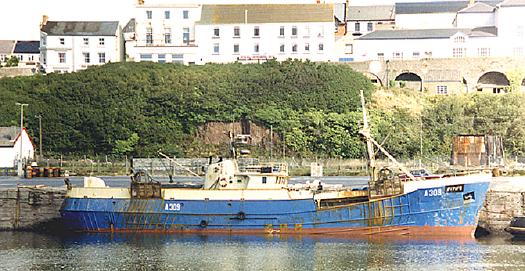 John Stevenson Collection
Official No: 301575 Port and Year: Aberdeen, A309

Description: Steel side trawler; single screw, motor.

Crew:

Built: 1959, Gateshead. (Yard no. ?)

Tonnage: 249.97 grt 79 net.

Length / breadth / depth (feet): 115 / - / -

Engine: 760 bhp

Owners:

As PARAMOUNT

1959: Peter & J. Johnstone, Aberdeen.

By 1973: J. Marr (Aberdeen), Aberdeen

As PITUFO

c.1989: Interpesco UK, CMaine House, Hill Street, Hakin, Milford

Same owner in Olsen's 1992

Landed at Milford:

Skippers:

Notes: Astonquest, 23A High St., Haverfordwest, of which Joseph Luis James Couceiro was Director, was an umbrella for the following limited companies: Britgal; Cmaine; Interpesco; Jaderow; White Fisheries. Apart from the latter (C. Shed, Docks, Milford) these were run from CMaine House, Hill Street, Hakin.
Back to Other Registrations I-P