PORFESA II PD75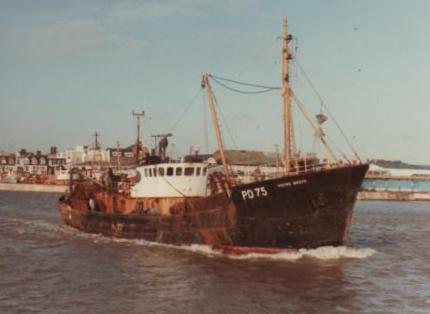 As VIKING DEEPS PD75, prior to conversion.
http://www.trawlerphotos.co.uk
Official No: 300352 Port and Year: Lowestoft, LT509

Description: Side motor trawler; converted to long liner, 1986.

Crew:

Built: 1957; Livingstone Yard, Peterhead. (Yard no. )

Tonnage: 199 grt 65 net.

Length / breadth / depth (feet): 110 / - / -

Engine: 540 bhp

Owners:

As GEORGE CRAIG A203

1957: George Craig & Sons, Aberdeen.

As VIKING DEEPS PD75

By 1975: Philip Buchan & Joseph Buchan, Peterhead.

As PORFESA II PD75

1986: Factortame, Milford.

As LORD IVAN M72

By 1992: Unknown owners.

As ANGEL LADY M772

By 1994: Unknown owners.

As TAHUME FH666

1997: Unknown owners.

Landed at Milford:

Skippers:

Notes:

Dec 2008: Registered as UL666.

Thanks to Davie Tate for her later career.
Back to Other Registrations I-P