ABRENTE FH525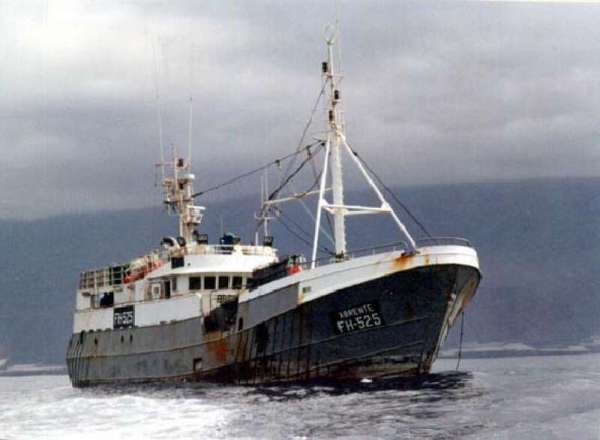 Photographer: Romain Lopez; http://www.shipspotting.com/gallery/photo.php?lid=129177
Official No: 398099 Port and Year: Falmouth

Description: Long liner

Crew:

Built: 1975, Spain

Tonnage: 194 grt 99 net.

Length / breadth / depth (feet): 92 / - / -

Engine: 700 hp

Owners:

c. 1983: Interpesco Securities, London

c.1988: Interpesco Securities, CMaine House, Hill Street, Hakin, Milford.

Landed at Milford:

Skippers:

Notes: 8 Sep 2000: Rescued crew of eight of the longliner JOMADA, 280 miles NE of Las Palmas.

Astonquest, 23A High St., Haverfordwest, of which Joseph Luis James Couceiro was Director, was an umbrella for the following limited companies: Britgal; Cmaine; Interpesco; Jaderow; White Fisheries. Apart from the latter (C. Shed, Docks, Milford) these were run from CMaine House, Hill Street, Hakin.
Accidents and Incidents
The Guardian, Wednesday 21st February 2001:

Spanish police said yesterday that they had found five tonnes of cocaine, with a street value of £60m, on a British-flagged trawler.

The Spanish crew of the Abrente allegedly tried to throw the cocaine overboard as their vessel was boarded by police and customs officials some 350 miles west of the Canary islands.

Back to Other Registrations A-H