AMA ANTXINE FH567
JUNO M567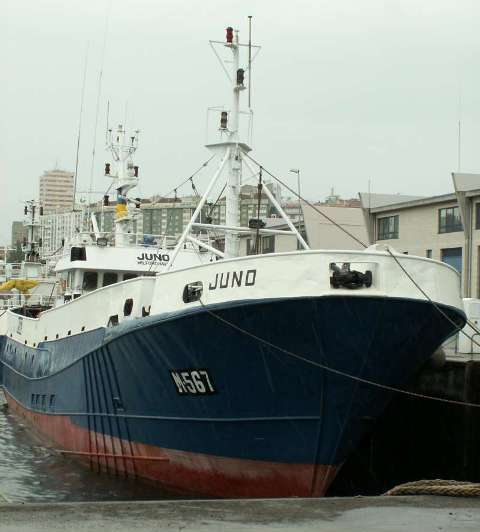 Alongside in her home port of Corunna.
Romain Lopez. http://www.shipspotting.com/gallery/photo.php?lid=224115
Official No: - Port Number and Year: Falmouth, FH567 Milford, M567

Description: Net hauler; steel; cruiser stern, full-length shelterdeck; refrigerated hold.

Crew:

Built: 1972; Astilleros Balenciaga SA (Zumaia, Gipúzkoa, Euskadi, Spain). (Yard no. - )

Tonnage: 256 grt 256 net.

Length / breadth / depth (feet): 112 / - / -

Engine: 1000hp Blackstone.

Owners:

As AMA ANTIXNE

1972: Spanish Owners.

As FH567

By 1983: Agegate, Leicester.

By 1988: Unknown owners, Milford.

Renamed JUNO M567

Date and owners unknown.

Managers: Flagperry, Ltd., Peche House, St. Ann's Road, Hakin, Milford.

Landed at Milford:

Skippers:

Notes: Registered in Milford, but based in Corunna.

Not in Olsen's 1992 edition, under either name.
Accidents and Incidents
Lloyd's Law Reports

AUTHOR: Michael Daiches, Barrister, and Professor Robert Merkin

ISBN: 1234-23-4936

THE "DAGMARA" AND "AMA ANTXINE"

Admiralty practice - Arrest of vessel - Application to set aside - Plaintiffs' and defendants' vessels fishing 50 miles off south-west coast of Ireland - Plaintiffs alleged that defendants navigated vessel dangerously - Plaintiffs' vessel forced to leave fishing grounds - Whether plaintiffs entitled to damages - Whether Court had jurisdiction to hear claim - Supreme Court Act, 1981 s. 20(2)(e).