BRISCA M16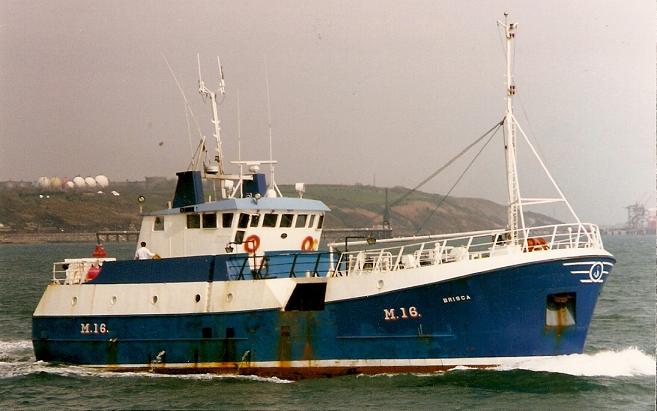 In the Haven, May 1988
Courtesy of the N.E. Lincs. Council Library Service
Official No: 711952 Port Number and Year: 5th in Milford, 1987

Description: Diesel motor vessel; single screw; automatic long liner. Full length shelter deck.

Crew: 10

Registered at Milford: 11 Nov 1987.

Built: 1987, by James N. Miller & Sons, St. Monans. (Yard no. 1031)

Tonnage: 302 grt 90 net

Length / breadth / depth (feet): (88.6 oa) 81.56 / 26.9 / 23.62

Engine: Mirrlees Blackstone ESL 5 Mk. 2; 830 hp at 750 rpm; 10.8 kts.

Owners:

16 Nov 1987: Rawlings (Trawling), Building 66, Docks, Milford

Hugh Brown & James McCreath Brown, Girvan, Ayrshire.

As BRISCA UL37

By 1 Aug 2010: Fleetwood Fish Producers Organisation Ltd., 19 Poulton St., Fleetwood.

[ marinemanagement.org.uk/fisheries/statistics/documents/.../100801.xls‎ ]

Landed at Milford:

Skippers: Mike Jay

Notes:

Brisca is a Mediterranean trick-taking card game for two to six players.

Cert. Cancelled & Milford Registry Closed: 3 Apr 1989. [ Re-registered at Milford with the same owners and PRN; listed in Olsen's 1992. ]
Accidents and Incidents
From the Western Telegraph & Cymric Times of Wednesday 20th January 1988:

The whole of Milford Haven's fishing fleet will be watching with great interest as the port's latest addition — sets sail on its first trip this week.

Over the weekend, the 80-foot Brisca, skippered by Mike Jay of Llysyfran, sailed along the coast from Miller Yard at St. Monans, Fife, where she had been built.

As she gently nudged her way through the Dock Gates on Monday afternoon, the vessel heralded a promising 1988 for her owners Milford Haven-based Rawlings Trawlers.

And it brings a much needed shot-in-the-arm for the port's ailing fishing industry.

The new ship is unique to the United Kingdom. No other fully autoline-equipped vessel is in service yet.

With a 200-ton catch capacity, the vessel uses a 30,000-hook Mustad Autoline system from Norway and her first trips will be for dogfish.

OPTIMISM

The catch will be trans-shipped to European markets. Seasonal catches could also take in white fish which will go to local markets.

Rawlings Trawlers has been grant-aided to the tune of £
1 million —

half of which has been received from the European Economic Community and half from the Sea Fish Authority.

............

A crew of ten will man the 302-ton Brisca. Skipper Mike Jay is joined by Mate Dennis Rimmer of Grimsby; Chief Engineer Mark Sinclair, a member of the well-known Milford Haven fishing family, and Bosun Peter Gregory of Milford Haven.

.............

From his modern wheelhouse, Skipper Jay will be able to keep a close watch on operations both fore and aft through a closed circuit television monitor.

The gear for the autolines are surrounded by cold storage units, fish pound, and fish wash tanks.

And for the crew there is a laundry room with washing machine and tumble-dryer; a heated oilskin locker; shower rooms, comfortable mess room with television and video; well-equipped galley which includes two microwaves, deep freeze and chill room; and comfortable cabins.

● The Brisca is powered by a 750 horsepower Alpha diesel engine and has a beam of 29.6 feet and a draught of 16.4 feet.

~~~~~~~~~~~~~~~~~~~~~~~~~~~~~

From

The Times,

Friday, March 31, 1989

Fish quota curb strands `foreign' boat - Senor Ramon Yllera

By Michael Hornsby, Agriculture Correspondent.

Last year, Senor Ramon Yllera, a Spanish entrepreneur based in Milford Haven , Dyfed, took delivery of a new fishing vessel, the Brisca, from a Scottish shipyard. Half of the cost was met by European Community and British Government grants.
Now the Government has in effect told Senor Yllera that he can no longer use the boat which it helped him to buy. From today the Brisca and some 150 other, mainly Spanish-owned but British-registered, vessels lose their right to a share of Britain's fish quota.
Senor Yllera and his family have lived in Britain for the past 10 years. He employs a crew of 15, all but one British and has invested Pounds 150,000 in a fish processing plant which provides jobs for another seven locals.
Ninety per cent of the Brisca's catch is dogfish and ling, species which are under no conservation pressure and for which there is little British demand. They are sold in Italy, contributing about Pounds 800,000 a year to Britain's export earnings.
However, Senor Yllera's fishing operation is under threat because he is not British, and from today, under the 1988 Merchant Shipping Act, only fishing vessels which are at least 75 per cent owned by British citizens resident in Britain will be able to register here and to fly a British flag.
That stipulation has plunged Britain into a legal and constitutional dispute with the European Commission in Brussels. Earlier this month the Commission sent a letter to the Government warning it that the Act, by restricting the right of EEC citizens to set up in business in other member states, was a prima facie violation of Community law.
Lawyers representing Senor Yllera and about 95 other Spanish boat owners are trying to get the relevant provision of the Act suspended until the European Court has ruled on its lawfulness. A hearing is due to start in the House of Lords on April 17.
The Government says Senor Yllera is not typical of the Spanish operators, most of whom, it maintains, have done little more than set up nominal companies here so they can fly the British flag and help themselves to British fish. The Spanish boats took about £17 million fish in 1987, according to official figures.
Officials concede that the Spanish catch only represents seven per cent of the British quota, but, they contend, the practice of "quota hopping", as it is called in EEC jargon, is a "mischief" which needs to be stopped.

~~~~~~~~~~~~~~~~~~~~~~~

From the Western Telegraph & Cymric Times of Wednesday 19th July 1989:

Laid-up trawler hopes

The owner of £1m trawler that has been confined to Milford Docks since the end of March is hoping that it could be allowed to return to the fishing grounds next month.

The Scottish-built Brisca, one of the newest trawlers in Britain, has been working out of Milford Haven for three years with a British crew.

But it has been caught up in the net of new legislation put forward by the government which insists that 75 percent of owners of vessels operating under a British flag should be British.

.................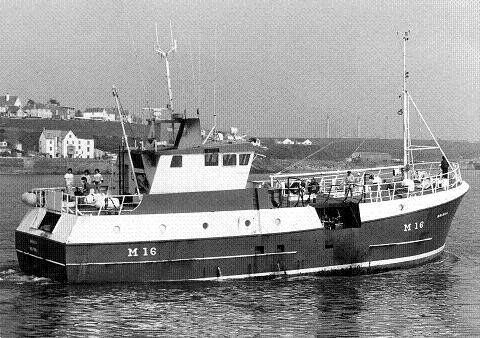 Photo by Peter Brady, Fleetwood Maritime Heritage Trust.

Back to Trawlers 1940-88