SCATTAN LT8
DICKETA LT8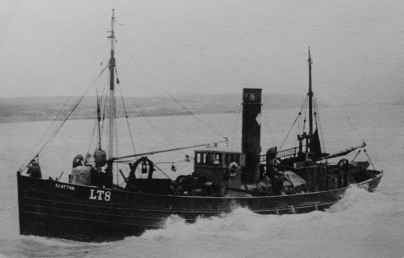 Kindly supplied by Ann Axford
Official No: 146438 Port and Year: Hull, 1922 (H404)

Grimsby, 1925 (GY294)

Lowestoft, 1929 (LT8)

Description: Steel side / drifter trawler; single screw, coal burning. Ketch rigged.

Crew: 9 men

Built: (1917) Davie SB & R, LÚvis, Quebec.

(1922) Cochrane & Sons, Selby. (Yard no. 761)

Tonnage: 97 grt 35 net.

Length / breadth / depth (feet): 85.2 / 19.1 / 9.0

Engine:

(1917) Compound engines; 24 nominal hp; 9 kts. Goldie/McCulloch Design, Galt, ON, Canada.

(1929) T.3-cyl, 270 ihp, by S. Richards & Co. Ltd., Lowestoft.

Boiler 200 psi Riley Brothers Ltd., Stockton on Tees.

Owners:

As ABELIA H404

21 Feb 1922: Pickering & Haldane's Steam Trawling Co., St. Andrew's Dock, Hull

Managers: John McCann & Edward Cartwright.


As GY294

23 Mar 1925: Thomas W. Baskcomb, Fish Docks, Grimsby.

Managing owner.

As SCATTAN LT8.
12 Mar 1929: Sydney Edward Catchpole, "Killybegs", Carlton Rd., Pakefield, Suffolk. ) Joint

George Hitcham Catchpole, Lowestoft. ) Owners

Managing owners.

30 Dec 1929: Sydney Edward Catchpole, "Killybegs", Carlton Rd., Pakefield, Suffolk.

Managing owner.


12 Aug 1938: Torbay Trawlers Ltd., Overgang, Brixham.

Manager: Arthur Dexter, The Quay, Brixham.


2 Jan 1941: Arthur Claude Mitchell, 'Stradbroke Lodge', The Rath, Milford.

29 Jan 1941: Scattan Ltd, The Docks, Milford.

Manager: Arthur C. Mitchell, 'Stradbroke Lodge', The Rath, Milford
11 Jan 1952: As DICKETA.

Landed at Milford: As SCATTAN, 8 Jan 1940 - 17 Jun 1945.

As DICKETA, occasional landings 1952-58, mainly Feb - Oct; 24 Mar - 22 May 1959.

Skippers:

Notes:

Abelia is a member of the honeysuckle family.

Scattan is a Gaelic word for herring, in areas such as the Moray Firth and the Firth of Clyde.

7 Nov 1917: As CD.18. Canadian-built Admiralty wood drifter. 1x6pdr. (CD: "Canadian Drifter.")

Aug 1919: Sold to civilian owners.

23 Aug 1933: SCATTAN aground on rocks at the entrance of Perhead. Weather fine, sea calm.

[The Times, Thursday, 24 Aug 1933.]

21 May 1937: In fog, collided with the steamer LYLEPARK of Greenock, Tyne for Key West, off Cromer LV, at 1600. SCATTAN suffered heavy damage. [The Times, Saturday, 22 May 1937.]

11 Nov 1959: Sold to Dutch owners for breaking up. Lowestoft registry closed.

[Mayes G. & Thomas M. (2014): Cochrane Shipbuilders Vol.2: 1915 - 1939.]

[ Thanks also to Barry Banham.]
Accidents and Incidents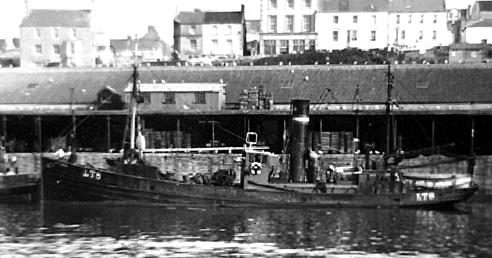 John Stevenson Collection
From the West Wales Guardian of Friday 22nd August 1958:
FELL INTO DOCK
PROMPT MILFORD RESCUE
Prompt action by a member of the crew of a Milford trawler probably saved the life of a fisherman who fell into Milford Docks last Thursday night.
At about 9.30 Deckhand James Bowie, of the trawler Dicketta, was trying to get aboard what he thought was his ship alongside the "coaling" wall.
His boat had been moved, however, and the ship he was trying to board was the Merchant Venturer, which is similar in appearance.
Unluckily he plunged some distance into the dark waters of the dock.
Luckily Mr. R. H. Wilson, trimmer on the Merchant Venturer, heard his cry and the splash and rushed on deck. He was able to get Mr. Bowie aboard and made him comfortable for the night.
Mr. Bowie was little the worse for his immersion. Fortunately he did not strike the side of the ship in falling.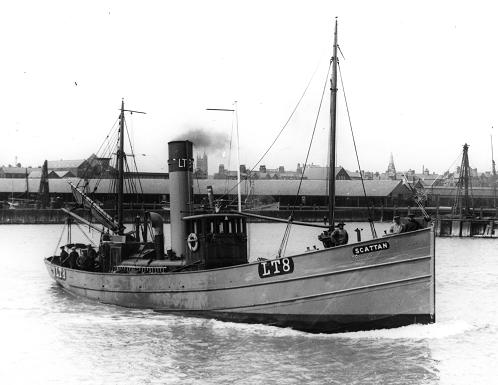 Courtesy of Barry Banham
Back to Other Registrations A - H
Back to Other Registrations Q-Z