DWRGI M3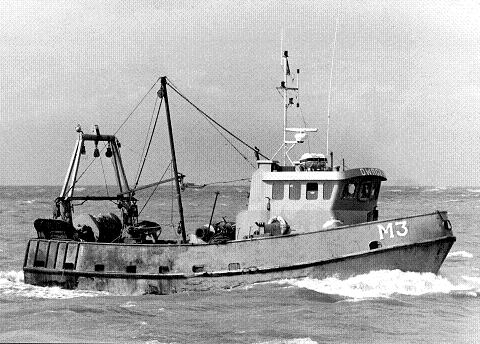 Photo by Peter Brady, Fleetwood Maritime Heritage Trust.
Official No: 700064 Port Number and Year: 4th in Milford, 1984.

- in Brixham, 1997? (BM19)

- in Dumfries, 2004? (DS7)

- in Brixham, 2005? (BM222)

Description: Steel stern beam trawler, pots and traps; motor.

Crew:

Registered at Milford: 16 Aug 1984.

Built: W. Thomas, Neyland, 1984

Tonnage: 37.28 gross 18.34 net

Length / breadth / depth (feet): 49.31 / 16.9 / 7.28

Engine: 171 hp. 220.6 kw.

Owners:

As DWRGI M3

16 Aug 1984: William Edward Thomas, Broad Haven, Haverfordwest.

By 1991: Tiers Cross, Haverfordwest. [ Change of address. ]

As SEA OTTER BM19

1997: Unknown owner.

As DS7

2004?: Unknown date and owner.

As BM222

2005?: Lyndsey Kittle ?

Landed at Milford:

Skippers: William Thomas

Notes:

Dwrgi is the Welsh word for "otter".

Cert. Cancelled & Milford Registry Closed:

11 Apr 1989: Cancelled under Section 13 (3) (b) Merchant Shipping Act 1988.

[Though see below; same owner and port number listed in Olsen's 1992.]
Accidents and Incidents:
From the Haverfordwest and Milford Haven Telegraph, of Wednesday 9th May 1990:

The Milford fishing vessel 'Dwrgi'. which broke down off the entrance to Milford Haven and was drifting on Saturday afternoon, was towed into Milford Docks by the Angle lifeboat.

The skipper of the trawler is William Thomas, of Tiers Cross.
As SEA OTTER BM222
Thanks to www.trawlerphotos.co.uk
Back to Trawlers 1940-1988