HATANO LO177

From a cutting from the West Wales Guardian in the Les Jones Archive
Official No: 148284 Port Number and Year: Cardiff, 1925 (CF16)

London, 1936 (LO177)

Description: Steel side trawler; steam screw, coal burning. Ketch rigged.

Crew:

Built: 1925, by Smith's Docks Co., Southbank-on-Tees. (Yard no. 806)

Tonnage: 297.01 grt 110 net.

Length / breadth / depth (feet): 130.0 (140 oa) / 24.0 / 12.8

Engine: T 3-Cyl. 99 rhp.; by builders.

Owners:

As CF16

1925: Neale & West, Wharf St., Cardiff.

Managers: Wilfred Neale, Morley H. Neale, & Joshua S. Neale. [Same address; 1925-27.]

Morley H. Neale, 'Haldon', Clinton Rd., Penarth. ) 1927-

Joshua S. Neale, 'Skomer', Marine Parade, Penarth. ) -1936

As LO177

21 Jul 1936: Jenkerson & Jones, Docks, Milford.

Managing owner: T. Jenkerson.

Landed at Milford: 18 Jul 1936 - 2 Sep 1939; 3 Jun 1946 - 14 Dec 1955

Skippers: George Jackson (1954); Albert Seeling

Notes:

Hatano was the name of a Japanese clan, established in the 16th century. [Wikipedia.]

5 Sep 1939: Requisitioned by the Admiralty and converted to a minesweeper (P.No. FY.662). Jun 1940: With Minesweeper Group 52, based in Plymouth.

Jan 1941: With Minesweeper Group 57, at Ardrossan.

21 May 1946: Returned to owners.

1956: Broken up.
Accidents and Incidents
From an unknown local newspaper of the week beginning 19th July 1936:

Another first class steam trawler arrived in the port on Saturday p.m. tide. The well known and largest firm in the port, Messrs. Jenkerson, have entered the market and purchased a valuable and well conditioned trawler, the "Hatano", from the Neale and West fleet, Cardiff. The vessel will be one of the largest in the port, being 130 feet in length. She was brought round from Cardiff by Skipper W. Aldridge. The s.t. "Hatano" is now being overhauled and fitted out according to Messrs. Jenkerson's requirements, and will put to sea shortly. This brings the firm's fleet up to seventeen steam trawlers, and is further good news for the port.

~~~~~~~~~~~~~~~~~~~~~~~~~~

From an unknown local newspaper of the week beginning 26th July 1936:

The "Hatano", last week's arrival from Cardiff, for Messrs. Jenkerson and Son, is at present undergoing a complete overhaul. She may sail at the weekend. The recent developments have had one gratifying result - a large number of unemployed fishermen have been taken "off the Wall", and comparatively few now remain out of ships.

~~~~~~~~~~~~~~~~~~~~~~~

From the West Wales Guardian of Friday 29th January 1937:
Mr. William James, 27, Prioryville, third hand of the steam trawler "Hatano", was seriously injured on the fishing grounds on Saturday. The trawler was about 40 miles north-west of Valencia, Ireland, and the warps were being heaved in up to the towing block aft, when the messenger hook parted and struck Mr. James in the stomach.
He was brought into Ireland for immediate attention, and later the "Hatano" made full speed for home, arriving on Monday. Subsequently the injured man was admitted to the County Hospital, where an x-ray disclosed a fracture of the pelvis.
~~~~~~~~~~~~~~
The Times, Oct 04, 1938; pg. 11; Issue 48116; col A
RESCUE THAT TOOK OVER 14 HOURS
AWARDS TO LIFEBOATMEN
The Royal National Life-boat institution has awarded its bronze medal for gallantry to Coxswain John Gin, of its motor lifeboat at Galway Bay, on the west coast of Ireland, to the motor mechanic, Joseph Doyle, and to five members of the crew, and its thanks inscribed on vellum to the other four members of the crew, for the rescue of 16 lives from the trawlers Nogi and Hatano, registered in London and owned at Milford Haven, on the night of August 16. It has also made increased money awards amounting to £3 175. 6d. to each man.
The Nogi went ashore in a very heavy sea. A boat from the Hatano with four men went to her rescue and at once got into difficulties. The lifeboat went first to the small boat, the rowlock of which caught in the fender of the lifeboat, and there was danger of a serious accident. The motor mechanic jumped aboard the boat and smashed the rowlock with a hatchet. The four men were rescued and their boat towed away.
It was impossible for the lifeboat to get alongside the Nogi but five of her crew manned the small boat; it was lowered by a rope down to the Nogi and in two journeys rescued the 11 men on board her. A member of the Nogi's crew had been swept away in the trawler's boat when she struck. His boots were found on an island, but it was only after eight hours' search that the man was found dazed and exhausted. The whole rescue had taken over 14 hours.
~~~~~~~~~~~~~~~~~~~~~~~~
From an unknown local newspaper of Thursday 31st August 1939:
On Wednesday, Mr. Hugh Phelps, third hand of the steam trawler "Hatano" (Messrs. Jenkerson and Jones), who resides at Point Street, Hakin, had a serious mishap.
It appears that he slipped and fell through the fish room hatch, and received serious injuries to the head.
[ Note by Les Jones: Mr. Phelps had broken his neck, but he lived (in Point Street) to a ripe old age. ]
~~~~~~~~~~~~~~~~~~~~
From the West Wales Guardian of Friday 24th May 1946:
On Wednesday the reconverted "Hatano" left on her first post-war voyage in charge of her pre-war skipper, Mr. Tom Donovan, D.S.C., North Road. This brings the fleet to six ships, compared with sixteen before 1939.
The firm, which specialised in Castle trawlers, always had a fine maintenance reputation, and their trawlers, to quote a fisherman, were turned out like yachts. At the start of the war, their whole fleet of fourteen trawlers was conscripted. Three were returned for fishing, but eleven performed grand work as minesweepers through the war. Two, the "Nogi" and "Tamura" [ were lost ]. The "Togimo", another Jenkerson trawler, was sunk while fishing off Ireland in February 1940. The "Yezo" is still in service, the "Settsu" is undergoing reconversion at Plymouth, and should return to Milford within the next six weeks. The "Our Bairns" is being refitted for fishing at Milford, but it has not yet been decided whether the "David Ogilvie", lately returned from service, will fish again.
~~~~~~~~~~~~~~~~~~~~~~~~
From the West Wales Guardian of Friday 16th January 1948:
If those gallant men who go down to the sea in ships, or others connected with the industry ashore, were asked to name the port's leading skippers last year, there would be much scratching of heads and even more heated argument.
Our records, however, indicate that Skipper-Lieutenant Tom Donovan, North Road, in the Hatano, with crack Milford Skipper Albert Riby, Shakespeare Avenue, Gunner, and Skipper William Rostron, Shakespeare Avenue, Cotswold, finished on level terms.
In the Castle Class, Skipper Bobby Kettle, Vaynor Road, Richard Crofts, topped the list of catches just ahead of Skipper Jimmy Hewitt, North Road, Concertator, though the average of Skipper Albert Seeling, Edward Street, during his nine months in charge of the William Bunce, gave the port's best monthly return.
In the inter-Castle Class, 36 year old Skipper Jack Foster, Picton Road, had the best returns, while Skipper Jack Ryan, Stratford Road, once again earned his title of "Crabber King", which he held before the war.
~~~~~~~~~~~~~~~~~~~~~~~~~
From the West Wales Guardian of Friday 18th January 1952:
FISHING "LEAGUE"
"DUKE" AT THE TOP AGAIN
After two years as "runners-up", Skipper Albert Saunders and the "Milford Duke" are once again in top place in the Milford fishing "league". In 1951 Skipper Saunders caught a greater value of fish than any other individual trawler captain in the port.
Second in the league on last year's results is Skipper W. Burgoyne, who has moved up a place, closely followed by Skipper Steve Pembroke, who was sixth in the list of 1949 catches. "Crack" Skipper for 1948 and 1949, Skipper Tom Donovan, D.S.C., is a close fifth in results while consistent Skipper James Jobson again occupies fourth position.
Here are the leading positions, the ships being classed according to size.
.............
SUPER CASTLE
In this class Skipper Sid Hearne is well out in front with Skippers Harvey and Seeling neck and neck behind him.
1. Nighthawk (Sid Hearn), Milford Fisheries.
2. Almandine (Arthur Harvey), Milford Fisheries.
3. Hatano (Albert Seeling), Messrs. Jenkerson.
4. Homeleigh (Clarence Riby), Goodleigh Fisheries.
~~~~~~~~~~~~~~~~~~~~~~~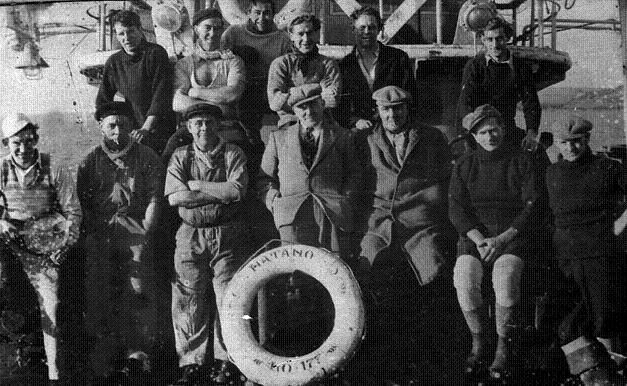 Back Row L-R: Deckie Brian Lawes, 2nd Eng Sidney Warlow, 3rd Hand Stanley Farrow, Deckie John Paice, Fireman Lionel Eade & Deckie Trimmer George Sharp
Front Row: Cook Alfie Taylor, Fireman Sam Matlow, Chief Eng H.B.Webster, Skipper George Jackson, Mate Gordon (Tamo) Allerton, Bosun Jim Donavon & Deckie Robert Nichols
Taken for the West Wales Guardian series "Ships and Men", 24 Dec 1954
John Stevenson Collection

~~~~~~~~~~~~~~~~~~~~~~~~~~~~~~~~~~~
From the West Wales Guardian of Friday 25th May 1956:
A staggering blow to the depressed Milford fishing industry is the news that the old established trawling firm of Messrs. T. J. Jenkerson and Sons is going out of business. The decision means that five Castle class trawlers and the only oil-fired post-war vessel in port will be withdrawn from fishing, throwing another 70 trawlermen out of work. In addition, the firm has a considerable administration and maintenance staff, and is principally concerned in the Milford Engineering Company, Ltd., which will also be seriously affected.
Two weeks ago Messrs. Jenkerson, whose principals are the brothers Leslie and Kenneth, scrapped two Castle boats, the Hatano and Alexander Scott.
The present fleet consists of the coal burners Lephreto, Damito, William Bunce, Our Bairns, Their Merit, and the oil burner David Ogilvie, which was built in Aberdeen in 1949.
It is expected that all the ships with the exception of the David Ogilvie will go to the scrap yard.
Back to Other Registrations A - H