HERO M218 (1907-19)
HERO FD227 (1919-53)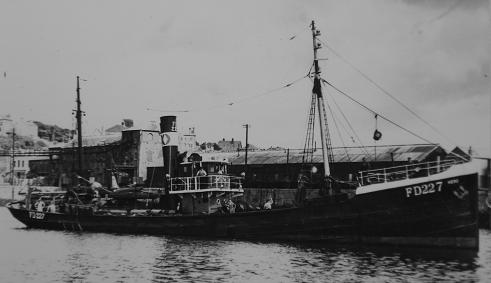 Les Jones Archive (also see below)
Official No: 127403 Port Number and Year: 13th in Milford,1907

- in Fleetwood, 1919 (FD227)

Description: Steel side / beam trawler. Steam screw, coal burner. Ketch rigged: foresail, mainsail and mizzen

Crew: 9 men (1907).

Registered at Milford: 21 Nov 1907

Built: Dundee Shipbuilding Co., Dundee; 1907. (Yard no. 194)

Tonnage: 226.43 gross 64.15 net > tonnage amended to 85.40 net on 1 Jan 1914.

Length / breadth / depth (feet): 120 / 21.65 / 11.49

Engine: T.3-cyl. 71 nhp. 10 kts. W.V.V. Lidgerwood, Coatbridge, Glasgow

Owners:

21 Nov 1907: Ann Harries, 'Honeyborough House', 48 High St., Neyland. (Draper)

Managing owner.

8 Jun 1911: Neyland Steam Trawling & Fishing Co., Fish Market, Neyland.

Manager: Alexander Scott, Bungalow, Neyland.

David Gwilliam Jones. (By 1918)

As FD227

21 Feb 1919: Noah Ashworth ) Clifton Steam Trawlers,

Rowland Morris ) Orient Buildings, Station Rd.,

Ernest Taylor ) Fleetwood.

Manager: Joseph A. Taylor

William W. Brierley (1924)

Hulbert M. Bird (1939)

3 Oct 1945: John Yolland Jnr. & Others, Docks, Milford.

4 Mar 1946: William D. Uglow & Samuel F. Uglow, Milford.

Managers: William D. Uglow & Co.

1951: William James (Milford Haven), Milford.

Manager: Hubert S Smith.

1952: Yolland Bros, Milford.

Manager: J. Yolland

Landed at Milford:

As M218: 27 Nov 1907 - 6 Nov 1909 (Also landed at Neyland - see below.)

As FD227: 1 May 1946 - 11 May 1953

Skippers:

Thomas James Hawkins cert. 2014, age 42, born Brixham, residing Chester House, Hakin; signed on 1 Jan 1908.

William Henry Davies 5716, 30, Caerphilly, Laburnam House, Neyland; 29 Jan, 8 Jul 1908

J. Tucker 6126, 29, Brixham; 19 Aug 1908

C. Webb 3292, 24, London; 28 Aug 1908

George Hanlon 6195, 47, Scarborough; 29 Sep 1908

J. Reynolds 0472, 48, Scarborough; 2 Jan 1909

J. W. Taylor 6755, 33, Hull. 19 Prince of Wales Rd., Swansea; 7 Jul 1909

Harry Holmes 8341, 23, Bedford, 128 Rhondda St., Mt.Pleasant, Swansea; 3 Aug 1909; 12 jan 1910

J. L. Stroud 02471, 49, Ramsgate, 62 Charles St., Milford; 18 Mar, 5 Jun 1910; 7 Jan 1911

J. Collins 8407, 33, Baltimore; 28 Jan 1911

Jos. D. Moran 5488 36, Hull; 22 Feb 1911

John Welham 6150, 40, Yarmouth, 5 Great Eastern Tce., Neyland; 15 Jan 1913

C. Howe 10090; 9 Dec 1913

Notes:

1911: In company with APLEY, landed 250 kits at Neyland Fish Market on its opening day, grossing £98.

Aug 1914: Requisitioned for war service and converted for minelaying duties (Admy.No.156).

1917: Converted for minesweeping duties.

Jun 1940: Requisitioned for war service and converted for minelaying (P.No. FY1866); renamed HEROINE.

Mar 1944: Converted to a smoke making (Esso) trawler and assigned to Operation Neptune - Normandy landings.

9 Jun 1944: Sailed Solent for Mulberry B with Group B2 as part of Convoy ETC6. Employed in smoke making.

27 Nov 1944: Returned to owners.

18 May 1953: Sank after collision off the Smalls. [See below.]

Cert. Cancelled & Milford Registry Closed: 16 Jul 1919. Registry transferred to the port of Fleetwood.
Accidents and Incidents:
From the Haverfordwest & Milford Haven Telegraph of Wednesday 4th December 1907:

Still they come, with more to follow. A record in the number of new trawlers arriving has to be chronicled this week. Last week three fine boats came round: on Monday, the steam trawler "Urania", built by the Dundee Ship Building Company for the Pembrokeshire Steam Trawling Company, in charge of Captain J. Gardner; on Wednesday the steam trawler "Cleopatra" from the Smith's Dock, for Messrs. D. Pettit and Company (Captain J. Blake); on Thursday, a trawler bearing the name "Hero" (Captain Hawkins) for Mrs. Harries, Neyland, also from Dundee. On Tuesday this week came the steam trawler "Dewsland" (Captain Ben Bryant) from the Selby Ship Building Company, to the order of Mr. W. Jenkins and Company, and today another for Mr. D. Pettit and Company, viz., the steam trawler "Calliope" is expected to be brought in by Captain J. Dove, whilst the steam trawler "Gloria", Messrs. Longthorp and James, is said to have left for the fishing grounds.

During the next few weeks further additions will arrive. It is well, under the circumstances, that the extension of the Market is proceeding so rapidly. Another length has been commenced, and will probably be completed by the end of this year.

~~~~~~~~~~~~~~~~~~~~~~

From The Pembrokeshire Herald and General Advertiser of Friday 3 September 1909:

NEYLAND.

Fishing Industry.- Since Monday, August 23rd, the following boats have come into Neyland and disposed of their catches at the market — the Bush £190, Urania £159, Siluria £117, Slebech £149, Caldy £106, Apley £150, Hero £163, Angle £126, and the Neyland £122. The catches have included several kits of herring, and it is expected that the trawlers will at any time run across the shoal.
________________________________
Log book entries:
20.11.1909
Thomas Hadaway, age 29, Second Engineer; Australian, residing Milford.
On November 20th 1909 at 8 p.m., when vessel was off Ushant, the Second Engineer Thomas Hadaway was examining engines when by some means he got his hand in the engine. Two fingers broke.
H. Holmes (Skipper)
[Written by Acting Superintendent of the M.M. Office in Neyland. See correspondence below.]
31.10.1910
23 miles of Cape Sines, E by S.
Collision - wheel chains jammed.
J. L. Stroud (Skipper)
~~~~~~~~~~~~~~~~~~~
Transcription of a page of correspondence stamped "M.M. Office Neyland, Pem 18 April 1910". (Spelling and punctuation as in original):
Mr. H. Holmes,
Swansea,
Late Skipper of s.t. Hero ono. 127403
Sir -
I am directed by the Registrar General of Shipping and Seamen to call your attention to your omission to record on page 16 of the Official Log Book the injury of G. Hadaway, 2nd Engineer of the above-named vessel, on the 20th November last.
You are also requested to explain the omission hereon and return it to this office with the least possible delay.
Your Obdt. Servt.,
W. Hall
Actg. Supt.
Sir/
I beg to inform you that I made a statement at the Customs at Neyland on our arrival at Neyland the accident occured a day before we arrived in Port. As I made in my statement at Neyland Custom House. Infact I Reported it and you asked me If I had entered it in the log and I told you I had not. So you said I must have it and you tore out the leaf of 16 and you wrote the injury out for me. The Accident
On the Day of the 20th of November T. Hadaway was on Duty and while do the same He got his finger in the Engine.
H. Holmes
~~~~~~~~~~~~~~~~~~~~~~~~~~~~~
From the West Wales Guardian of Friday, 4th February 1949:
On Thursday morning the Milford trawler 'Hero' (Messrs. Uglow) steamed into Milford harbour and dropped anchor in Dale Roads. On her deck was a large round horned mine which had been hauled up in the trawl of the south-west Ireland during Wednesday night. The first the crew knew about was when the cod-end of the net was opened and the mine fell onto the deck with the fish. Skipper Lenny Brown immediately turned for port and in accordance with regulations dropped anchor in Dale Roads. News of the "catch" was communicated to the Naval Authorities and on Thursday evening a mine disposal expert arrived from Plymouth to defuse the menace.
~~~~~~~~~~~~~~~~~~~~~~~~~
From the West Wales Guardian of Friday 18th January 1952:
FISHING "LEAGUE"
"DUKE" AT THE TOP AGAIN
After two years as "runners-up", Skipper Albert Saunders and the "Milford Duke" are once again in top place in the Milford fishing "league". In 1951 Skipper Saunders caught a greater value of fish than any other individual trawler captain in the port.
Second in the league on last year's results is Skipper W. Burgoyne, who has moved up a place, closely followed by Skipper Steve Pembroke, who was sixth in the list of 1949 catches. "Crack" Skipper for 1948 and 1949, Skipper Tom Donovan, D.S.C., is a close fifth in results while consistent Skipper James Jobson again occupies fourth position.
Here are the leading positions, the ships being classed according to size.
.....
BIG CRABBERS
This class has provided a real family struggle, with Skipper Tom Salter pipping his brother-in-law on the post and his brother finishing in third place!
The first three boats are owned by the Westward Company (Mr. E. E. Carter).
1. Cleopatra II. (Tom Salter), Westward.
2. Caldy (Hubert Morgans), Westward.
3. Slebech (Harry Salter), Westward.
4. Avonstar (Jack Ryan); 5, Ocean Brine (Frank Gambold); 6, Milford Knight (Harry Thompson); 7, Hero (Lenny Brown); 8, Montano (George Kersey); 9, Milford Countess (Teddy Funge).
~~~~~~~~~~~~~~~~~~~~~~~
From the West Wales Guardian of Friday 17th October 1952:
There is a postscript to the story of the motor yacht Anna Jane, which was towed into Milford on Tuesday by the trawler Hero (Skipper Lenny Brown) after two days battering in heavy seas.
One of the Anna Jane's crew was Able Seaman Jeffrey Grey, aged 32 of Tunbridge Wells, who has now secured for himself a new job, deckhand learner on the trawler Hero, having been convinced during the tow that a fisherman's life is full of prospects, as well as hard work.
~~~~~~~~~~~~~~~~~~~~~~~~~~~
From the West Wales Guardian of Friday 20th March 1953:
On Tuesday the Milford trawler "Cloughstone", Skipper Bert Horst, towed home the steam trawler "Hero", Skipper Lenny Brown, which had developed boiler trouble on the fishing grounds off the Irish coast.
~~~~~~~~~~~~~~~~~~~~~~~~~~~~
From the West Wales Guardian of Friday 15th May 1953:
FISHING FIGURES.— This has been another week of fluctuating prices, but best quality has remained steady in demand and value. Skipper Charles Shearing, who recently changed from drifters to crabbers, brought home a nice catch on his maiden voyage in the Hero, his 200 kits including seven of hake, 21 of ray and 17 of plaice and his grossing was £1,138 for 12 days.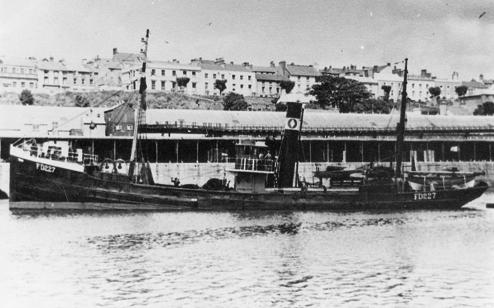 Courtesy of Robert Kettle
_____________________________________
The Times, Tuesday, May 19, 1953; pg. 4; Issue 52625; col G

News in Brief

Man killed in trawler sinking

Ten survivors of the Milford trawler Hero which sank yesterday after a collision near the Smalls, off the Pembrokeshire coast, were later landed at Milford Haven. The fireman of the Hero, Arthur Thorne, aged 65, of Hakin, Milford Haven, was killed. The other vessel involved was the Rivercrest (7,008 tons), which picked up the Hero's crew.

Charles Shearing, master of the trawler, said there was a dense fog at the time of the collision and his ship sank in a few minutes.

__________________________

From a transcription from the West Wales Guardian of 22nd May 1953, in the Les Jones Archive:

A few minutes after she was struck by the 7,000 tons cargo ship "Rivercrest" the 217 tons Milford trawler "Hero" sank in dense fog thirty miles west of the Smalls Lighthouse on Monday morning. Ten of her crew of eleven jumped to safety into the water and were saved. The eleventh, sixty-five year old fireman Arthur Thorne refused to leave the sinking ship and remained on her as she went down. He was later picked up almost unconscious and died in the small boat taking him to the "Rivercrest".

The ten men who were saved were:

Skipper - C.Shearing,122, Priory Road.

Mate - G. Stammers, 30, Shakespeare Avenue.

Bosun - G. Burder, 20, Langford Close, Johnston.

3rd Hand - J. Owen, 2, Langford Close, Johnston.

Decky - G. Snelling, 2, Brooke Avenue, Milford.

Deck - J. Harries, 18, Nubian Crescent, Hakin.

Cook - R. Leckie, The Mission, Charles Street.

Chief - A. Scale, "The Drifts" , St. Ishmaels.

2nd Engineer - R. Mallett, 8, Rectory Avenue, Hakin.

Fireman - J. Canavon, The Mission, Charles Street.

The survivors from the "Hero" spent a grim half hour swimming around in the water and clinging desperately to planks before they were hauled aboard the small boat from the "Rivercrest". They showed evidence of their ordeal as they leaned over the rail of the ship and waved to the pilot launch which met them three miles off the entrance to the Haven. It had taken the "Rivercrest" five hours slow steaming through dense fog to reach the Haven. Her red ensign flew at half mast in respect for the fireman who had died.

The other members of the trawler's crew stood on the deck - oil stained, most of them bare footed and clad in an odd assortment of clothes and blankets. They grinned cheerfully as the ship entered the Haven from which they had sailed on Friday on the "Hero" owned by Messrs. Yolland Brothers.

At Hakin Point a crowd of anxious relatives and dock workers had gathered to welcome the survivors. They were brought ashore in the T.O.A. boat and landed at the lock pits slipway. Some of them were still bare footed and had blankets wrapped around them, for they had lost their clothes and all their belongings when the trawler sank beneath them. There were touching scenes as wives and children ran to their loved ones, overjoyed at having them return safely. The men were weary and anxious to get home and were immediately taken away in cars provided by the owners.

The Skipper, Mr Charles Shearing, Priory Road, who was making only his second trip in the "Hero" told the Guardian, "We were engaged in hauling the trawl about eight a. m. and I was on deck helping. There was dense fog and we were [blowing] our whistle. We heard a loud siren close by us but could not see anything. I went up to the bridge and then saw a big vessel coming straight for us. I rang for full speed but we had hardly time to get underway when the ship hit us amidships on the port side. The 'Hero' started settling down fast, and our small craft was smashed away. I ordered the crew to throw overboard planks and anything that would float and jump for it. We were in the water for about twenty minutes to half-an-hour but it seemed like hours to us. The small boat from the 'Rivercrest' picked us up. Fireman Thorne was just barely alive when they got him into the small boat, but he passed away almost immediately."

The Chief Engineer, Mr Arthur Scale of The Drift, Marloes, said, "I was in the engine room with fireman Canavon when the collision came. There seemed to be a huge hole on the port side of the trawler and a deluge came bursting in on us. It seemed as if the whole stern of the ship had been ripped away and water was coming in on all sides. I could not reach the ladder because of the flood water pouring in and had to climb up through the stokehold to get onto the deck. It was only a matter of minutes before we were in the water and the 'Hero' was gone."

The youngest member of the crew, twenty year old John Canavon, of Dublin, had his right arm in a sling as he came ashore. "I hurt myself when I fell down into the engine room," he explained. "I had gone to the galley to fetch some tea when the ship hit us and the shock of the collision knocked me down the ladder. Fortunately the water which had flooded into the engine-room prevented me being killed. I was lucky not to fall into the engines." Canavan also climbed up through the stokehold to reach the deck. "When we were in the water I was just about all in," said Canavon, "when Second Engineer Mallet, who was clinging to a raft, got hold of me," he said. "I was just about giving up when he twisted his legs around me and kept me up. I couldn't have lasted until the boat came without his help." Canavon said Fireman Thorne

was one of those having breakfast in the cabin when the collision occurred. "He wouldn't jump with the rest of us", he said. "He was an old man and stayed on the ship as she was tilting over. He was still clinging to the deck as it was awash. When he was picked up they started artificial respiration on him right away but he never came round."

The man who probably saved young Canavon's life, Second Engineer R.Mallett, was having breakfast with two others at the time. "A deluge of water came gushing in on top of us," he said. "We managed to climb out and got on to the deck. Everything that would float was thrown over the side."

The "Rivercrest" suffered only slight

damage in the collision, some of her plates on the port side being buckled. She was on her way from Liverpool to Casablanca.

Fireman Arthur Thorne was a widower and lodged at 13,Chapel Street, Hakin. A native of the East Coast, he had sailed on local trawlers for many years. He had resided in Point Street until the death of his wife a year ago. There is no family, but a sister-in-law is Mrs Middlemas, The Shop, Lower Hill Street, Hakin. Mr Thorne was making only his third trip on the steam trawler "Hero".

A graphic account of the last moments of the ill-fated trawler was given by the Skipper, Mr Charles Shearing, at an inquest at Milford on Wednesday on the body of Arthur Thorne. The Deputy Coroner for South Pembrokeshire (Mr J. F. Johnson) conducted the inquest, and congratulated Skipper Shearing on the fact that no other lives were lost.

Dr. J. Wotton said he saw the body of Arthur Thorne in the mortuary at four p.m. on Monday. On examination he found one or two small cuts (superficial injuries). Having regard to the circumstances, his opinion was that death was due to shock (cardiac failure), probably due to sudden immersion in the water. Evidence of identification was given by Robert Hunam Middlemass, 26, Hill Street, Hakin, a fisherman, who said deceased was his brother-in-law. He was sixty-five years of age, and his wife died last year. He had lodged at 13, Chapel Street, Hakin.

Mr Shearing, the Skipper, who lives at 122, Priory Road, Milford, said that early on Monday morning the trawler was fishing approximately thirty miles west north-west of the Smalls. They were trawling back and fore in the area.

"About seven forty five a. m. we were hauling in the trawl," he continued. "The fog was dense and visibility nil, all hands were at work and during the time we were hauling I thought I heard engines overhead but could see nothing. All engines were stopped while we were hauling and we were blowing the whistle. About eight a.m. we heard the siren of a ship almost on top of us on our port side. It was absolutely on top of us," he went on. "I sounded the siren and rang the ship full speed ahead. Almost at once I saw a green mountain coming towards us, which was the stem of the other vessel. She hit us on the aft side of the port gallows and carried away the whole stern including mast and small boat, etc. She went right through us. I could see the 'Hero' was going to sink and we threw everything that would float overboard, including a small raft on top of the galley. We had more than enough lifebelts out of the forecastle for every man," he continued, "and the crew were all present on deck. I gave the orders to abandon ship. I saw all the crew take to the water with the exception of the deceased Fireman Arthur Thorne. I could see that he was holding on to the ship and just wouldn't let go. I told him, 'Go with the boys, they will look after you,' but the poor old chap was too frightened to let go. His face was as white as the driven snow and he couldn't say anything. I pushed him along and eventually had to force him over the side. I followed him. The galley was under water then, and her stern was settling very fast. Deceased had a lifebelt on and we were in the water for about half an hour. The next time I saw him was when we were all picked up by the small boat from the 'Rivercrest' . As far as I could see there was a little life in him when he was picked up by the lifeboat."

The Duty Coroner said the evidence had revealed what could be described as another drama of the sea which seemed to indicate once again the hazards of the calling of the fishermen. "It is clear that the collision took place in very dense fog, obviously one of the most dreaded conditions at sea. The 'Hero' sank very rapidly and from the evidence it seems miraculous that no-one else was lost in this accident. That is a matter of congratulation to the Skipper and crew."

"The circumstances and cause of the death were quite clear," said Mr. Johnston. "Deceased was apparently dreading having to go into the water and had eventually to be forced in. His death was due to cardiac failure following shock probably caused by sudden immersion in the water."

Mr. Johnston expressed sympathy with the Skipper and crew in the loss of a shipmate in such a dreadful occurrence. He also tendered sympathy to Mr. Middlemass and family.

The Secretary of Messrs. Yolland Brothers (the owners), Mr. V. T. Cleaver, endorsed the expression of sympathy and said, "I also endorse the congratulations to the Skipper for the way he handled a very difficult situation."

Back to Trawlers 1888-1914