INVERFORTH GN52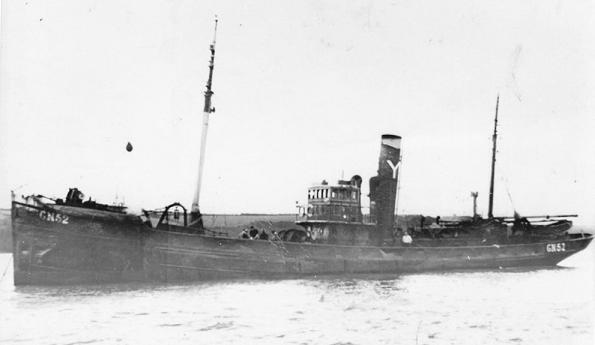 Courtesy of Robert Kettle
Official No: 136181 Port Number and Year: Hull, 1914 (H33)

Grimsby, 1926 (GY383)

Granton, 1928 (GN52)

Description: Steel side trawler; steam screw, coal burning.

Crew: 9 men (1914).

Built: 1914, by Cochrane & Sons, Selby. (Yard no. 584)

Tonnage: 248 grt 98 net.

Length / breadth / depth (feet): 121.9 / 22.1 / 12.2

Engine: T 3-Cyl. 76 rhp by Charles D. Holmes, Hull

Owners:

As JACINTH H33

23 Feb 1914: The Kingston Steam Trawling Co. Ltd., St. Andrew's Dock, Hull.

Manager: Lawrence Spring. [Same address.] (1914-c.1917)

Arthur Taylor. [Same address.] (c.1917-24)

Walter Scott, 5 Parliament St., Hull. (1924-26)

As GY383

5 Mar 1926: Bunch Steam Fishing Co. Ltd., Grimsby

Manager: Walter Crampin, 399 Grimsby Rd., Cleethorpes, Lincs.

Dec 1928: David Dryburgh, 2 Bangholm Park, Leith.

5 Feb 1936: As INVERFORTH GN53.

Managing owner.

1945: Yolland Bros., Docks, Milford.

Manager: John Yolland.

1946: Cairo Fishing Co. (Yolland Bros.)., Docks, Milford

Manager: John Yolland

Landed at Milford: 6 Apr 1946 - 15 Jun 1955

Skippers: Ambrose 'Bush' Settersfield (1954)

Notes:

Jacinth is a red transparent variety of zircon used as a gemstone, and is also a flower of a reddish blue or deep purple (hyacinth). [Wikipedia.]

Inverforth is in St. Monans on the north shore of the Firth of Forth.

Feb 1916: Requisitioned by the Admiralty as JACINTH and converted to a minesweeper (Admy.No.1226) 1 x 12pdr; 1 x 6 pdr. AA

21 Aug 1917: With THOMAS YOUNG SN67 and CHIKARA GY 364, sank U- 36 by depth charge in the Firth of Tay.

1919: Returned to owners.

15 Sep 1934: As JACINTH, brought members of British trans-Greenland expedition from Angmagssalik to Aberdeen, where they arrived on 8th October. [The Times of 17 Sep 1934, and 9 Oct 1934.]

Nov 1939: Requisitioned by the Admiralty as INVERFORTH and converted to an auxiliary patrol vessel. (P.No.FY.729)

Apr 1940: Converted to a minesweeper.

Jul 1945: Returned to owners.

14 Jan 1954: Stood by the LYNANDI, drifting in heavy weather 23 miles off St. Ann's Head.

1955: Broken up in Antwerp.
Accidents and Incidents
The Times, Saturday, Jan 16, 1954; pg. 6; Issue 52831; col G
Dutch Ship Breaks Tow

......

Shortly after midnight the owner of the Lynandi, a Milford Haven trawler, decided to call out the Angle lifeboat to try to take off the crew.

The Lynandi, disabled on Thursday after mechanical trouble, was taken in tow by another trawler. The tow was continued for100 miles, but then the rope parted, and two efforts to reconnect it failed. The Lynandi then started to drift off St. Ann's Head.

.....

From the West Wales Guardian of 22nd January 1954:

As an 80 miles per hour gale lashed across the town on Friday evening, the people of Milford listened with anxiety to a battle waged against the elements by a vessel of the Port's fleet within sight of the lights of St Ann's Head. The trawler "Lynandi" drifted out of control, whilst the S.T. "Inverforth" stood by powerless to assist in the mountainous seas.

On Thursday afternoon the "Lynandi", a Castle type trawler, owned by R.G. Parsley, and commanded by Skipper W. G. King, was fishing off the Old Head of Kinsale, when boiler trouble developed. The ship was blown down and lost all power. Skipper Ambrose Settersfield in the "Inverforth" a c
rabber, was fishing near at hand and proceeded to the "Lynandi's" assistance. The "Inverforth" took the "Lynandi" in tow and commenced what appeared to be a routine "Hobble" of bringing a trawler safely into port. The weather at that time did not appear to present any difficulties, but during the night conditions deteriorated. At 11 o'clock a.m. on Friday morning the "Inverforth" with her charge had travelled a hundred miles against the increasing bad weather, and then twenty three miles from St Ann's Head, the tow parted under the mounting strain. Twice the "Lynandi" floated down a line on Dan Floats, but each time the lines parted.

The wind had now reached gale force, and the "Inverforth" in her attempt to reach the second Dan Float shipped a heavy sea. "It was one of the biggest I have ever seen", said Skipper Settersfield. "Fortunately, the men on deck were able to get clear in time, and we in the wheelhouse flung ourselves on the grating."

Realising that it was impossible to reconnect the tow and carry on, Skipper Setterfied requested a tug . Ashore, the urgency of the si tuation was appreciated and the" Empire Rosa" was dispatched from Pembroke Dock. The tug reached the Heads and passed from the sight of the trawlers sheltering in Chapel Bay. Ten minutes later, however her lights reappeared in the Haven as she returned after being unable to force a passage out through the mountainous seas outside. Reluctantly the decision was made, for at that time it was impossible for her to survive those seas.

With the failure of the tug to reach the "Lynandi" the position became serious. Skipper King feared that, at the mercy of wind and tide, he would be driven ashore on the rocky coast. A slight change in the wind of a point, however, drove the trawler down towards St Govans, and here a fresh danger threatened of being swept into the shoal waters or fouling the Lightship. The "Lynandi's" crewman handling their warps and gear succeeded in warping out their kedge anchor, although the Mate, Mr Allerton, injured his foot badly in the process. This steadied their drift and was of tremendous value to the vessel in the hours to come. From seven p.m. to

nine p.m. listeners waited with anxiety until Skipper Settersfield's voice stated that it would appear that the danger was cleared until the flood tide, as the "Lynandi" would drift towards the open channel, and clear of the St Govans Lightship.

Skipper King was determined not to call for a lifeboat, unless the crew's lives were endangered. The "Lynandi", a fine seaship, was riding well, and throughout the night did not ship a single sea. Skipper Settersfield maintained contact with the "Lynandi", and his Decca navigation bearings confirmed their position. With forty foot seas running, he informed the shore that it was impossible for any ship to live alongside the "Lynandi", and any attempt to go alongside would be fatal to both vessels. Visibity was good and although the "Inverforth" once lost contact, Skipper King could see the "Inverforth's" lights [which] gave him his bearings to [resume] contact. Skipper King, in a brief message, stated that the crew were all in good spirits, and after saying that he had just had a good meat sandwich (his first food for over

twenty four hours) he added, "I hope to be home in time to check my coupon tomorrow night."

At mid-night, Mr Gordon Parsley spoke to the two ships and stated that he thought the "Lynandi's" crew had been there long enough. He informed Skipper King that the Angle Lifeboat was being launched to come to their assistance.

The Angle Lifeboat, under Coxswain Alfred Watkins, was launched at 12.15 a.m., and after a severe buffeting passed through the Heads at 12.45.a.m. She proceeded to a position 14 miles South West of St Govans Head, and throughout the night, battling her way through tremendous seas, searched a 12 mile area without success. Eventually she was forced to return to Harbour at 8 o'clock a.m., and after refuelling left again at 9 a.m. At one time anxiety was felt for the safety for the lifeboat, as attempts to contact her on the radio failed. The transmitter was at fault.

The "Thomas Booth", under Skipper E. Robson, reached the scene at about 2 a.m., and took up position with the trawler "Inverforth". Although the "Lynandi" was riding the seas well, the position remained serious for if the wind had changed to the Southward she would have been driven inshore. Skipper Settersfield, in the "Inverforth", made arrangements ready to deal with any emergency to take off the crew, but in those seas it would have been a Herculean task.

With the dawn the conditions moderated, and at 9.10 a.m. the "Empire Rose" passed through the Heads and turned Southwards. She succeeded in commencing to tow the "Lynandi" at 11 a.m., but the seas were still severe and the tow parted. On reconnecting, however, they began to make headway, and escorted by the "Inverforth" and the Angle Lifeboat, commenced the journey home. At 2.15 p.m. they were within l miles of the Heads, proceeding slowly, and two hours later were safe at anchor in the Harbour.

When interviewed, Skipper King expressed the appreciation of his crew to all who had assisted them, and speaking of his own crew he praised their work in the back breaking manhandling of the warps and gear, without lights and heat. They had done all they could to save their ship. Skipper King praised too the sea worthiness of the "Lynandi". Although out of control, she proved a perfect sea ship and throughout the night never shipped a drop of water.

Skipper Settersfield, when interviewed, was reticent to talk of the part he played. "I know what it is like to be ship wrecked, myself," he told our reporter. "l had a good crew and they did all that was asked of them, and I only did what any fisherman would do. It was a very bad night and the seas in those shoal waters were about the worst I have seen in thirty years at sea."

Deck Hand H. Taylor, 6 St. Lawrence Avenue, lost his young brother at sea nearly twelve months ago in the" Richard Crofts" disaster.

It is not often that such a fight against the sea takes place within the range of the scores of trawler radio wave bands sets in the port, and throughout the night, watch was kept in nearly every street. To all who listened, the confidence radiated by the sound of Skipper Settersfield's voice and the splendid manner in which he carried out his duties, together with his crew, will always remain in the memory of those listening in.

Crew members, "Lynandi": Crew members, "Inverforth" .

Skipper, A. W .King, 62, Glebelands A. Settersfield, 66, Shakespeare Ave.

Mate, G. Allerton, Glebelands E. T. Gibbs, 54, Kensington Rd, Neyland

Bosun, M. J. McNeil, 49, Harbour Way. W. S. James, 28, Prioryville.

3rd Hand, W. D. Johnston, 29, Maeshyfryd, Fishguard. J. Phillips, 13, Priory Ave., Haverfordwest

Deckhands, G. Owston, Caerfai, Steynton. J. H. Boswell, 60 King St., Pembroke Dock.

H. Taylor, 6, St Lawrence Ave. A. Hodgson, 57, Walcot St., Hull.

S. Majewski, 77, Milton Crescent, Pill.

Cook, C. J. Colby, 9, High St., Wargrave, Berks. E. Wilcoki, 3, Colby Scott, Haverfordwest.

Ch.Eng., P. J. Mason, Charles St, Neyland. H. W. Pointer, 62, Picton Rd, Hakin.

2nd Eng., J. W. Evans, 29, Lewis St, Pembroke Dock. C. H. Middlemiss, 26, Lower Hill St., Hakin

Firemen, J. Pace, 202, Bute St, Cardiff. D. Langdale, 1, Milton Crescent, Pill.

T. Walters, 41,Charles St, Neyland. D. Williams, Sailors' Home, Swansea.

~~~~~~~~~~~~~~~~~~~~~~~~~~~~~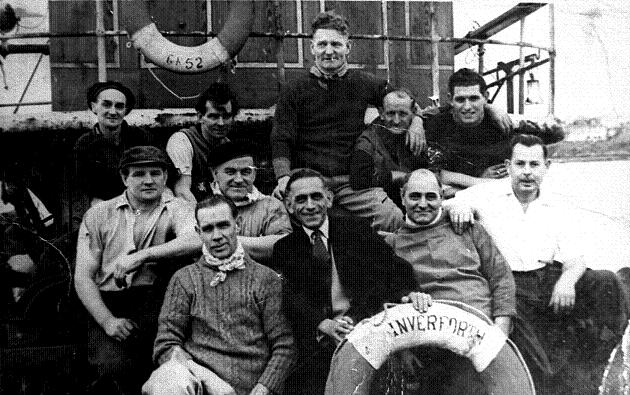 L to R, back row: Firemen Philip Gilbert and Vincent Dawes, Deckhands Ted Norman and Leslie Curtis. 3rd Hand Frederick James
Front row: 2nd Eng. Ronnie Dawes, Bosun Billy Brown, Skipper Ambrose ('Bush') Settersfield, Mate Trevor Gibbs, Cook Billy Marchant
Taken for the West Wales Guardian of 3rd December 1954
John Stevenson Collection
Back to Other Registrations I - P