KINELLAN A578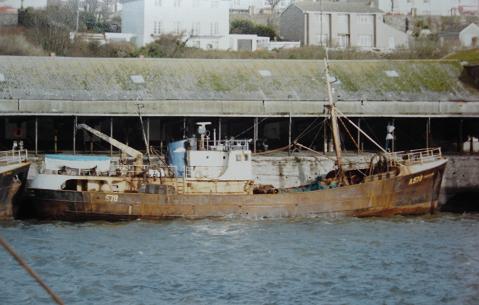 Les Jones Archive
Official No: 303209 Port and Year: Aberdeen, 1961 (A578)

Description: Steel side trawler; single screw, motor.

Crew:

Built: 1961, by John Lewis & Sons, Aberdeen. (Yard no. 317)

Tonnage: 209 grt 79 net.

Length / breadth / depth (feet): 93.5 / 22.4 / 10.9

Engine: 2 SA 6 Cyl; 675 bhp.= 11 kts. Crossley Bros.

Apr 1968: Re-engined with Lister Blackstone ERS8M, 4 SA 8 Cyl.

Owners:

1961: Devanha Fishing Co., Aberdeen

Manager: George Wood.


1976: George Wood, Aberdeen.

1982: Pounds Marine Shipping, Portsmouth

1983: Harold Valman, Ilford.

1 Oct 1984: Southard Trawlers (TOA), Docks, Milford..

Landed at Milford: 1984 - 1992

Skippers: John Rogers (1984-89+?)

Notes:
Accidents and Incidents
From the Pembrokeshire Telegraph & Cymric Times of Wednesday 3rd October 1984:

The latest addition to the Milford fishing fleet, the 115ft. long Gilmar arrived at the port last week from Barking in London. The vessel, built in 1960, brings the total of vessels operating under the Trawler Owners' Association to five. However, it will be some time before the Gilmar takes to sea, under the direction of her skipper Mr. Bob Foster, while repairs are carried out to the vessel.

Meanwhile, the other vessel purchased in the deal from London, the Kinellan, under Skipper John Rogers, landed a £12,000 trip recently, and £7,300 last week.

[Both these vessels belonged to the newly formed firm of Southard Trawlers.]

~~~~~~~~~~~~~~~~~~~~~~~~~~~~~

From the Western Telegraph & Cymric Times of Wednesday 12th March 1986:
Trawler skipper faces EEC charge
Milford skipper John Rogers will make legal history in the fishing port when he faces a charge of landing soles during a period when there was a total EEC ban on catching the prime fish.
Skipper Rogers, aged 35, was fishing in his trawler Kinellan, of which he is part owner, just before Christmas when he hauled in 32 stones of soles among other species of fish.
He was faced with the choice of either throwing the dead fish — worth about £1200 — back into the sea, or landing them at Milford Docks.
"I had no choice," he said yesterday.
Now he has been summoned to appear at Milford magistrates court on April 16th.
................
[Skipper Robert Johnson of the GILMAR was also convicted of a similar offence. Both skippers were fined £250, but the magistrates did not make an order for costs. The EEC ban on catching and retaining soles applied only to British vessels. ]
~~~~~~~~~~~~~~~~~~~~~~~~~~~~~
From the Western Telegraph & Cymric Times of Wednesday 5th November 1986:
Port Mourns Tragedy of Two Trawlermen
The fishing industry in Milford Haven has been plunged into mourning following the tragic deaths in Ireland of two of its most popular trawlermen.
Still reeling from the news of the death of Skipper Alfred James while boarding the Kinellan in Dun Laoghaire on Thursday, the industry was further stunned to learn that his shipmate for almost 15 years, Mr Hugh Picton, had been lost in similar circumstances while boarding the Gilmar just over 24 hours later in the same port.
Four of the Milford Haven fishing fleet, the Norrard Star, Bryher, Kinellan and Gilmar, had put into Dun Laoghaire to shelter from storms after fishing the Irish Sea.
At midday on Thursday, Captain James, of 23 Ramsey Drive, Milford Haven, and affectionately known as 'Jaffa', had been crossing from his own vessel Norrard Star to her sister ship Kinellan for a meal.
"He was going down a ladder on the Kinellan when either the ladder moved or he slipped and went into the water," Mr Ivan Harvey of Norrard Trawlers told the Telegraph.
TREATED
Two crewmen of the Kinellan, 41-year-old Tony James and William Hamilton, 43, and the bosun from the Norrard Star, Keith Leggett, all jumped into the water to try and save 55-year-old Mr James, but he was dead when they got him out of the water.
Mr James and Mr Hamilton were both treated in hospital for hypothermia but were later released.
With details of Mr James' death still filtering back to Milford Haven on Friday, the industry was hit with a second tragedy.
From The Irish Times of Thursday 29th January 1987, p.12:
Trawler deaths recalled
The death by drowning of two Welsh trawlermen whose vessels were moored in Dun Laoghaire Harbour sheltering from gales, was recalled at an inquest yesterday.
Hugh Picton (63), a crew member of Kinellan, and Alfred James (56), skipper of the Norrard Star, both with addresses at Milford Haven, south Wales, died when they fell off ladders into the sea in separate accidents on October 31st last.
The inquest in Dun Laoghaire heard that both men had gone ashore to a local pub with other crew members on the night of October 30th. On his return, Alfred James fell into the water just after midnight when he was using a ladder as a "stepping stone" from St. Michael's Wharf to the Kinellan trawler.
Rescue attempts failed.
The inquest heard that Hugh Picton returned to the same trawler at approximately 5 p.m. and fell from a ladder which had been lying on the wharf. He died on arrival at St. Michael's Hospital.
Garda Liam Kavanagh told the inquest that after a subsequent examination of the ladder on November 12th, he found two breaks, a section of one of the wooden rungs broken and a weak part on the frame.
The Dublin County Coroner, Dr. Bartley Sheehan said that while it may not be obligatory in a legal sense for the Harbour Authority to provide these facilities "proper harbouring is the business that they were set up to do and that implies there should be at least a minimum standard of safety."
Dr. Sheenan demanded an urgent investigation by the Board of Works.
~~~~~~~~~~~~~~~~~~~~~~~~~~~~~~
From the Western Telegraph & Cymric Times of Wednesday 10th June 1987:
skipper injured
a Milford Haven skipper, injured on Wednesday after a fall aboard the trawler Kinellan was airlifted to safety by a rescue helicopter from RAF Brawdy.
He was father-of-three John Kenneth William Rogers, of 11, Albion Street.
The trawler was two miles off St. Ann's Head at the time and the 38-year-old skipper was winched up on a stretcher and flown to Withybush hospital. He was detained overnight.
~~~~~~~~~~~~~~~~~~~~~~~~~~~~~
From the Fishing News of Friday 10th June 1988:
COD ROW CREW REFUSE TO SAIL
Milford Haven trawler skipper John Rogers and his crew refused to sail from the Welsh port last week because of the 'crazy' cod quotas.
Skipper Rogers, who commands Southard Trawlers' Kinellan, has already fished his 20 tonnes per vessel quota of cod for May. When he was asked to return to sea he and his crew objected saying that they would prefer to sign on the dole.
They pointed out that any cod they caught would have to be thrown back in the sea or they would face fines for illegal fishing. They decided that taking the trawler out at all would therefore be a complete waste of time as they would probably end up owing their company money.
Kinellan did sail eventually but under a different skipper and crew. Skipper Rogers and his men will now have to sign on because of the quota situation.
................
~~~~~~~~~~~~~~~~~~~~~~~~~~~~~~~~~
From the Western Telegraph & Cymric Times of Wednesday 24th May 1989:
Trawler skipper airlifted
A local skipper suffering from severe chest pains was airlifted off his vessel by Sea King helicopter on Friday, and flown to Withybush General Hospital for treatment.
Shortly after midday an emergency call was received by the Castlemartin Range indicating that John Rogers, the skipper of the trawler, had been taken ill.
A helicopter from RAF Brawdy was scrambled and flew out to the trawler, which was just off St. Govan's Lightship.
Mr Rogers was winched off the Kinellan, which fishes out of Milford, and was transferred to hospital.
The range vessel Joseph Hughes stood by to assist.
~~~~~~~~~~~~~~~~~~~~~~~~~~~~
From the Fishing News [or West Wales Guardian] of Friday 13th October 1989:
Trawler lands a spectacular haul
Skipper John Rogers and the crew of the Milford Haven trawler, Kinellan, netted a catch larger than they ever expected when they eventually hauled aboard on of the nest while fishing in the Irish Sea.
After several hours of work, the fish that spilled on to the deck were no less than nine tons of dogfish, all from one haul.
The huge catch was landed at the port on Wednesday morning and needed more than 150 boxes.
...............
But because dogfish does not command a ready market in Milford the bulk were later loaded on to a refrigerated lorry for Fleetwood, where they were sold.
~~~~~~~~~~~~~~~~~~~~~~~~~~~~~
From either the Fishing News or the Western Telegraph & Cymric Times of Wednesday 23rd May 1990:
Milford Haven's resident companies, Norrard and Southard Trawlers, report fair fishing for their fleet of sidewinders over the past 12 months.
At present they are fishing for cod in Area VIIa but last month three ships boosted their earnings with hauls of bass. Bryher, Kinellan and Anguilla took the fish mainly off Trevose Head and prices peaked on Milford market between £7 a pound and £5.30 a pound.
Most of the fish went to Ashley's fish merchants in Milford who sold them to restaurants and hotels.
Norrard and Southard trawlers are now trying to make up for lost fishing time because of the bad weather this winter.
~~~~~~~~~~~~~~~~~~~~~~~~~~~~~~~~~~~~
From the Fishing News of Friday 15th March 1991:
Lay-up looms for Milford company
The issuing of redundancy notices to 30 shore based workers at Milford Haven has raised fears that the port's oldest firm, Norrard and Southard Trawlers, will soon lay up its seven aging trawlers.
Ways are being sought out [sic] of financial difficulties facing the firm, which has been hit by shrinking quotas and soaring costs. But the problems of the trawler firm are seen as 'the tip of the iceberg' at the troubled Welsh port.
..................
The Milford Haven company is the remains of a once powerful fleet that made the Welsh harbour a top landing port 30 years ago.
.................
Meantime it appears inevitable that Norrard's seven vessels — Norrard Star, Bryher, Antigua, Anguilla, Kinellan, Gilmar and Dawn Spray — will be laid up until a solution to the present crisis is found.
[In May 1991, only the Kinellan and Gilmar were still fishing; the other vessels were laid up.]
~~~~~~~~~~~~~~~~~~~~~~~~~~~~~
From the Pembrokeshire Telegraph & Cymric Times of Wednesday 13th November 1991:
Port Authority in talks on future of trawlers
The future of three local trawlers is to be considered by Milford Haven Port Authority on Friday.
Port Authority Mike Hyslop said the board would be considering the outlook for the fishing industry, including the future of the trawlers Gilmar, Kinellan and
Bryher.
The Authority says the experiment to lease the Gilmar had proved successful, with the 110 foot long trawler and its local crew grossing £1,000 a day at sea.
All seven trawlers previously operated by Norrard and Southard Trawlers, now in receivership, have been idle since the summer apart from the Gilmar. She put back to sea three months ago following a lease arrangement between the Authority and the administrative receivers of the vessels.
SUPPORT
The Authority has spent more than £300,000 on building a new fish market at the Docks, where the catches from the Gilmar were landed.
...................
~~~~~~~~~~~~~~~~~~~~~~~~~~~~~
From the Pembrokeshire Telegraph & Cymric Times of Wednesday 18th March 1992:
Trawler fleet is sold to Ireland
BY JIM SMITH
Milford Haven's fleet of seven trawlers has been sold to Ireland and will leave the port shortly,
Even though the administrative receivers, Cork Gully — representing the creditors of the previous owning companies — refused to make any comments on the sale of the trawlers it is known they will shortly go to both Northern and Southern Ireland.
This follows the recent announcement by the government that decommissioning grants for the vessels will now be considered.
The trawlers include the Gilmar, which has been leased to the Milford Haven Port Authority and has been successful since returning to sea with its local crew. They have now been laid off.
The Gilmar, Kinellan, Dawn Spray, Norrard Star, Bryher, Antigua and Anguilla, were stopped from fishing last summer when the owning companies went into liquidation.
All the vessels have since been for sale and it was only the Gilmar which went back to sea — earning an estimated £1,000 a day.
..................
Port Authority manager, Mr. Mike Hyslop, said they were now hoping to encourage the new owners to operate the trawlers from Milford Docks and to, hopefully, employ local crews.
Back to Other Registrations I - P