LADY JUNE H299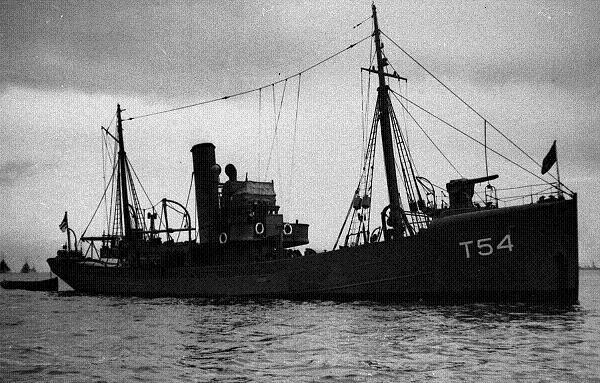 As H.M.S. OAK 1939-46
John Stevenson Collection
Official No: 160106 Port Number and Year: Hull, 1928 (H426)

Hull, 1946 (H299)

Grimsby, 1952 (GY254)

Description: Steel side trawler, steam, coal fired, single screw. Ketch rigged

Crew: 13 men (1928).

Built: 1928, by Cook, Welton & Gemmell, Beverley. (Yard no. 499)

Tonnage: 357 grt 150 net

Length / breadth / depth (feet): 140.4 / 24 / 13.3

Engine: T.3-Cyl., 96 rhp = 10.7 kts.; by Charles D. Holmes, Hull.

Owners:

As ST. ROMANUS H426

22 May 1928: Thomas Hamling & Co. Ltd., St. Andrew's Dock, Hull.

Manager: Thomas Boyd, 531 Anlaby Rd., Hull.

As HMS OAK

8 May 1939: Admiralty [See below.]

As ST. STEPHEN H299

1946: Unity Fishing Co., 24 St. Mary Axe, London EC3

As LADY JUNE

1949: Cairo Fishing Co. (Yolland Bros.), Docks, Milford

Manager: John Yolland.

As RECEPTO GY254

1 Mar 1952: G. F. Sleight & Sons, Grimsby.

Landed at Milford: 18 Jun 1950 - 6 Mar 1952

Skippers:

Notes:

Mar 1939: Purchased by the Admiralty and converted to a minesweeper (P.No. T.54). 1x12pdr AA; 1x.303in AA MG; later 3x20mm AA. Complement 18.

3 Jan 1940: Sailing with Convoy HN-6, the Swedish steam merchant SVARTÖN was torpedoed and sunk by the U-58, commanded by Herbert Kuppisch, off Kinnaird Head.

Of the ship's complement, 20 died and the 11 survivors were picked up by the HMS Oak (T 54).

[ WW2Timelines.com ]

Mar 1946: Sold to mercantile.

6 Jan 1947: As ST. STEPHEN, on the way to the northern fishing grounds and off NE coast of Scotland, sprang a leak in SE gale. HMS ULSTER, the Peterhead lifeboat, and the trawler BARRIE stood by. [The Times, 7 Jan 1947.]

22 Aug 1956: Broken up at Brugge.
Accidents and Incidents
From the West Wales Guardian of Friday 14th March 1952:

Messrs. Yolland Bros. announced on Thursday that they had sold their trawlers, the Lady Olwen and Lady June, to a Grimsby firm, and that both ships would leave immediately for the East Coast from Swansea, where they had gone for dry dock survey.

The departure of these two trawlers, among the biggest in Milford, will be a very nasty blow, for it means that 30 men have directly lost their employment. The June and Olwen are 140 foot long, and were completed in 1928 and 1926 respectively.
Back to Other Registrations I - P