LADY LUCK R355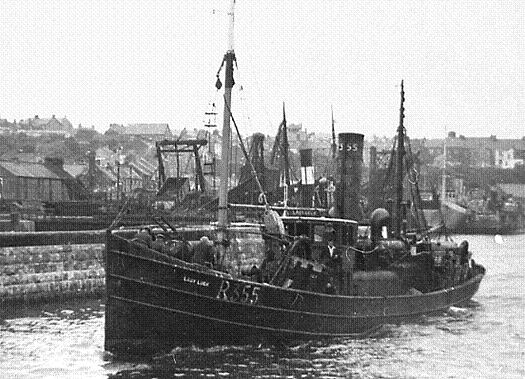 John Stevenson Collection
Official No: 137724 Port and Year: Ramsgate, 1920

Description: Steel drifter / trawler; single screw, coal burning. Ketch rigged.

Crew:

Built: 1920: Montrose Shipbuilding Co., Montrose. (Yard no. ?)

Tonnage: 92 grt 39 net.

Length / breadth / depth (feet): 87.0 / 18.5 / 8.9

Engine: 34 hp.

Owners:

LADY LUCK R355

1921: Thomas W. Chapman, Crescent Rd., Ramsgate.

Managing owner.

1924: Char Steam Trawling Co. Ltd., Stores, Cottage Rd., Ramsgate.

Manager: Alfred L. Lanfear Jnr., 20 South Eastern Rd., Ramsgate. (1932-39+?)

1946?: Drifter Trawlers Co., Docks, Milford

Manager: H. E. Rees


Landed at Milford: Seasonal, Feb - Oct/Dec: 1923 - 1933.

12 Feb 1934 - 13 Jun 1945; 10 May 1947 - 27 Mar 1956.

Skippers: John McNeal (1926); Charles Samuel Howes (1929); Charles Knight (1953)

Notes: 30 Mar 1956: Laid up ready to be broken up.
Accidents and Incidents
From The Times of Monday 11th April 1932, p.3:

CASUALTY REPORTS

(From Lloyds)

RESPLENDENT.― Milford Haven. April 9.― Steam trawler Lady Luck, of Ramsgate, arrived last evening towing steam trawler Resplendent, of Ramsgate, which vessel had damaged rudder and was taken in tow near Coninbeg Lightvessel.
~~~~~~~~~~~~~~~~~~~~~~~~~~
From The Irish Times of Tuesday 30th August 1949, p.7:

Sailor Landed for Medical Treatment

The Ramsgate steam trawler, Lady Luck, put into Rosslare yesterday and landed a member of the crew who had been injured by a wire while the vessel was operating off the South Wexford coast. After medical treatment, the man left by the mailboat for Fishguard en route to his home in Milford, South Wales.

~~~~~~~~~~~~~~~~~~~~~~~~~

From the West Wales Guardian of Friday 28th August 1953:

The Milford steam drifter-trawler "Lady Luck" is now anchored off Chapel Bay, Angle, with two strange catches on board.

A couple of days ago skipper Charlie Knight reported that he had caught a "baby elephant", believed by the owners, Messrs. H. E. Rees and Co., to be a strange marine creature. On Wednesday the same vessel hauled in the trawl and found she had another strange object, a mine. She is now waiting down harbour until mid-night tonight, when a mine disposal squad is expected from Plymouth.

~~~~~~~~~~~~~~~~~~~~~~~

From the West Wales Guardian of Friday 30th August 1956:

The drifter trawler Lady Luck, owned by the Drifter Trawlers Co. Ltd., has been laid up, probably to be scrapped, stated the manager, Mr. Leslie Roberts on Wednesday.

The Lady Luck, 39 net tons, was built at Montrose in 1920.
Back to Other Registrations I - P