LATANIA GY44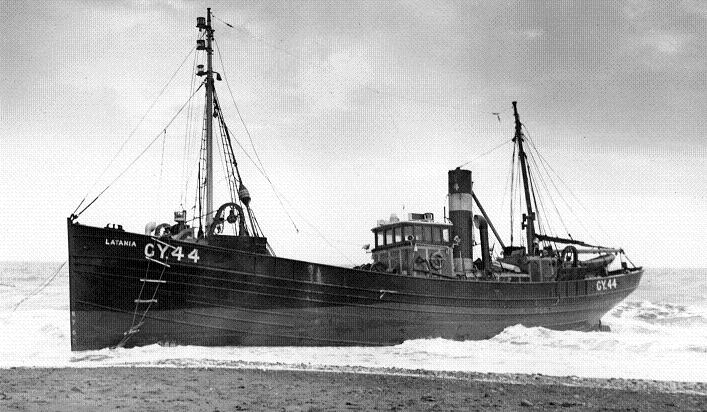 Aground at Kilnsea, December 1947 (See Notes)
Courtesy of Mark Stopper
(See below for her appearance after conversion to diesel)
Official No: 149234 Port Number and Year: Lowestoft, 1930 (LT137)

Grimsby, 1945 (GY44)

Description: Steel side drifter trawler, steam, coal fired, single screw. Ketch rigged.

Crew: 10 men (1930).

Built: 1930, by Crabtree & Co., Great Yarmouth (Yard no. 188)

Tonnage: 128 grt 56 net.

Length / breadth / depth (feet): 92.4 / 20.1 / 10.0

Engine: T.3-Cyl., 39 rhp.; by builders.

19 May 1957: Converted to diesel, at Lowestoft. 5 Cyl. 335 hp. Mirrlees, Bickerton & Day, Stockport.

Owners:

As BOY PHILIP LT137

23 May 1930: F. Spashett, Lowestoft

1931: Pevensey Castle Ltd., Lowestoft.

Manager: John V. Breach, 'Hastings House', Whapload Rd., Lowestoft.

1944: Anglo-Continental Fish Traders, Grimsby.

Manager: H. N. Franklin.

As GY44

May 1945: Anglo-Continental Trawlers, Grimsby.

Aug 1947: As LATANIA

Feb 1949: Norrard Trawlers, Docks, Milford.

Manager: Fred Ingram, 'Briar Bush', Pill.

Landed at Milford: 17 Feb 1949 - 10 Jun 1969

Skippers: 'Darkie' Rowlands; Fred Read; Jack Chenery; Noel Delph; Brian Salter; Billy Armes; Alfred James

Notes:

Oct 1939: Requisitioned by the Admiralty as a minesweeper (FY.731).

Aug 1943: Converted to a wreck dispersal vessel.

1945: Returned to owners.

5 Dec 1947: Went ashore at Kilnsea, north of Spurn Point, and crew of ten taken ashore by breeches buoy on the following morning. Five of them boarded her later to help in salvage operation.

9 Dec 1947: Salvage crew had to be taken off for a second time by breeches buoy in a gale off Spurn Point. George Cole of Grimsby suffered a broken leg when it was caught in the bight of a wire hawser.

30 May 1970: Broken up.
Accidents and Incidents
From the West Wales Guardian of Friday 18th January 1952:
FISHING "LEAGUE"
"DUKE" AT THE TOP AGAIN
After two years as "runners-up", Skipper Albert Saunders and the "Milford Duke" are once again in top place in the Milford fishing "league". In 1951 Skipper Saunders caught a greater value of fish than any other individual trawler captain in the port.
Second in the league on last year's results is Skipper W. Burgoyne, who has moved up a place, closely followed by Skipper Steve Pembroke, who was sixth in the list of 1949 catches. "Crack" Skipper for 1948 and 1949, Skipper Tom Donovan, D.S.C., is a close fifth in results while consistent Skipper James Jobson again occupies fourth position.
Here are the leading positions, the ships being classed according to size.
.....
DRIFTER TRAWLERS
Skipper Jack Chenery has again left all rivals tossing in his wake and has truly earned the title of drifter "King" for the second year running. Another feature is that trawler owner Mr. Fred Ingram takes first and second place in fishing. For years he has been collecting other prize cards for chrysanthemums.
1. Latania (Jack Chenery), Mr. Fred Ingram.
2. Lord Suffolk (Tom Long), Mr. Fred Ingram.
3. Sea Monarch (late Skipper Frank Rowlands), Tilbrook.
4. Furze (C. Wilson); 5, Mill O' Buckie (Gordon Ashby); 6, Lord Anson (?); 7, Paramount (?); 8, Jacklyn (?); 9, Allochy (?)
~~~~~~~~~~~~~~~~~~~~~~~
From the West Wales Guardian of Friday 15th May 1953:
FISHING FIGURES.— This has been another week of fluctuating prices, but best quality has remained steady in demand and value. .....
One of the youngest skippers, Mr. Noel Delph, grossed £630 for 10 days in the crabber Latania (he had 44 of ray and eight of plaice, while Skipper J. Read in the Lord Suffolk grossed £643 for the same time, his landing including 87 of ray, three plaice and 24 soles.
~~~~~~~~~~~~~~~~~~~~~~~~~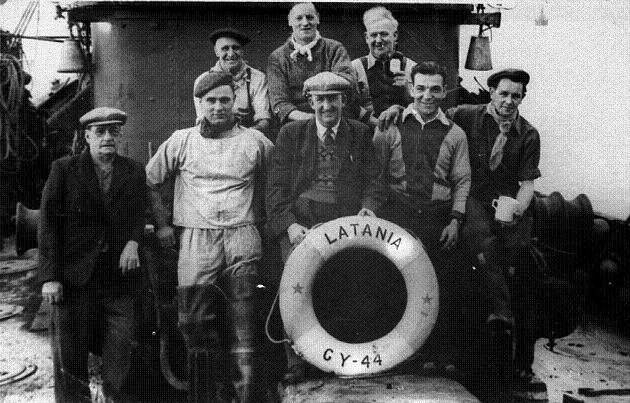 L to R, back row: 2nd Eng. Harry Horne, Fireman/Trimmer Douglas Turrell, Deckhand Jack Spindler

Front row: Ch.Eng. Arthur Beavis, Mate Frank Eden, Skipper F. S. 'Dick' Read, Deckhand Frank Reynolds, Bosun George ('Darkie') Rowlands

[Cook Frank Webb is missing; Skipper 'Dick' Read was standing in for the regular skipper, Fred Read; George Rowlands was later drowned in Milford Dock]

Taken for the West Wales Guardian of Friday 18th March 1955

John Stevenson Collection

~~~~~~~~~~~~~~~~~~~~~~~~~~~~

From the West Wales Guardian of Friday 3rd May 1957:

The drifter-trawler Latania, belonging to Mr. Fred Ingram, which has been at Lowestoft since last July undergoing conversion from steam to diesel, landed on Wednesday after fishing a trip round from the East Coast. She was in charge of Skipper Noel Delph, who was loud in praise of the new engines.

Willing Boys (Mr. W. H. Kerr) left for Lowestoft in charge of Skipper Sid Durrent. These conversions will bring up to five the number of diesel trawlers at the port, and all five are in the Kerr and Ingram fleets.

~~~~~~~~~~~~~~~~~~~~~~~~~

From the West Wales Guardian of Friday 2nd May 1958:

The magnificent tom-cat which dwells on the Fish Market has just had his usual annual trip to sea. He went aboard the drifter trawler Latania when she was in dock, and spent ten days at sea as an honoured guest of the crew.

When the Latania returned, Ginger came ashore and walked through the Fish Market with a real nautical roll. He was given a cheer of welcome from market workers, by whom he is fed.

~~~~~~~~~~~~~~~~~~~~~~~~~

From the West Wales Guardian of Friday 26th February 1960:

CHIEF ENGINEER IMMOBILISED TRAWLER IN GALE

THREW STARTER OVERBOARD IN TEMPER

IN A "FIT OF TEMPER" A 29-YEAR-OLD TRAWLER CHIEF ENGINEER THREW OVERBOARD THE STARTING WHEEL OF THE SHIP'S ENGINES AND IMMOBILISED THE VESSEL AS SHE SHELTERED FROM A SOUTH EAST GALE IN CHAPEL BAY AT THE ENTRANCE TO MILFORD HAVEN HARBOUR ON WEDNESDAY.

"IF THE ANCHOR CABLE HAD PARTED IN THOSE WEATHER CONDITIONS THE LOSS OF THE SHIP WOULD HAVE BEEN AN IMMINENT POSSIBILITY," POLICE INSPECTOR E. E. RICHARDS TOLD MILFORD MAGISTRATES AT A SPECIAL COURT ON THURSDAY WHEN THE CHIEF ENGINEER OF THE M/T "LATANIA", EDWARD KEVIN FARRELL, c/o 90 GELLYSWICK ROAD, MILFORD HAVEN WAS FINED £40 AND ORDERED TO PAY £15 DAMAGES FOR WHAT THE BENCH CHAIRMAN (ALD. J. F. GWYTHER) DESCRIBED AS "A VERY WICKED THING WHICH COULD HAVE ENDANGERED THE LIVES OF ALL THE CREW WITH YOU."

Farrel, a native of Sligo, Ulster, who wore a seaman's gold earring, pleaded guilty to stealing a starting handle and accessoriestotal value £15 from the m.t. latania, anchored in Milford Haven, the property of Norrard Trawlers Ltd.; and with wilfully disobeying a lawful command given by Skipper George Rowlands.

..........

Farrell, who has sailed out of Milford for eleven months, pleaded guilty to both offences. He was given a conditional discharge on the wilful disobedience count.

Inspector E. E. Richards (prosecuting) told the court that the previous day at 1.25 p.m. Skipper Rowlands, the Master of the drifter trawler Latania, was in the cabin of the ship having dinner with the crew. The trawler was anchored in Chapel Bay in Milford Harbour sheltering from a south-east gale after sailing from Milford Docks at 9.45 a.m. that day.

"Farrell, the chief engineer, was arguing about a dispute which occurred last November in Ireland concerning the "logging" of the chief engineer by the skipper," continued the Inspector. "Farrell asked the skipper to return to dock so that he could speak to a representative. Skipper Rowlands told him he would not return to dock and that if he was not going to sail he should sign off the log. Farrell refused to sign off the log. Skipper Rowlands realised Farrell had had some drink although he was by no means drunk, and said he would discuss the matter with defendant later, thinking it would pass off. The skipper went to the wheelhouse after having dinner and Farrell followed him up there with his hands behind his back. He asked Skipper Rowlands if he was going back or not and the skipper told him he was not going back, that he was going to sea as soon as the weather moderated. Farrell then said, 'If you're not going back to dock you're not going to move at all, and taking the starting wheel and its attachments from behind his back he threw it overboard."

SPANNERS TO START ENGINE

"The Latania is a motor vessel," explained Inspector Richards. "And as a result of defendant's action it was impossible to start the engines revving. The skipper radioed ashore and told the owners what had happened and it took 20 minutes to get the ship under way by using spanners to start her instead of the normal handle. Asked why he had thrown the starting wheel overboard Farrell said he was mad at the time."

..............

~~~~~~~~~~~~~~~~~~~~~~~~~

From the West Wales Guardian of Friday 26th February 1965:

Mr. Brian Salter, Warwick Road, who at 24 is Milford's youngest skipper, sailed on his maiden trip as master on Tuesday. He is in charge of the drifter trawler Latania.

[See LORD KEITH article on 6th August 1965. ]

~~~~~~~~~~~~~~~~~~~~~~~~~

From the West Wales Guardian of Friday 9th July 1965:

The skipper of the drifter-trawler Latania, Mr. Billy Armes of Hakin, who injured his back in a deck fall on the fishing grounds, was landed at Milford on Wednesday and is now under medical care.

~~~~~~~~~~~~~~~~~~~~~~~

From the West Wales Guardian of Friday 13th October 1966:

An unusual accident befell the drifter trawler Latania (Norrard Trawlers) when fishing off Caldy Island early on Wednesday morning in bad weather. During hauling operations the steel mast broke and part of it fell and damaged the wheelhouse. Fortunately, no one on board was hurt and Skipper Alfred James brought the drifter straight back to Milford.

A new mast was ordered from Lowestoft, which was put on the road on Wednesday, arrived in Milford the same night, and was fitted on Thursday. The Latania returns to sea on Saturday.

~~~~~~~~~~~~~~~~~~~~~~~~~

From the West Wales Guardian of Friday 17th March 1967:

TRAWLER HELD UP

Disobedient Fisherman is Fined

At Milford Court on Wednesday a trawlerman, Harold Christian, 7 Brick Houses, Pill, Milford Haven, was summoned for wilfully refusing to proceed to sea.

He appeared and pleaded guilty.

Mr. J. F. Johnson (Messrs. Price and Kelway), prosecuting on behalf of Norrard trawlers, Ltd., said defendant had signed on as a member of the crew of the drifter trawler Latania and was ordered to go to sea on the morning of Saturday, February 4th, at 9 a.m. Christian did not turn up and was seen by the ship's husband, Mr. Alec Adams, who told him to go to the jetty to board the small boat to take the crew out to the trawler. When Mr. Adams got there he found defendant was missing and it was found that he had left the Docks. It was not possible to replace Christian and as a result the Latania had to be brought back into dock at 1 p.m. and did not sail until the following Monday.

Asking the Bench to treat the case as serious, Mr. Johnson commented: "This sort of indiscipline is causing considerable difficulty in the industry which also has a number of other difficulties to face."

Defendant told the court: "No one wanted to go that morning. The weather was very bad. I was the first to walk away but none of them wanted to go. I'm sorry about it now."

"We have listened to your story but this kind of behaviour does cause trawler owners a lot of expense," said the Chairman (Mr. W. E. Thorne) in announcing that defendant would be granted a conditional discharge on the payment of £5 5s. costs.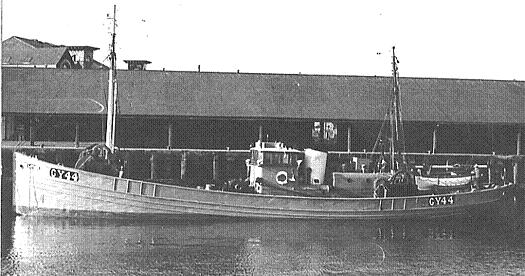 After conversion to diesel
John Stevenson Collection
Back to Other Registrations I-P