LEMBERG M356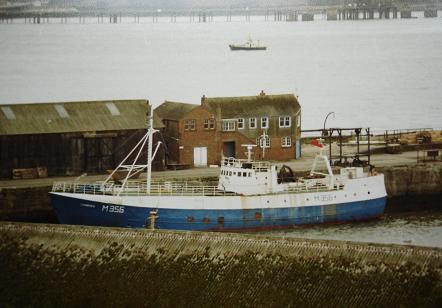 Les Jones Archive
Official No: 303282 Port Number and Year: - in Grimsby, 1961 (GY664)

- in Milford, 1986.

Description: Steel side trawler, single screw oil burning motor vessel.

Crew:
Registered at Milford: 17 Jan 1986

Built: 1961, by J. S. Doig (Grimsby). (Yard no. 72)

Tonnage: 270.05 grt 86.99 net

Length / breadth / depth (feet): 115.16 / 23.98 / 10.79

Engine: Internal combustion engine; oil; 4 single acting 8-Cyl. 750 bhp; by Mirrlees, Bickerton & Day, Stockport

Owners:

As GY664

Oct 1961: Lindsey Steam Trawler Company, Grimsby.

Dec 1981: Kuwaiti owners.

17 Jan 1986: Dartclaim, 41 Fish Market, Docks, Milford.

John Courciero (owner manager), Plymouth.

Milford agent: Peter Wright.

29 Sep 1987: Dartclaim, Cmain House, Hill St., Hakin, Milford.

1989: Name, port and owners unknown.

1999: As PROSPERITY.

Port and owners unknown.

2001: As ZENITH.

Port and owners unknown.

Landed at Milford:

Skippers:

Notes:

Lemberg is a place variously located in France, Germany, Sasketchewan and Ukraine.

Cert. Cancelled & Milford Registry Closed:

3 Apr 1989: Cancelled under Section 13 (3) (b) Merchant Shipping Act 1988.
Accidents and Incidents:
From the Western Telegraph of Wednesday 8th January 1986:
'Lemberg' joins fishing fleet
The depleted Milford Haven fishing fleet will be boosted in the next month when the latest arrival at the port sails with local deckhands among her crew. The 115-foot Lemberg, which arrived at Milford recently, takes the size of the local fleet to six.
And its presence at the port is the first positive step, following a two-day seminar - organised late last year by Preseli District Council - into the future of the Milford Haven fishing industry.
The Lemberg is owned by Plymouth-based trawler owner and manager, Mr. John Couciero, who attended the seminar. The vessel will be based locally and the crew will be drawn from Common Market countries. It will include three young deckhands from Milford Haven.
The local agent for the vessel, Mr. Peter Wright, said that all fish landed by the trawler will be offered to merchants at the port. If the experiment is successful it could mean other boats from the Plymouth-based company sailing out of Milford Haven
Back to Trawlers 1940-88