LORD ANSON LT344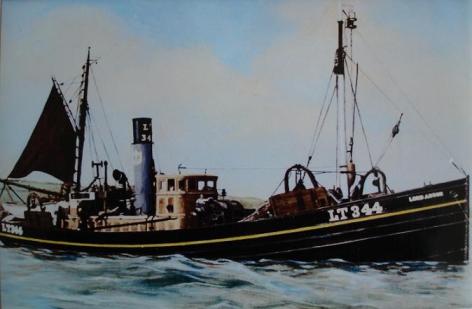 Courtesy of Bill Chislett
Official No: 149201 Port Number and Year: Lowestoft, 1927 (LT344)

Glasgow, 1956 «

Description: Steel side drifter trawler, steam, coal fired, single screw. Ketch rigged.

Crew: 9 men (1927).

Built: 1927, by Cochrane & Sons, Selby (Yard no. 1008)

Tonnage: 100 grt 42 net.

Length / breadth / depth (feet): 88.3 / 19.1 / 9

Engine: T.3-Cyl., 43 rhp.; by Pertwee & Back, Yarmouth.

Owners:

As LT344

29 Sep 1927: Lowestoft Steam Herring Drifters Co. Ltd., 26 Herring Market, Lowestoft.

Manager: Harold B. Jackson. (Same address.)

1943: St. Andrew's Steam Fishing Co., Hull

Manager: B. A. Parkes.

1945: J. C. Llewellin (Trawlers), Docks, Milford.

Mar 1948: William Picton, Docks, Milford

Managers: H. G. Bricknall & Sons.

May 1956: Metal Industries (Salvage), Faslane Port, Shandon, Dumbartonshire.

Manager: James Lightbody.

« Employed as a tug; not registered as fishing vessel.

Landed at Milford: 13 Mar 1931 - 22 May 1939; 18 Feb 1946; 5 Mar 1948 - 22 Apr 1956

Skippers: Fred Read (1948); Fred Sutton (1955)

Notes:

Lord Anson (1697 - 1762); Admiral of the Fleet; noted for his circumnavigation of the globe and his role overseeing the Royal Navy during the Seven Years' War. During his time in office Anson instituted a series of reforms to the Royal Navy. [ Wikipedia. ]

Aug 1939: Requisitioned by the Admiralty for harbour service.

Feb 1946: Returned to owners.

7 Nov 1960: Delivered Dalmuir for breaking up.
Accidents and Incidents
From the West Wales Guardian of Friday 20th February 1948:

The drifter-trawler Ocean Shield, under the management of H. G. Bricknell and Son, will land her last catch at the port today. She is to be scrapped. As a replacement, the drifter Lord Anson has been purchased.

[ The OCEAN SHIELD was actually broken up in 1951. ]

~~~~~~~~~~~~~~~~~~~~~~

From the West Wales Guardian of Friday 17th December 1948:

Twenty-one out of Milford's fleet of ninety-two trawlers are now idle, six of the smaller class boats having tied up this week owing to the present uneconomic trading conditions. On the face of it this is a very gloomy Christmas picture, but beneath it all is a feeling of confidence in the industry.

Owners of the eight trawlers tying up this week - Lord Cecil, Loyal Star, Cassiopeia, Poseidon, Constant Star, Framlingham, Lavenham and Lord Anson - will be taking the opportunity during the present "low" in the industry to repair and re-equip their vessels, and it is good to know that two of the ships which have tied up, the Ellesmere (Crescent Company) and Milford Prince (Milford Trawling Company), have been crewing up, and will return to sea again within a day or two after a six week stoppage.

~~~~~~~~~~~~~~~~~~~~~~~~~~~~~~~~

From the West Wales Guardian of Friday 6th May 1949:
When the steam drifter trawler "Lord Anson" returned on Tuesday, her skipper, Mr Fred Read was put ashore, and after attention by the Docks First Aid Attendant, was taken to the County Hospital with a suspected fracture of the knee, caused it is understood by a fall at sea.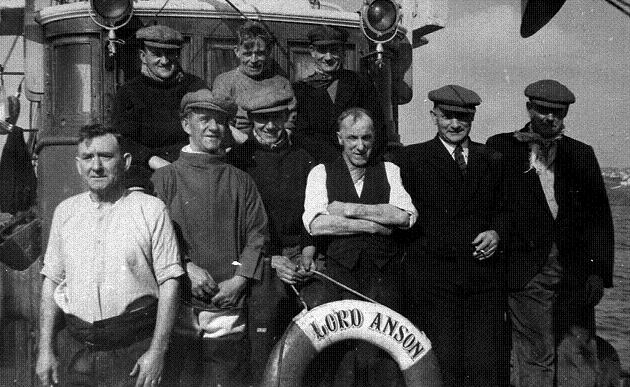 Back Row L-R: Deckie Charlie Jenkins, Deckie Trimmer Clarence ('Pongo') Moore , Bosun Joe Kelly
Front Row: Chief Eng Sid Seago, Mate Joe Young, Deckie Jimmy Thurlough, Cook Tommy Pritchard, Skipper Fred Sutton, 2nd Eng Arthur (a Belgian)
Taken for the West Wales Guardian series 'Ships and Men', 8th April 1955.
John Stevenson Collection
Back to Other Registrations I - P