LORD CECIL M306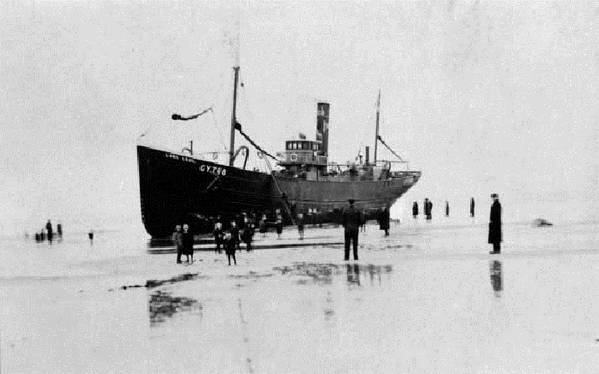 As GY768, ashore at Redcar, 12th March 1916.
Thanks to the Trawlers Photo Gallery.
Official No: 138952 Port Number and Year: 18th in Grimsby, 1916 (GY768)

16th in Milford, 1948

Description: Steel side trawler; steam screw, coal burning. Pair fishing. Ketch rigged: mizzen sail

Crew: 11 men (1919, 1948); 12 men (1952); 13 men (c.1954).

Registered at Milford: 9 Dec 1948

Built: by Smith's Dock Co., Southbank on Tees, Middlesborough, in 1915. (Yard no. 618)

Tonnage: 227.58 gross 87.6 net

Length / breadth / depth (feet): 117.35 / 22.55 / 12.1 (By 1948: 13.62)

Engine: T 3-Cyl. 72 rhp. 10kts. Engine by builders, and boiler by Riley Bros., Stockton

Owners:

As GY768

10 Mar 1916: The Beacon Steam Fishing Co. Ltd., Fish Docks, Grimsby.

Manager: William F. Goodwin. (Same address.)

Feb 1918: Henry Smethurst, Fish Docks, Grimsby.

Manager: John W. Smethurst, Fish Dock Rd., Grimsby.

May 1924: South Western Steam Fishing Co. Ltd., Hutton Rd., Grimsby.

May 1924: Trawlers (White Sea & Grimsby) Ltd., Auckland Rd., Fish Docks, Grimsby.

Managers: Harold Bacon & N. Bacon, Corby House, Wellowgate, Grimsby.

James N. Bacon, Westland Corner, 36 Bargate, Grimsby. (1930)

Charles George Mastin. (1940)

Jan 1942: Trawlers Grimsby, Ltd.

Manager: Charles George Mastin.

1945: William Henry Kerr.

Managers: Grimsby Industries (Trawler Managers)

As M306

9 Dec 1948: Hamilton Fishing Co. Ltd., The Docks, Milford.

Manager: William Henry Kerr, The Rath, Milford.

Landed at Milford: 29 Feb 1948 - 27 Feb 1955

Skippers: Robert Marr. Thomas John Smith [See story below, 15th March 1956.]

Notes:

Lord Cecil (1864 - 1958) was a lawyer, politician and diplomat.

12 Mar 1916: On her first voyage from the builders, ran on to the rocks at Redcar; the crew of seven were rescued by the Redcar lifeboat. [The Times, Monday, 13 Mar 13, 1916]

Jul 1916: Requisitioned for war service and converted for minesweeping duties (Admy. no. 2000); 1x12pdr.

1919: Returned to owners.

14 Jan 1923: "Grimsby trawler Lord Cecil ashore Middle Haisborough Sands. Tug George Jewson and Cromer lifeboat in attendance." [The Times, Tuesday, Jan 16, 1923.]

Nov 1939: Requisitioned for war service and designated an Auxiliary Patrol Vessel, but returned to owners in Jan 1940.

Cert. Cancelled & Milford Registry Closed: 18 May 1956. Vessel broken up.

Accidents and Incidents
From the West Wales Guardian of Friday 8th October 1948:

"I am definitely going in for Spanish fishing." This announcement by Mr. Charles Llewellin, a former member of the firm of Yolland and Llewellin's, and now head of a separate business, will create great interest at Milford. He has purchased from Messrs. Mitchell, Kerr and Ritchie the trawler Lord Northcliffe, and she is likely to be paired with the Lord Cecil.

We understand other boats are likely to be purchased.

~~~~~~~~~~~~~~~~~~~~~~~~~~~~~

From the West Wales Guardian of Friday 17th December 1948:

Twenty-one out of Milford's fleet of ninety-two trawlers are now idle, six of the smaller class boats having tied up this week owing to the present uneconomic trading conditions. On the face of it this is a very gloomy Christmas picture, but beneath it all is a feeling of confidence in the industry.

Owners of the eight trawlers tying up this week - Lord Cecil, Loyal Star, Cassiopeia, Poseidon, Constant Star, Framlingham, Lavenham and Lord Anson - will be taking the opportunity during the present "low" in the industry to repair and re-equip their vessels, and it is good to know that two of the ships which have tied up, the Ellesmere (Crescent Company) and Milford Prince (Milford Trawling Company), have been crewing up, and will return to sea again within a day or two after a six week stoppage.

Mention of the Lord Cecil, which is to be converted for Spanish fishing, provides this column with a little exclusive news. She is to be paired with the Lord Northcliffe, already fitted for seine fishing by her owners, John C. Llewellin Trawlers Ltd., and they are expected to begin their first pair voyage on New Year's Day.

One of the "Lords" will be in charge of Skipper W. W. Corney, and on the result of this voyage will depend the future of pair fishing out of the port. To work in conjunction, two trawlers require special nets, ropes and other gear and preparation for the last six months has been going on.

Other trawler owners who lean towards the Spanish fishing methods are watching this voyage with interest. If it is successful, and all connected with the port and industry trust that it will be, a new era may be opened. Under present economic and climatic conditions, such an experiment is indeed courageous, and reveals that there is still plenty of fighting spirit in the industry.

Before the "Lords" steam away on New Years Day, they deserve a civic send-off and a blessing.

~~~~~~~~~~~~~~~~~~~~~~~~~~~~~

From the West Wales Guardian of Friday 21st January 1949:

Two White Funnel boats steaming down the harbour on Thursday afternoon were the Lord Northcliffe and Lord Cecil, starting on the first port-war pair-fishing voyage for the J. C. Llewellin Trawling Company.

The revival of the Spanish method of seine fishing is being watched with interest by other local owners, particularly in view of reports that there now appears to be more fish on the south-western grounds.

Skippers on this venture are Messrs. W. Corney and Tom Barrett, the latter being retired from the sea in 1943, and this is his first trip as skipper since then.

~~~~~~~~~~~~~~~~~~~~~~~~~~~~~

From the West Wales Guardian of Friday 13th January 1950:

The pair trawlers, Lord Cecil and Lord Northcliffe (Messrs. J. C. Llewellin Trawlers Ltd.), are to sail again on Wednesday after a period in dock. They are to crew-up on Monday, and will be in charge of Skippers Corney and Smith.

~~~~~~~~~~~~~~~~~~~~~~~~~~~~~

From the West Wales Guardian of Friday 14th May 1954:

The "Lord Cecil' , which developed engine trouble off the West Coast of Ireland, was towed into port on Tuesday by a sister ship the "Lord Northcliffe". This laconic announcement covers what has been described to us as "a very fine piece of seamanship". On Friday night the pair trawlers were eighty miles below the Bull, when the thrust shaft of the "Lord Cecil", skipper R. G. Marr, broke, leaving her helpless. In a rising gale it was impossible to secure a line, so the "Lord Northcliffe", skipper Walter Morris, steamed round the sister ship, keeping a watchful eye in case of further trouble. On Saturday morning the wind abated somewhat but a line was connected up and the two hundred mile tow to Milford began. The week-end weather varied from another sharp gale to fog banks so dense that the ships were invisible to each other, and the only way to see that the tow was progressing was by watching the connecting hawser. On Tuesday, after seventy four hours towing the trawlers made harbour safely, thanks, as we have said, to some very fine seamanship.
~~~~~~~~~~~~~~~~~~~~~~~~~~~~~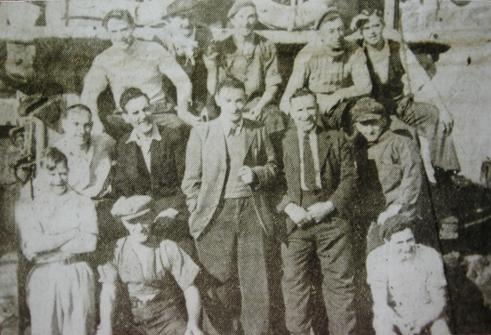 L to R, back row: Deckhand Roy Thompson, Firemen George Sharp and Tom 'Taff' Thomas, Deckhands Denis Smart and David Bowen
Middle row: Cook E. J. Jones, Deckhand George Young, Mate Jim Gilmore, Skipper Bob Marr, Deckhand Harry Smith
Front row: 2nd Eng. George Beare, Ch.Eng. Freddie Jones, Bosun Bobbie Aldred
From a West Wales Guardian of unknown date, 1954-55
~~~~~~~~~~~~~~~~~~~~~~~~~~~~~
From the West Wales Guardian of Friday 23rd December 1955:
TRAWLERS WILL RUN "SHUTTLE" SERVICE
THREE SHIPS IN FRESHER-FISH SCHEME
Six Milford Haven "pair" trawlers will commence operating in two groups of three in January to provide a "shuttle" service which will mean that their catches will never be more than nine days old when landed.
The vessels are "Strath" class boats, owned by Messrs. J. C. Llewellin (Trawlers) Ltd., and up till now engaged in the normal "pair" fishing, using the Spanish "pareja" system.
The "group of three" system has been used very successfully by Spanish fishing vessels, but the Milford Haven scheme will be the first time it has been introduced in Britain.
...........
The ships which will operate in threes are the Queenleigh, Lordleigh, Steynton, Nolton, Lord Northcliffe, and Lord Cecil.
Mr. J. C. Llewellin explained to the "Guardian" this week how the "groups of three" system will work. The first two ships will go out to fish as a normal "pair". A week later a third boat will sail to "relieve" one of the original pair, to which all the fish then caught by the "pair" will be transferred. The relieved ship will bring the total catch back to port and the other two ships will continue fishing until the second vessel is relieved a week later by the ship that originally returned to port. By this method catches which up to now have been landed after a 14 to 15 day "pair" trip will now be brought back every week by the third trawler.
....
In practice, as far as the crews are concerned, the "groups of three" system will mean a minimum of three days ashore every 17 to 18 days.
...........
~~~~~~~~~~~~~~~~~~~~~~~
From the West Wales Guardian of Friday 15th March 1956:
Whilst bringing the trawler Lord Cecil into dock, Skipper Thomas John Smith, 4 Manchester Square, collapsed and died at the wheel. The vessel had come through the Dock Gates when one of the deckhands, Mr. M. B. D. Spindler, of 68 Pill Road, realised something was wrong, as the ship was not on course for the trawl market. Immediately he rushed up to the wheelhouse, and found that the Skipper had collapsed.
Prompt action avoided what would have been a serious collision. As it was, the Lord Cecil collided with a naval "Bar" ship, damaging her bows quite severely in the process.
As soon as the ship berthed, another deckhand, Mr. Fred Brand, of "Ty Gwyn", Lower Court, Lower Hill Street, Hakin, called Dr. Cambell and the police. Skipper Smith was found to be dead when the doctor arrived, however.
For the past year Skipper Smith had been taking out skeleton crews, and had only taken the Lord Cecil out early that morning. They had failed to get a crew, however, and were returning to dock. He was one of the port's most popular skippers, having fished from Milford since he was a lad. He was a well known member of the Manchester Club and the Conservative Club, and of the R.A.O.B. His good humour will be greatly missed amongst his family and friends.
Back to Trawlers 1940-88