LORD COLLINGWOOD M42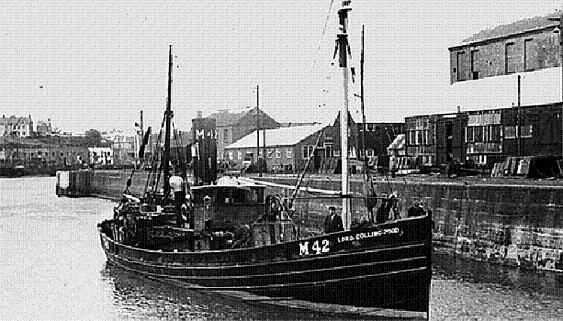 John Stevenson Collection
Official No: 149244 Port Number and Year: 27th in Lowestoft, 1930 (LT183)

- in Gdansk, 1946 (GDY109)

6th in Lowestoft, 1949 (LT34)

4th in Milford, 1949.

Description: Steel side drifter trawler, steam (1958: motor), single screw, coal burning. Ketch rigged: mizzen sail

Crew: 9 men (1930); 10 men (1948).

Registered at Milford: 27 Jul 1949

Built: 1930 by Goole Shipbuilding & Repairing Co., Goole. (Yard no. 293)

Tonnage: 115.72 grt 51.09 net (1930) 117.19 grt 50.04 net. (1958)

Length / breadth / depth (feet): 92.3 / 20.15 / 9.4

Engine: T 3-Cyl. 50 rhp. 9.5 kts. Engine by William Burrell, Great Yarmouth; and boiler by Riley Bros., Southbank on Tees, Middlesborough.

11 Mar 1958: Converted to diesel; 6-Cyl Mirrlees National, 318 bhp, 9 kts.

Owners:

As LORD COLLINGWOOD LT183

13 Sep 1930: Lowestoft Steam Herring Drifters Co. Ltd., 26 Herring Market, Lowestoft.

Manager: Harold B. Jackson, 11 Corton Rd., Lowestoft.

1943: Saint Andrew's Steam Fishing Co. Ltd., Hull.

Manager: B.A. Parkes, Cleveleys.

As DAL 1 GDY109

1946: Chartered to United Nations Relief & Rehabilitation Assoc., Poland

1947 As APOLONIUSZ GDY109 (See Notes below.)

As LORD COLLINGWOOD LT34

1 Jun 1949: Arthur W. Eastoe, Ronald C. Cook & Richard H. Golby, Lowestoft.

John Odde, East Molesey, London SW.

As M42

27 Jul 1949: Westenborg Trawlers Ltd., The Docks, Milford.

Managing owner: Herman Westenborg.

21 Dec 1954: St. Anne's Trawling Co. Ltd., The Docks, Milford

Manager: Herman Westenborg, The Rath, Milford.

17 Jul 1969: Norrard Trawlers, Docks, Milford.

Manager: Frederick John Ingram, Pill, Milford.

Landed at Milford: (LT183) 25 Feb - 30 Nov 1931; 10 Mar - 17 Sep 1935.

(M42) 24 Aug - 16 Nov 1949; 7 Mar - 15 Nov 1950; 5 Mar - 11 Dec 1951; 12 Mar - 5 Dec 1952; 8 Mar - 23 Nov 1953; 15 Mar - 2 Dec 1954; 3 Mar 1955 - 3 Jun 1970.

Skippers: Edward Bowles; John Donovan

Notes:

Admiral Lord Collingwood fired the first shot at Trafalgar, and took over command of the British fleet after the death of his friend Nelson.

1 Sep 1939: Requisitioned by the Admiralty; as an auxiliary patrol vessel on contraband control.

30 May 1940: With fleet-mate LORD KEITH, rescued 315 troops from Dunkirk, landing at Ramsgate.

13 Feb 1946: Returned to owners.

1946: As APOLONIUSZ GDY109 trawling from Gt. Yarmouth with local skippers.

1 Jun 1949: Gdynia registry closed.

3 Jun 1970: Sailed from Milford under Skipper Walter Robson, in company with ASCONA LT108 (Skipper Jack Utting) for Blythe to be broken up.

Cert. Cancelled & Milford Registry Closed: 26 Jun 1970. Vessel broken up at Blythe.

[Thanks to Gil Mayes, the Bosun's Watch and the Fleetwood Maritime Heritage Trust.]
Accidents and Incidents
From the West Wales Guardian of Friday 19th August 1949:

Two fishing vessels arrived in Dock this week from the East Coast. The trawler Ocean Brine (Messrs. Wilcox) is no stranger to Milford, having sailed from the port for a number of years before. The other vessel is the drifter Lord Collingwood, which has been purchased by Mr. H. Westenborg, and is now on seasonal fishing from Milford.

~~~~~~~~~~~~~~~~~~~~~~~~

From the West Wales Guardian of Friday 27th July 1962:

Pembrokeshire Fire Brigade received a call shortly after midnight on Thursday that the Milford trawler Lord Collingwood (Skipper E. Bowles) was making water fast and had put into Fishguard harbour for assistance, her pumps being unable to cope.

The trawler, with firemen and pump still aboard, was due to leave Fishguard for Milford at 9.30 a.m., on today's tide.

~~~~~~~~~~~~~~~~~~~~~~

From the West Wales Guardian of Friday 29th May 1964:

The drifter-trawler Lord Collingwood returned on Thursday from Appledore, following a major refit, and she sails tomorrow under Skipper Ted Bowles. Her sister ship, Lord Suffolk (St. Ann's Fishing Company), returned on Thursday after an interrupted trip with a broken mast, but repairs will not delay sailing. She is in charge of Skipper A. James.

~~~~~~~~~~~~~~~~~~~~~~~~

From the West Wales Guardian of Friday 13th November 1964:
PULLED OVERBOARD BY MINE
MILFORD FISHERMAN IN SEA FOR HOUR
A Milford fisherman, 31-year-old Harry Spriggs, spent an hour in the sea off the Irish Coast on Monday with a huge mine floating nearby.
He was dragged overboard by a recoiling piece of wire that snapped after the Milford trawler Lord Collingwood had netted the mine in her trawl. The trawler, in charge of skipper Ted Bowles, was fishing near the Tuskar Rock lighthouse off the Wexford coast, when the crew of ten saw a barnacle-encrusted mine in the cod-end of the trawl they were hauling in. As they dropped the mine back into the sea a wire broke and recoiled catching deckhand Spriggs and dragging him overboard.
The powerfully built trawlerman, weighed down by heavy clothing and sea boots, was dragged 15 feet below the surface. He struggled upwards and surfaced but it was an hour before his shipmates could drag him back on board.
The rescued man was landed at Rosslare Harbour and taken to Wexford County Hospital, suffering from shock, but miraculously no serious injuries.
Skipper Bowles marked the spot where the mine was dropped and radioed warning messages to the boats of the Kilmore (County Wexford) fishing fleet operating nearby.
Mr Harry Spriggs is a well-known Hakin personality. A single man, he resides with his mother at 17, Nubian Crescent, Hakin.
The Lord Collingwood sailed from Milford on Saturday and after the incident continued her fishing trip.
[ According to Les Jones, Mr. Spriggs' Christian name was Mervyn, and his nickname was Baski. ]
~~~~~~~~~~~~~~~~~~~~~~~~~
From the West Wales Guardian of Friday 28th October 1966:
FISHERMEN ILL.— Mr. H. P. Everitt, Marble Hall, bo'sun on the trawler Deelite, who recently fractured his ribs in an accident at sea has been discharged from the County Hospital, but is still under medical care. Mr. Eddie Ellis, Pill, second engineer on the Lord Collingwood, has been admitted to Glangwili Hospital. Mr. Eddie Harding, Marble Hall, mate of the same drifter-trawler, is also a hospital patient. Mr. Billy Hawkins, Wellington Road, mate of the Hector Gull, is ashore ill.
~~~~~~~~~~~~~~~~~~~~~~~~~~
From the West Wales Guardian of Friday 27th January 1967:
The Norrard Company's drifter trawler Lord Collingwood, slightly damaged by fire last Friday, returns to sea tomorrow in charge of Skipper John Donovan.
Another of the firm's fleet, the Lord Suffolk, which has been undergoing a refit, is now ready for sea in command of Skipper Mason.
~~~~~~~~~~~~~~~~~~~~~~~~~~
From the West Wales Guardian of Friday 14th June 1968:
The first trawler for a considerable period to bring her catch into Milford on a Friday landed at the port last week. The Lord Collingwood, commanded by Skipper J. Donovan, grossed over £900 from her 77 kits, after her nine days at sea.
The Friday landing was an experimental one, aimed at eventually ending the present system of Saturday landings to give the Fish Market a five day week. The prices which were fetched by the trawler seemed to allay fears that Friday is a bad day for the selling of fish.
~~~~~~~~~~~~~~~~~~~~~~~~
From the West Wales Guardian of Friday 5th June 1970:
Last Voyage
Two veteran trawlers of the Norrard Company's fleet left the port on their last voyage on Wednesday night, bound for the breaker's yard at Blyth, Northumberland. In charge of the Lord Collingwood and Ascona on their last trip were Skippers Walter Robson and Jack Utting. The Company hope to replace both vessels.
Back to Trawlers 1940-88