LORD KEITH LT181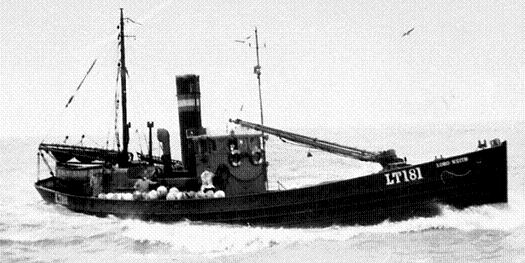 Before conversion to diesel (see below)
John Stevenson Collection
Official No: 149243 Port Number and Year: Lowestoft, 1930 (LT181)

Description: Steel side drifter trawler; steam, coal fired, single screw. Ketch rigged.

Crew: 10 men (1930).

Built: 1930, by Goole Shipbuilding & Repair Co. (Yard no. 292)

Tonnage: 116 grt 51 net.

Length / breadth / depth (feet): 92.3 / 20.1 / 9.4

Engine: T.3-Cyl., 50 rhp.; by William Burrell, Great Yarmouth.

1957: Oil 6 cyl; 360 hp; by Ruston & Hornby.

Owners:

9 Sep 1930: Lowestoft Steam Herring Drifters, Herring Market, Lowestoft.

Manager: Harold B. Jackson, 11 Corton Rd., Lowestoft.

21 Sep 1943: St. Andrew's Steam Fishing Co., Hull.

Manager: Basil A. Parkes, Cleveleys.

1946: John Charles Llewellin (Trawlers), Docks, Milford.

1949: W. H. Kerr (Ships' Chandlers), Docks, Milford.

Manager: W. H. Kerr. [Same address.]

1971: Keighley Enterprises, Lowestoft.

« Converted to standby safety vessel.

19 Mar 1975: To Greek owners, as refrigerated stern trawler or dry cargo ship.

Landed at Milford: 17 Mar 1931 - 18 May 1936; 6 Mar 1949 - beyond 1969

Skippers: Chris Masterson (jnr) (1952);

Notes:

Lord Keith (1746-1823) was Admiral of the Red, the foremost rank in the Royal Navy.

8 Feb 1938: Ran aground near Benacre, south of Lowestoft. Refloated and towed to Lowestoft by tug. [The Times, 9 Feb 1938.]

Sep 1939: Requisitioned by the Admiralty for harbour service (to Jul 1940); barrage balloon vessel tender (Aug 1940 - Feb 1941); auxiliary patrol service (from Mar 1941). (P.No. FY.1884)

30 May 1940: With LORD COLLINGWOOD rescued 315 troops from Dunkirk and landed them in Ramsgate.

Dec 1945: Returned to owners.

Aug 1997: Deleted from Lloyd's Register as 'existence in doubt'.

[Thanks to Goole Ships website for additional information.]
Accidents and Incidents
From the West Wales Guardian of Friday 6th August 1965:

Mr. Brian Salter, 20 Warwick Road, the mate on the trawler Lord Keith, was put ashore at Tenby on Monday after injuring two fingers in an accident. Mr. H. Davies of Glebelands was also put ashore on Monday after being taken ill on board.

~~~~~~~~~~~~~~~~~~~~~~~~

From The Irish Times of Wednesday 21st August 1968, p.6:
Trawler develops engine trouble
The British trawler, Lord Keith, was taken in tow in Rosslare Bay last night by her sister ship, Ocean Breeze, which is attempting to tow the disabled vessel to her home port of Milford Haven, where she will be repaired.
Earlier the trawler had developed engine trouble while fishing east of the Blackwater light vessel off the Wexford coast but in spite of a heavy sea had managed to limp slowly into Rosslare Harbour under her own power.
~~~~~~~~~~~~~~~~~~~~~~~~~~~
From The Irish Times of Friday 21st February 1969, p.4:
Trawler drags up a mine
For 20 minutes yesterday evening, the crew of nine of the Milford Haven trawler, "Keith" [sic], were half paralysed with fright when they hooked a mine, a grim relic of the second World War, in their trawl. The vessel was operating in St. George's Channel about 28 miles south-east of Tuskar Rock lighthouse off the coast of Wexford at the time. There was a strong north-east wind and a rough sea, and blinding showers of snow.
The trawl had been winched up from the seabed 250 feet below after a six-hour tow, As the net broke surface, a crew member spotted the shell encrusted mine projecting from the mass of skate, plaice, cod and seaweed. For several minutes, while the skipper was considering the situation, the net with its dangerous load swayed back and forth within a few feet of the trawler's side as she rolled in the swell.
Then the skipper decided that there was no chance of saving his catch. He gave the order to cut away the end of the net, and mine and fish dropped to the sea bed.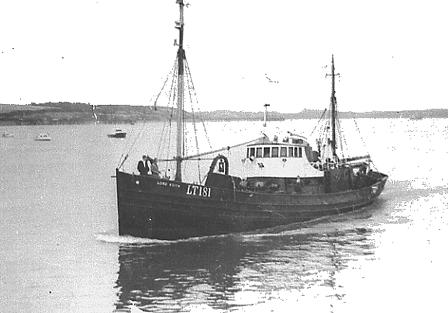 After conversion
John Stevenson Collection
Back to Other Registrations I - P