LORD NORTHCLIFFE M305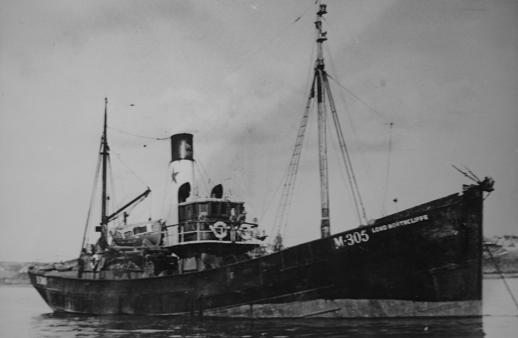 Roger Worsley Archive
Official No: 138950 Port Number and Year: 16th in Grimsby, 1916 (GY759)

15th in Milford, 1948

Description: Steel side trawler; steam screw, coal burning. Pair fishing. Ketch rigged: mizzen sail.

Crew: 10 men (1916); 12 men (1948, 1954).

Registered at Milford: 29 Nov 1948

Built: by Smith's Dock Co., Southbank on Tees, Middlesborough, in 1916. (Yard no. 592)

Tonnage: 227.58 gross 87.6 net

Length / breadth / depth (feet): 117.35 / 22.55 / 12.15

Engine: T 3-Cyl. 71.57 nhp. 10kts. Engine by builders, and boiler by Riley Bros., Stockton.

Owners:

As LORD NORTHCLIFFE GY759

2 Mar 1916: The Beacon Steam Fishing Co. Ltd., Fish Docks, Grimsby

Manager: William F. Goodwin. (Same address.)

Feb 1918: Henry C. Smethurst, Fish Docks, Grimsby

Manager: John W. Smethurst, Fish Docks Rd., Grimsby.

May 1924: Earl Steam Fishing Co. Ltd., Hutton Rd., Grimsby.

May 1924: Trawlers (White Sea & Grimsby) Ltd., Auckland House, Fish Docks, Grimsby

Manager: Harold Bacon, Corby House, Wellowgate, Grimsby.

James N. Bacon, Westland Corner, 36 Bargate, Grimsby. (1930)

Charles George Mastin. (1940)

Jan 1942: Trawlers Grimsby, Ltd.

Manager: Charles George Mastin.

1945: A. Ritchie

Managers: Grimsby Industries (Trawler Managers), Ltd.

Jan 1946: Mitchell, Kerr & Ritchie, Docks, Milford.

As M306

29 Nov 1948: John Charles Llewellin (Trawlers) Ltd., Docks, Milford.

Managing owner.

Landed at Milford: 15 Dec 1947 - 23 Apr 1955

Skippers: K. G. Wade (1951); Walter Morris (1954)

Notes:

Lord Northcliffe (Alfred C.M. Harmsworth, 1865-1922) was a British newspaper owner and publisher.

Mar 1916: Requisitioned for war service and converted for minesweeping duties (Admy.no. 3260), then to an escort vessel; 1x6pdr.

1919: Returned to owners.

30 Nov 1939: Requisitioned for war service and in 1940 designated a Barrage Balloon Vessel (P.No. FY 780).

23 Nov 1945: Returned to owners.

Cert. Cancelled & Milford Registry Closed: 29 May 1956. Vessel broken up.

Accidents and Incidents
From the West Wales Guardian of Friday 8th October 1948:

"I am definitely going in for Spanish fishing." This announcement by Mr. Charles Llewellin, a former member of the firm of Yolland and Llewellin's, and now head of a separate business, will create great interest at Milford. He has purchased from Messrs. Mitchell, Kerr and Ritchie the trawler Lord Northcliffe, and she is likely to be paired with the Lord Cecil.

We understand other boats are likely to be purchased.
~~~~~~~~~~~~~~~~~~~~~~~~~
From the West Wales Guardian of Friday 17th December 1948:
Twenty-one out of Milford's fleet of ninety-two trawlers are now idle, six of the smaller class boats having tied up this week owing to the present uneconomic trading conditions. On the face of it this is a very gloomy Christmas picture, but beneath it all is a feeling of confidence in the industry.
Owners of the eight trawlers tying up this week - Lord Cecil, Loyal Star, Cassiopeia, Poseidon, Constant Star, Framlingham, Lavenham and Lord Anson - will be taking the opportunity during the present "low" in the industry to repair and re-equip their vessels, and it is good to know that two of the ships which have tied up, the Ellesmere (Crescent Company) and Milford Prince (Milford Trawling Company), have been crewing up, and will return to sea again within a day or two after a six week stoppage.
Mention of the Lord Cecil, which is to be converted for Spanish fishing, provides this column with a little exclusive news. She is to be paired with the Lord Northcliffe, already fitted for seine fishing by her owners, John C. Llewellin Trawlers Ltd., and they are expected to begin their first pair voyage on New Year's Day.
One of the "Lords" will be in charge of Skipper W. W. Corney, and on the result of this voyage will depend the future of pair fishing out of the port. To work in conjunction, two trawlers require special nets, ropes and other gear and preparation for the last six months has been going on.
Other trawler owners who lean towards the Spanish fishing methods are watching this voyage with interest. If it is successful, and all connected with the port and industry trust that it will be, a new era may be opened. Under present economic and climatic conditions, such an experiment is indeed courageous, and reveals that there is still plenty of fighting spirit in the industry.
Before the "Lords" steam away on New Years Day, they deserve a civic send-off and a blessing.
~~~~~~~~~~~~~~~~~~~~~~~~~~~~~
From the West Wales Guardian of Friday 21st January 1949:
Two White Funnel boats steaming down the harbour on Thursday afternoon were the Lord Northcliffe and Lord Cecil, starting on the first port-war pair-fishing voyage for the J. C. Llewellin Trawling Company.
The revival of the Spanish method of seine fishing is being watched with interest by other local owners, particularly in view of reports that there now appears to be more fish on the south-western grounds.
Skippers on this venture are Messrs. W. Corney and Tom Barrett, the latter being retired from the sea in 1943, and this is his first trip as skipper since then.
~~~~~~~~~~~~~~~~~~~~~~~~
From the West Wales Guardian of Friday 13th January 1950:
The pair trawlers, Lord Cecil and Lord Northcliffe (Messrs. J. C. Llewellin Trawlers Ltd.), are to sail again on Wednesday after a period in dock. They are to crew-up on Monday, and will be in charge of Skippers Corney and Smith.
~~~~~~~~~~~~~~~~~~~~~~~~~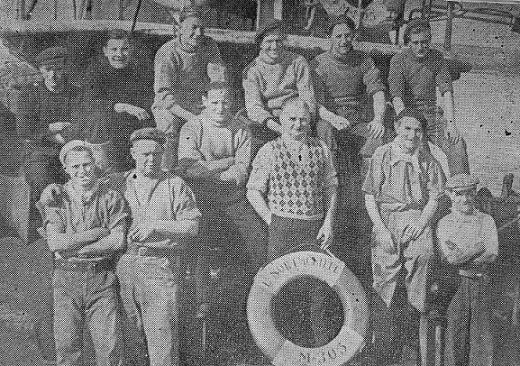 Back row, L to R: Deckhands Paddy Dillane, Michael Dirrane, John Zielinski, Bo'sun Ken Wlosowicz, Deckhand Michael Kelly, Decky Learner John Bate.
Front row: Fireman W. J. Jones (Solva), Ch.Eng. Edward Barry, Mate A. V. Springer, Skipper Walter Morris, 2nd.Eng. Leonard Jones, Fireman James Mackenzie
From The West Wales Guardian of 15th October 1954, in the Les Jones Archive.
~~~~~~~~~~~~~~~~~~~~~~~~~~~~~~~
From The West Wales Guardian of Friday 23rd December 1955:
TRAWLERS WILL RUN "SHUTTLE" SERVICE
THREE SHIPS IN FRESHER-FISH SCHEME
Six Milford Haven "pair" trawlers will commence operating in two groups of three in January to provide a "shuttle" service which will mean that their catches will never be more than nine days old when landed.
The vessels are "Strath" class boats, owned by Messrs. J. C. Llewellin (Trawlers) Ltd., and up till now engaged in the normal "pair" fishing, using the Spanish "pareja" system.
The "group of three" system has been used very successfully by Spanish fishing vessels, but the Milford Haven scheme will be the first time it has been introduced in Britain.
...........
The ships which will operate in threes are the Queenleigh, Lordleigh, Steynton, Nolton, Lord Northcliffe, and Lord Cecil.
Mr. J. C. Llewellin explained to the "Guardian" this week how the "groups of three" system will work. The first two ships will go out to fish as a normal "pair". A week later a third boat will sail to "relieve" one of the original pair, to which all the fish then caught by the "pair" will be transferred. The relieved ship will bring the total catch back to port and the other two ships will continue fishing until the second vessel is relieved a week later by the ship that originally returned to port. By this method catches which up to now have been landed after a 14 to 15 day "pair" trip will now be brought back every week by the third trawler.
....
In practice, as far as the crews are concerned, the "groups of three" system will mean a minimum of three days ashore every 17 to 18 days.
...........
~~~~~~~~~~~~~~~~~~~~~~~
From The West Wales Guardian of Friday 11th May 1956:
THE END OF "PAIR" TRAWLING
MILFORD COMPANY CLOSES DOWN
Already in the "doldrums" following bad news from several quarters the Milford Haven fishing industry suffered another severe blow on Saturday when mt J. C. Llewellin announced with regret that he was winding up his business of J. C. Llewellin (Trawlers) Ltd. and scrapping his seven remaining "Strath" class vessels.
This decision, made after twelve months of deterioration in the situation, means that seventy fishermen and about twenty maintenance and office staff will be affected. It also means the end of the "pair" method of fishing carried out at Milford Haven for 21 years by the firm, which is the only company in Britain to use this system.
As we reported last week the trawlers Shielburn and Lord Cecil go for scrap this week.
"There is very little doubt that the others, the Lord Northcliffe, Queenleigh, Lordleigh, Steynton and Nolton will have to follow," stated Mr. Llewellin.
...........
Mr. J. C. Llewellin told the "Guardian" that it was with regret that the decision to finish had been made. "During the last 12 months the pair ships have brought in very small quantities of hake, and it is only the high prices that has enabled us to keep going," he said. "The main reasons are the shortage of hake and the high costs of running the ships."
Mr. Llewellin had no doubt about the reason for the shortage of hake. "It is the tremendous number of Spanish ships operating in grounds which are traditionally British," he stressed. "Years ago Milford trawlers sailed as far south as Morocco into grounds which the Spanish ships have since swept bare. Now the pendulum has swung the other way and the Spaniards are sweeping clean the British grounds up as far north as Achill Head and Hebrides.
.............. Many Spanish trawlers use net meshes which are considerably smaller than the size laid down by international agreement. The Spanish also have a demand for undersized hake and they have swept the grounds bare. There is absolutely no hake there for British ships which are not allowed to land undersized fish and observe the Convention agreements to the letter. ............. ."
Back to Trawlers 1940-88