LOYAL STAR R246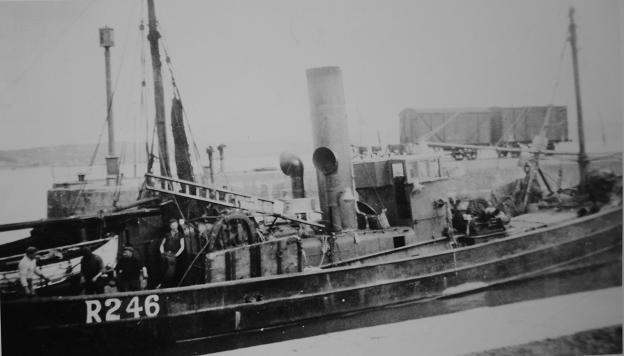 Courtesy of Milford and West Wales Mercury
Official No: 135759 Port and Year: Lowestoft, 1913, LT111

Ramsgate, 1920, R246

Description: Steel side drifter trawler, steam, coal fired, single screw. Ketch rigged.

Crew: 9 men

Built: 1913, Yarmouth.

Tonnage: 95 grt 40 net.

Length / breadth / depth (feet): 86.1 / 18.6 / 9.1

Engine: 34 hp.

Owners:


As LT111

14 Jul 1913: The Star Drift Fishing Co. Ltd., Star Buildings, Lowestoft.

Manager: George Catchpole, Eddystone House, Kessingland.

As R246

1 Jun 1920: Ramsgate Steam Trawling Co. Ltd., Cottage Rd., Ramsgate.

Manager: Thomas W. Chapman, 18 Crescent Rd., Ramsgate.

H. E. Rees, Docks, Milford. (Seasonal: Mar-Oct approx.; 1922-1932.)

(Regularly: 1933-45; 1947-52. See below.)

8 Jun 1945: H. E. Rees, Docks, Milford.

Managing owner.

17 Dec 1945: Drifter Trawlers Co. (H.E. Rees), Docks, Milford.

Manager: H.E. Rees. [Same address.]


Landed at Milford: 9 Feb 1933 - 10 Jul 1945; 10 May 1947 - 11 Jul 1952.

Skippers:

Notes:

Dec 1914: Requisitioned by the Admiralty and converted to a patrol boat; later minesweeper. 1 x 6 pdr AA.

1919: Returned to owners.

Jun 1953: Broken up at Ward's Yard, Castle Pill.
Accidents and Incidents
From the West Wales Guardian of Friday 21st July 1922:
The Ramsgate steam drifter trawler "Loyal Star", which was last week reported to have been boarded by Sinn Feiners in Dunmore Harbour, Southern Ireland, arrived in Milford Docks on Tuesday in order to be relieved of her cargo of fish. Our representative went aboard in the evening and interviewed a member of the crew regarding the vessel's experience, but he was informed that the story in the Sunday newspapers had been much exaggerated. It was in fact quite untrue.
It appears that the drifter trawler put into Dunmore Harbour in order to shelter from the heavy weather conditions on Thursday morning week, about eleven o'clock. What actually occurred was that two fellows, whom the crew were afterwards told were Sinn Fein, boarded the vessel at the quayside. They told the skipper they were going to take some fish, and without further ceremony proceeded to the fish hold. One of them took a basket and went down below were the fish is stored, whilst the other kept guard on deck. They took a very insignificant amount of fish, and returned later with the basket which they took from the ship. It was apparent that both men were armed, and had the crew attempted to interfere with them it is probable that the guns would have been brought into use.
The "Loyal Star" has for some time been coming into Milford with her fish to be landed.
~~~~~~~~~~~~~~~~~~~~~~
From the West Wales Guardian of Friday 3rd July 1931:
The Ramsgate drifter trawler "Loyal Star", working seasonally from the port of Milford, ran on to the Hats and Barrels rocks while on her way to the fishing grounds. The Lowestoft boat "John & Norah", managed to pull her off into deep water.
~~~~~~~~~~~~~~~~~~~~~~~~~
From the West Wales Guardian of Friday 17th December 1948:
Twenty-one out of Milford's fleet of ninety-two trawlers are now idle, six of the smaller class boats having tied up this week owing to the present uneconomic trading conditions. On the face of it this is a very gloomy Christmas picture, but beneath it all is a feeling of confidence in the industry.
Owners of the eight trawlers tying up this week - Lord Cecil, Loyal Star, Cassiopeia, Poseidon, Constant Star, Framlingham, Lavenham and Lord Anson - will be taking the opportunity during the present "low" in the industry to repair and re-equip their vessels, and it is good to know that two of the ships which have tied up, the Ellesmere (Crescent Company) and Milford Prince (Milford Trawling Company), have been crewing up, and will return to sea again within a day or two after a six week stoppage.
~~~~~~~~~~~~~~~~~~~~~~~
From the West Wales Guardian of Friday 12th June 1953:
The trawler Deeside (Mr. W. Kerr), which left Milford in 1946 to fish out of Lowestoft, is returning to the port and is now fishing a trip round. At one time the Deeside, a crabber class boat, was paired with the Bellerophon.
Another trawler returning to Milford next week is the Hosanna (Mr. W. Wilcox), which has been fishing out of Fleetwood for some months. A third trawler, the Homeleigh, (Mr. H. Westenborg) is being brought back from Fleetwood by a scratch crew, but it is understood she will be going to the breakers' yard.
Two more small Milford trawlers left this week for the breakers' yard at Pill Point. They are the Rig and Loyal Star, which formerly belonged to Messrs. H. E. Rees and Co.
Back to Other Registrations I - P