MARISTO M14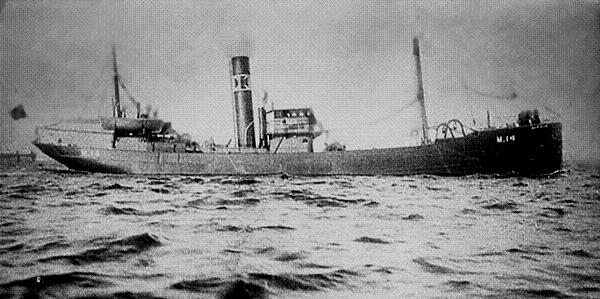 John Stevenson Collection
Official No: 128769 Port Number and Year: 4th in Milford 1914

- in Fleetwood, 1919 (FD347)

Description: Steel side / beam trawler; steam screw; coal burner. Ketch rigged: foresail, mainsail and mizzen.

Crew: 10 men (1914)

Registered at Milford: 6 Nov 1914

Built: Smiths Dock Co., Ltd., Middlesborough, South Bank, 1914. (Yard no. 580)

Tonnage: 286.76 gross 114.57 net

Length / breadth / depth (feet): 129.7 / 23.5 / 14.41

Engine: T.3-cyl. 97.5 nhp. 10.5 kts. 1911, by builders.

Owners:

6 Nov 1914: James Thomas, 'Tredegar House', Great North Rd., Milford.

Managing owner.

16 Oct 1917: The Wyre Steam Trawling Co., 114 Dock St., Fleetwood.

Manager: Magnus B. J. Wedum. (Same address.)

11 Sep 1919: As FD347

30 Sep 1921: As CALDEW.

1938: Saint Andrew's Steam Fishing Co., Hull

Manager: Basil A. Parkes, Cleveleys.

Landed at Milford: 28 Nov 1914 - 27 Dec 1915

Skippers: William Aldridge (Cert. 5849), 1914.

Notes:

Maristo is the Esperanto word for "sailor" or "seaman". [Wiktionary.]

Dec 1915: Requisitioned for war service and converted to a minesweeper; 1 x 12pdr. (Admy.No.1978).

1917: Based at Portland. In company with CALIPH she claimed an unconfirmed kill when they attacked a U-boat.

1919: Returned to owners.

24 Sep 1939: Stopped by U.33 off the Faroe Islands, sunk by gunfire after crew ordered into boat. Crew picked up by KRONPRINSESSAN MARGARETA (3765grt/1914). Crew subsequently removed by German destroyer and interned in Germany. They were the first civilian ship's crew to be captured in the war, and the only British fishermen who were held as PoWs in the war. (Five years and seven months.) [ www.fleetwood-trawlers.info. ]

Cert. Cancelled & Milford Registry Closed: 10 Sept 1919. Vessel transferred to the port of Fleetwood.

Accidents and Incidents:
From the Haverfordwest and Milford Haven Telegraph of Wednesday 2nd December 1914:

FINE NEW TRAWLER.

On Saturday the new steam trawler Maristo arrived and landed her maiden catch. She has been built to the order of Mr James Thomas, steam trawler owner of this port, at the Middlesborough yard of Smith's Dock Trust, Limited. The vessel is the largest in the port being 180 feet in length and fitted with the most up-to-date appliances and gear. She was much admired on all hands. Electric light is installed throughout, and as the ship left the Dock early on Monday morning the whole place was illuminated. The Maristo makes a valuable addition to the port. The skipper is W. Aldridge.

~~~~~~~~~~~~~~~~~~~~~~~

From the Haverfordwest and Milford Haven Telegraph of Wednesday 9th June 1915:
All records from Milford Haven Fish Market were broken on Monday when the voyage of the Milford steam trawler "Maristo" was landed then sold. The trip of fish realised the enormous sum of £954. The previous highest sum grossed for a voyage of fish at the port of Milford was £790. The remarkable part of the new record is that the vessel was out only a matter of ten days. Of course, many larger voyages have been landed as [far as] quantity goes, but the "Maristo", with a fine catch of over two hundred kits of hake, large, medium and small, hit a market which was very good. The best hake sold from 82/6 to 77/6 per kit and small 62/6 to 65/-. Only on her previous trip she grossed £700. The trawler is owned by Mr James Thomas and the Skipper W. Aldridge has been congratulated on all hands.
From the Haverfordwest and Milford Haven Telegraph of Wednesday 29th September 1915:
A NEW RECORD.
All records have been broken at Milford Haven Fish Market by the remarkable sum realised from the sale of fish landed by the steam trawler Cameo on Monday morning, the gross result amounting to £1,023. The vessel had over 100 kits of hake and as the prices ruled from £5 17s. 6d. to £6 2s. 7d. this had much to do with the huge earnings. The present price of fish of course is accountable for the big money which is being made by some of the trawlers, not so much the quantity of fish landed. The Belgian boats are doing remarkably well and one of these recently made two trips in a week which turned over £800 for the two. The Cameo was out a fortnight. The previous highest was made by the Maristo a few weeks ago and was just under the £1000.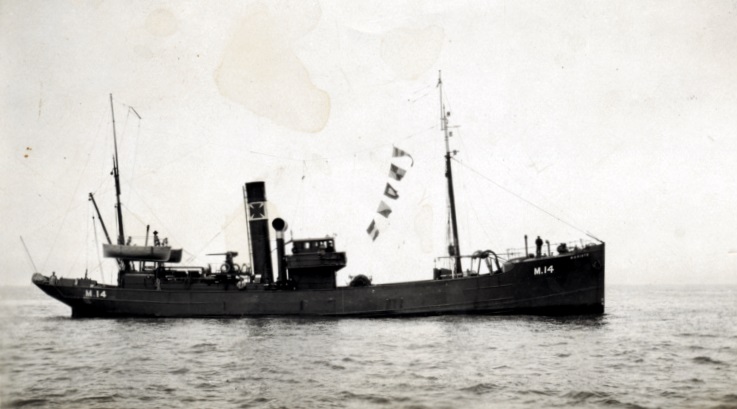 Courtesy of Adrian James.
Back to Trawlers 1888-1914