RAYVERNOL LO458
LEPHRETO LO458
MERCHANT VALOUR M100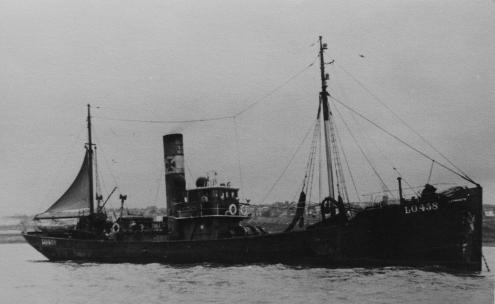 As LEPHRETO LO458
Kindly supplied by Ann Axford
Official No: 143944 Port Number and Year: 716th in London, 1920 (LO458)

2nd in Milford, 1957

Description: Castle Class steel side trawler; steam screw, coal burning.

Crew: 12 men (1922); 11 men (1957).

Registered in Milford: 19 Jan 1957.

Built: 1917, by Smith's Dock, Southbank on Tees, Middlesborough. (Yard no. 714)

Tonnage: 275.13 grt 107.43 net.

Length / breadth / depth (feet): 125.5 / 23.4 / 12.85

Engine: T 3-Cyl. 61 rhp. 10.5 kts. Engine by builders: boiler by Hawthorne, Leslie & Co. Newcastle on Tyne.

Owners:

As WILLIAM SYMONS LO458

24 Aug 1920: The Secretary of the Admiralty, Whitehall, London S.W.1.

As RAYVERNOL LO458

11 Dec 1922: Raymond D. T. Birt, The Docks, Milford.

Managing owner.

25 Aug 1927: Thomas J. Jenkerson & Jones, Docks, Milford

Manager: Thomas Jenkerson.

25 Aug 1927: As LEPHRETO LO458

As LEPHRETO M100

19 Jan 1957: Milford Docks Co. Ltd., The Docks, Milford

Managers: Frederick Walter Goffin, Observatory Ave., Hakin (15 Feb 1957)

Leslie D. R. Roberts, Stratford Rd., Milford. (10 Aug 1957)

James Carpenter Ward, Thornton, Milford. (24 Apr 1959)

15 Feb 1957: As MERCHANT VALOUR M100

Landed at Milford: As RAYVERNOL: 22 Nov 1922 - 20 May 1926.

As LEPHRETO: 31 Jul 1927 - 5 Nov 1939; 8 Apr 1945 - 29 Jan 1957.

As MERCHANT VALOUR: 15 Feb 1957 - 21 Feb 1958; 2 Nov 1958.

Skippers: 1926: D. J. Davies

Aug 1938 - 1945: Skipper "Algy" Matthews RNVR

1957: George "Tiger" Knight.

Notes:

WILLIAM SYMONS, age 23, born Bristol; Landsman, HMS TEMERAIRE, at Trafalgar.

RAYVERNOL: possibly composite names as RAYmond, VERnon, and OLiver (or OLivia).

1917: Completed for the Admiralty as the minesweeper WILLIAM SYMONS (Admy.no. 3535). 1x12pdr.

1922: Sold to mercantile.

Aug 1939: Requisitioned as LEPHRETO and converted to a minesweeper (P.No. FY 519)

1944: Converted to Esso (Y7.17). Employed on ferrying fuel to the Normandy beaches.

4 Nov 1944: Returned to owners.

Cert. Cancelled & Milford Registry Closed: 23 Jun 1959: Vessel sold for breaking up at Hemiksem, Belgium.
Accidents and Incidents
From an unknown local newspaper, in the week beginning 26th June 1927:

The steam trawlers "Kirkland" and "Rayvernol", which for years have been under the management of Mr. G. H. D. Birt, have just been sold. The fear generally is that when boats change ownership it is to the detriment of the port by going elsewhere. In this case it is gratifying to know that they are being retained in Milford's fleet, having been taken over by the enterprising owner and manager, Mr. Tom Jenkerson. The is will be good news.

~~~~~~~~~~~~~~~~~~~~~~~~~~~~~~
The Times, Tuesday, Dec 05, 1933; pg. 25; Issue 46619; col C:
MYNONIE R. KERBY.— Land's End Wireless Station, Dec 4.— Following from British s. Lephreto:— Derelict yacht Mynonie R. Kerby (before reported), position 50.08 N., 8.06 W., sinking rapidly: dangerous to navigation. Drifting W.N.W. across shipping routes.
~~~~~~~~~~~~~~~~~~~~~~
From an unknown local newspaper of c. 29th March 1945:
Milford's fishing fleet is gradually building up its strength. The Pair Fishing Company have brought two new boats to the the port, the s.t. "Tanager", and the s.t. "Cosbeach" [ ? ]. Two other derequisitioned boats, the "Milford Duchess" and the "Lephreto", started fishing from the port last week.
The labour position, however, is still acute. Men are lacking to to man the sea-going trawlers, and also to unload the the returning fish-laden trawlers. In the circumstances there is a great possibility that Sunday work will once more become necessary on the fish market.
~~~~~~~~~~~~~~~~~~~~
From the West Wales Guardian of Friday 7th June 1946:
On Wednesday, five local trawlers, the Duchess, Lephreto, Avonstream, Ellesmere and Cotswold (the last named a 140 footer, recently arrived for A. J. Tilbrook) were held up owing to a shortage of deck crew, a state of affairs which has reached alarming proportions. The present dearth is chiefly due to the departure of many East Coast fishermen, who have opted to return to their home ports, chiefly Hull.
~~~~~~~~~~~~~~~~~~~
From the West Wales Guardian of Friday 18th January 1952:
FISHING "LEAGUE"
"DUKE" AT THE TOP AGAIN
After two years as "runners-up", Skipper Albert Saunders and the "Milford Duke" are once again in top place in the Milford fishing "league". In 1951 Skipper Saunders caught a greater value of fish than any other individual trawler captain in the port.
Second in the league on last year's results is Skipper W. Burgoyne, who has moved up a place, closely followed by Skipper Steve Pembroke, who was sixth in the list of 1949 catches. "Crack" Skipper for 1948 and 1949, Skipper Tom Donovan, D.S.C., is a close fifth in results while consistent Skipper James Jobson again occupies fourth position.
Here are the leading positions, the ships being classed according to size.
.....
CASTLE CLASS
Capt. Kettle has done it again! In 1949 Skipper Bob Kettle was runner-up in the Castle boats; in 1950 he topped the list and his catches in 1951 gave him a winning lead over steady Skipper George Knight, who took the Lephreto into second place for the second year running. Two captains who have moved up in the "table" are Skippers Gue and Lawrence.
1. Richard Crofts (Bob Kettle), Mr. W. Wilcox.
2. Lephreto (Geo. Knight), Messrs. Jenkerson.
3. Thomas Leeds (Harry Gue), Mr. H. Westonborg.
4. Alexander Scott (J. Lawrence); 5, Their Merit (Jeff Tucker); 6, Settsu (Norman Brown); 7, T. Booth (late Skipper R. W. Limbrick); 8. W. Bunce (W. R. Robertson); 9, Milford King (Albert Beckett) [sic]; 10, Sea Hunter (J. McLelland).
~~~~~~~~~~~~~~~~~~~~~~~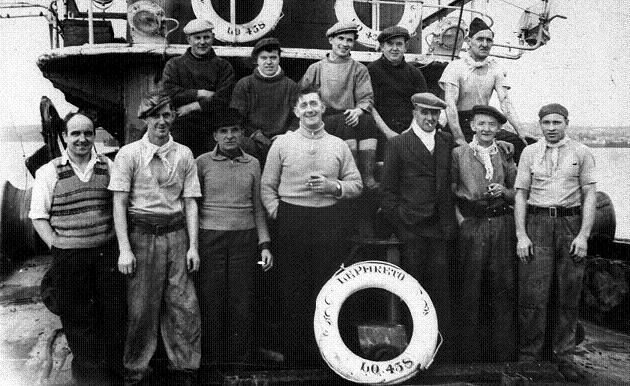 L to R, back row: Deckhands G. Kerrison, Newbury, Walter Saloman, Deckhand Ernie 'Ginger' Tennant, Fireman Michael Patrick Haughey
Front row: Cook Harry McErvel, 2nd Eng. Jack Davies, Mate Ted Funge, Skipper George 'Tiger' Knight, Bosun Norman Tribe, Ch.Eng. Victor Coleman, Fireman Kazimierz Leszynski
Taken for the West Wales Guardian series 'Ships and Men', 1954-55
John Stevenson Collection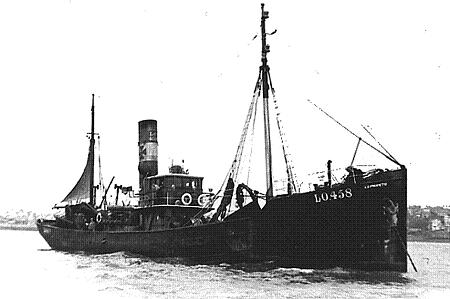 As LEPHRETO LO458
John Stevenson Collection
~~~~~~~~~~~~~~~~~~~~~~~~~~~
From the West Wales Guardian of Friday 25th May 1956:
A staggering blow to the depressed Milford fishing industry is the news that the old established trawling firm of Messrs. T. J. Jenkerson and Sons is going out of business. The decision means that five Castle class trawlers and the only oil-fired post-war vessel in port will be withdrawn from fishing, throwing another 70 trawlermen out of work. In addition, the firm has a considerable administration and maintenance staff, and is principally concerned in the Milford Engineering Company, Ltd., which will also be seriously affected.
Two weeks ago Messrs. Jenkerson, whose principals are the brothers Leslie and Kenneth, scrapped two Castle boats, the Hatano and Alexander Scott.
The present fleet consists of the coal burners Lephreto, Damito, William Bunce, Our Bairns, Their Merit, and the oil burner David Ogilvie, which was built in Aberdeen in 1949.
It is expected that all the ships with the exception of the David Ogilvie will go to the scrap yard.
~~~~~~~~~~~~~~~~~~~~~~~~~~~~
From the West Wales Guardian of Friday 28th December 1956:
The Milford Fisheries trawler Lephreto has been bought by Merchants Ltd., and will sail at the weekend for her new owners in charge of Skipper Knight. The Lephreto, which formerly belonged to Messrs. Jenkerson's fleet is to be renamed Merchant Valour.
~~~~~~~~~~~~~~~~~~~~~~~
From the West Wales Guardian of Friday 6th March 1959:
With the Merchants Ltd. trawler Merchant Valour being tied up this week, the number of trawler skippers now unemployed at Milford has risen to a score. In recent months the trawlers Merchant Victor and Merchant Valour, the Lorraine, Peter Carey, Night Hawk and One Accord have all gone to the wall.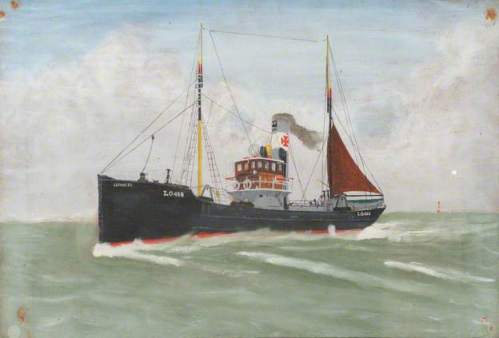 As LEPHRETO LO458. By unknown artist
Milford Haven Heritage and Maritime Museum (via BBC "Your Paintings.")
Back to Trawlers 1940-88