TWINKLING STAR KY347
MERCHANT VENTURER M49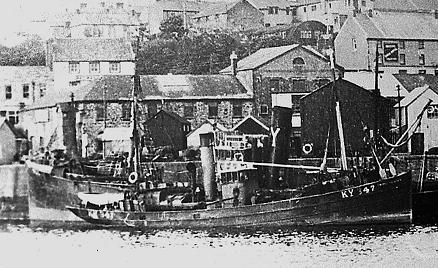 As TWINKLING STAR
John Stevenson Collection
Official No: 140845 Port Number and Year: - in Peterhead,1920 (PD443)

1st in Kirkaldy,1932 (KY347)

3rd in Milford, 1956

Description: Admiralty Steel Drifter; steam screw, coal burning. Dandy rigged: fore and mizzen.

Crew: 10 men

Registered in Milford: 10 May 1956

Built: 1920, by Browns Shipbuilding and Dry Dock Co., Hull. (Yard no. 1)

Tonnage: 95.24 grt 40.16 net.

Length / breadth / depth (feet): 86.2 / 18.5 / 9.25

Engine: T 3-Cyl. 42.4 nhp. 9.5 kts. Engine by Pollitz & Wigzell, Sowerby Bridge; boiler by Clayton Sons & Co., Hunslett

Owners:

As J.R. MITCHELL PD443

1920: Andrew Buchan, jnr., 5 Jamaica St., Peterhead, & Others.

Managing owner.

As TWINKLING STAR PD443

As KY347

1932: John Muir (Keay), Bass View, West Forth St., Cellardyke, Fife.

(By 1939: Mrs. Elizabeth K. Muir. Same address above.)

Manager: John T. Graham, Thordesa, Anstruther, Fife.

1945: Boston Deep Sea Fishing & Ice Co., Fleetwood.

Manager: B.A. Parkes.

1946: The Adam Steam Fishing Co., Fleetwood.

Manager: B.A. Parkes.

Mar 1949: Merchants (Milford Haven), Docks, Milford.

Manager: Frederick Walter Goffin, Observatory Ave., Hakin. (10 May 1956)

Leslie David Rees, Stratford Ave., Milford. (23 Jun 1957)

Albert Henry Davies, Neyland Hill, Neyland. (31 Mar 1959)

12 Jun 1956: As MERCHANT VENTURER M49.

Landed at Milford: As TWINKLING STAR KY347: 8 Mar - 4 Nov 1949; 14 Mar - 4 Oct 1950; 8 Mar - 4 Jul 1951; 10 Mar - 26 Aug 1952; 22 Mar - 7 Dec 1953; 19 Mar - 10 Oct 1954; 6 Mar - 27 May 1955.

As MERCHANT VENTURER M49: 22 Jun 1956 - 19 Apr 1959

Skippers: Tom Bartlett (1960)

Notes:

16 Jul 1920: Completed as Admiralty steel drifter CHIMERA (Admy.no. 4146).

21 Sep 1920: Sold to Fishery Board of Scotland, and renamed J. R. MITCHELL.

8 Oct 1937: In Yarmouth harbour in collision with steam drifter RENASCENT LT288, and sustained damage.

Sep 1939: Requisitioned as TWINKLING STAR as harbour defence vessel.

Jan 1942: Examination service.

Oct 1945: Returned to owners.

May 1955 - Jun 1956: Laid up at Milford.

17 Jan 1960: Left for breaking up by John Cashmore, Newport, Mon.

[ Thanks to Gil Mayes for additions and corrections.]

Cert. Cancelled & Milford Registry Closed: 23 Feb 1960. Vessel broken up at Newport.
Accidents and Incidents
From the West Wales Guardian of Friday 6th January 1956:

Within the next three weeks two more tied-up trawlers will be at sea again. They are the Merchants Ltd. vessels Genius and Twinkling Star, and both are now undergoing a refit by the Dry Dock Company. Through the good offices of the Milford Docks Company, capital has been found to revive the company, and it is hoped that these two sailings will be a milestone on the way to more important development.
~~~~~~~~~~~~~~~~~~~~~~
From the West Wales Guardian of Friday 22nd August 1958:
FELL INTO DOCK
PROMPT MILFORD RESCUE
Prompt action by a member of the crew of a Milford trawler probably saved the life of a fisherman who fell into Milford Docks last Thursday night.
At about 9.30 Deckhand James Bowie, of the trawler Dicketta, was trying to get aboard what he thought was his ship alongside the "coaling" wall.
His boat had been moved, however, and the ship he was trying to board was the Merchant Venturer, which is similar in appearance.
Unluckily he plunged some distance into the dark waters of the dock.
Luckily Mr. R. H. Wilson, trimmer on the Merchant Venturer, heard his cry and the splash and rushed on deck. He was able to get Mr. Bowie aboard and made him comfortable for the night.
Mr. Bowie was little the worse for his immersion. Fortunately he did not strike the side of the ship in falling.
~~~~~~~~~~~~~~~~~~~~~~
From the West Wales Guardian of Friday 19th January 1960:
Three Milford trawlers left this week for the breaker's yard. Last Friday the Cleopatra (Westward) left for breaking up at Cork, in charge of Skipper Tom Salter. On Tuesday the Milford King (Milford Fisheries) was taken by Skipper Reggie High to Newport, and on Wednesday the Merchant Venturer (Merchants Ltd.) left in charge of Skipper Tom Bartlett on her way to Newport.
Back to Trawlers 1940-88