MILFORD MARQUIS M14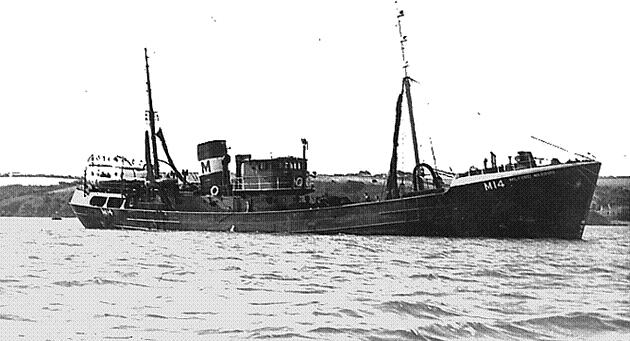 John Stevenson Collection
Official No: 166638 Port Number and Year: 4th in Grimsby,1941 (GY400)

1st in Milford, 1944

- in Lowestoft, 1964 (LT481)

Description: Steel side trawler; motor vessel, oil. Cruiser stern.

Crew: 16 - 14 men (22 Sep 1948)

Registered in Milford: 30 Dec 1944

Built: 1941, by Cochrane & Sons, Selby. (Yard no. 1211)

Tonnage: 316 grt 94 net.

Length / breadth / depth (feet): 142.6 (156 oa) / 24.8 / 13.6

Engine: 4 cycle single acting coupling reverse type. 8-Cyl. 122 nhp. 12 kts. Ruston & Hornsby, Lincoln

Owners:

As LE ROYAL GY400

31 Dec 1941: Grimsby Motor Trawlers Co. Ltd., Grimsby.

Manager: John C. Ross, 39 Signhills Ave., Cleethorpes, Lincs.

10 Feb 1944: Milford Steam Trawling Co. Ltd., The Docks, Milford.

Manager: James Carpenter Ward.

30 Dec 1944: As LE ROYAL M14.

Jul 1946: MILFORD MARQUIS M14

As POSTBOY IJM-35

13 Jun 1951: v/h J.C. Pronk, Ymuiden.

1964: Claridge Trawlers, 8 Waveney Rd., Lowestoft.

Manager: Gordon David Claridge.

As ST. KITTS LT481

Landed at Milford: 2 Jul 1946 - 10 Jun 1951

Skippers: Albert Saunders (1946); Benny Riches (1947); Jimmy Jobson (1947/49); Harry Rich (1950)

Notes:

First motor trawler designed for Arctic fishing.

Dec 1941: Requisitioned, and as POSTBOY (Jan 1942); converted to a minesweeper. (P.No.FY.1750). 1x12pdr; AA. Mediterranean station.

[ See photographs of HMS POSTBOY and POSTBOY IJM-35 below. ]

Jul 1946: Returned to owners.

11 Apr 1972: Off the east coast of Scotland, Third Hand Robert Pead suffered head injuries from the knocking-out bar; he was air-lifted and taken to Aberdeen Royal Infirmary, where he died. [http://richardfulcher121.blogspot.co.uk/]

Nov 1976: BU River Humber.

[ Information kindly supplied by Gil Mayes, Mike Thompson and Bill Blow. ]

Cert. Cancelled & Milford Registry Closed: 13 Jun 1951. Vessel sold to Dutch owners.
Accidents and Incidents:
From the West Wales Guardian, probably of Friday 8th February 1946:

The Guardian was informed yesterday (Thursday) that a £54,000 super-trawler is being built at Selby for the Milford Steam Trawling Company, a subsidiary of the Docks Company.

This good news follows closely upon the arrival on Tuesday for the same firm of the "Post Boy", a 140 feet long super-trawler powered by diesel engines. The "post Boy", which is to be re-named the "Milford Marquis", was a £28,500 pre-war contract, and was taken off the stocks by the Admiralty for patrol and convoy work. She was requisitioned in November 1941, and since then has spent most of her sailing time in the Mediterranean.

Her £54,000 sister ship, which with Board of Trade permission will be christened the "Milford Viscount", will be handed over to the Company at Milford by the end of August. Her length between perpendiculars will be 142 feet, compared to the 125 feet of the castle Class trawlers, the largest fishing out of Milford at the moment. Her beam is 24 feet, and like the new "Marquis" her holds have a capacity of 1,600 to 1,700 kits (more than 120 tons) of fish, compared with the 1,000 kits maximum on Castle boats.

The "Viscount" is being built by Cochrane of Selby, and is being engined by Ruston and Hornsby, of Lincoln. The engines will develop over 750 b.h.p, and like the "Post Boy", she will do 13 knots, with a sea-going range of approximately six weeks.

Mr. J.C. Ward, Manager of the Docks Company and Managing Director of the Milford Trawling Company, informed our reporter that the "Marquis" and in her turn the "Viscount", will fish the normal grounds off south-west Ireland, but the range would enable them both to fish Bear Island, Newfoundland, the Canaries or Iceland, should the necessity arise. He revealed that when the re-conversion of the "Marquis" is completed in a couple of months' time, she will be taken to sea by Skipper Albert Saunders. In August, upon her commissioning, Skipper Saunders will transfer to the bridge of the "Viscount", and his place will be taken by Skipper Benny Riches.

"If we find these diesel trawlers are successful we will in due course replace all the trawlers in our fleet with this new type," added Mr. Ward, who agreed that this considerable outlay was an earnest of the Docks Company's confidence in the future of the fishing industry. "At the time, we have three boats fishing - 'Milford Prince', 'Princess' and 'Duchess'. The 'King' has been handed back by the Admiralty and is undergoing re-conversion at Milford, while the 'Queen' is under-going similar treatment at Cardiff to fit her for a return to fishing."

News has been received that the "Milford Countess", still on Admiralty service, is on her way back from foreign waters, and should soon join her sister ships in Milford.

The "Post Boy", as she will be called for some time at Milford, is now lying alongside the Hakin Stage, and her sleek lines have excited much interest. Lighting throughout is all electric, and the crew's quarters are spacious and comfortable.

On fishing trials

Courtesy of Terry and Alan Saunders

On fishing trials.

[The central figure in cap and check jacket is Skipper Albert Saunders, and Cliff Saunders is at the bottom left corner.]

Photograph courtesy of Terry and Alan Saunders; identifications thanks to Terry Beckett.

~~~~~~~~~~~~~~~~~~~~~~~~~~

From the West Wales Guardian of Friday 9th August 1946:

The motor trawler Milford Marquis leaves today on a long distant search for herrings. Thirty hours from dock, her master Albert Saunders expects to be south of the Hebrides, off Barra Head, where the Fleetwood trawlers have been fishing. Mr Ward, Dock manger and Managing Director of the Milford Steam Trawling Company, owners of the vessel, will be on board for this trip. "If we fail to find herrings we will return to the Irish grounds."

Although the 'Marquis' only landed 592 kits yesterday, compared with 778 on her last trip (she grossed £1,700) her owners are quite pleased. "The fuel consumption is just about half of that of a coal burner of the same size," stated Mr Ward, "and more economical than a Castle class trawler."

Her sister ship, the "Milford Viscount" is at Hull awaiting her engines, and delivery at Milford is expected in October.

~~~~~~~~~~~~~~~~~~~~~~~~~~

From the West Wales Guardian of Friday 12th July 1946:

MAIDEN TRIP

On Wednesday evening the following wireless message was received from the Milford Marquis:— "Off the Porcupines, fishing in 300 fathoms, everything going fine."

This maiden voyage of Milford's super-diesel trawler is creating intense interest in the port and on all sides can be heard praise for the enterprise of the Milford Steam Trawling Co. and its Managing Director (Mr. J. C. Ward, Docks Manager) whose enthusiasm has been infectious and who has been chiefly responsible for the company's decision to invest in big oil-burning vessels.

On Saturday the weather was delightful for the trial trip, and the many guests on board had the grand experience of a run 30 to 40 miles outside the Heads and of seeing the trawl shot and hauled.

Whether the Trawling Company's lead in in diesel trawlers, which are claimed to cut fuel costs by 50 per cent, will be followed remains to be seen, but a number of owners are certainly weighing matters up very carefully.

The Marquis is beautifully fitted up, particular attention being paid to the comfort of the crew, who have a clothes drying room, wash basins and flush lavatories. The boat also carries two lifeboats, derrick-swung. Skipper Albert Saunders, her Master, has a bridge of which he may well be proud. There is an inboard log indicating speed and mileage on a chart, Echo depth sounding gear, telemotor steering, an electric winch (fitted by the Admiralty from a captured German trawler) and controlled refrigeration for the fish room. As stated last week she does over 14 knots, compared with the 10 knots of an ordinary Castle trawler, and on the homeward run on Saturday averaged 13 knots against the tide.

................

~~~~~~~~~~~~~~~~~~~~~~

From the West Wales Guardian of Friday 12th July 1946:

"In my candid opinion as a skipper of 25 years deep sea experience that steam has 'had it', and that my ship, the first diesel-engined of its kind in the country, is the beginning of a new era in the fishing industry."

That, in a nutshell, was the reflection of Skipper Albert Saunders when interviewed on his return from his first trip in the Milford Marquis, and asked his views on her performance on the fishing grounds. The trip aroused great interest and speculation in the port, and when the Marquis was sighted in the Haven on Monday morning, 15 days after she had left, the whole town was eager to know the result.

Skipper Saunders told our reporter that he was quite happy about everything, and that the ship had not had to stop for one minute for mechanical defects. His log recorded 1,200 miles, and they had fished all depths from 320 to 100 fathoms, carrying out certain experiments during the first part of the trip.

"True," went on the skipper, "we were favoured with fair weather, but coming up the west coast of Ireland there was a stiff head-on breeze, and the Marquis made good headway at 10

1 knots, when a Castle class boat could have done only 81 knots. A steam trawler uses 7 to 10 tons of coal a day at about £3 a ton, whereas we averaged 2 tons of oil a day at about £5 a ton. Those figures speak for themselves and that's apart from the complete lack of coal dust and dirt with the oil. I am certain that diesel trawlers are bound to come, and that in another ten years even the Marquis will be obsolete.

Speaking of the crew, the skipper said they were happy and contented with their modern living quarters, where all was planned for their comfort. "They were delighted to have plenty of hot water and ample room," he said, "and they had far more time to relax. We did most of our fishing in the place where the BBC collect all their depressions - off the Porcupine - and we brought back a good mixed bag of 777 kit, mostly haddock."

~~~~~~~~~~~~~~~~~~~~~~

From The Irish Times of 26th March 1947, p.1:
Shots Were Fired To Stop Fishing Smack
The first capture of a poaching trawler by one of the recently purchased corvettes, L.E. Machin, in Inote Bay, had its sequel in Cahirciveen last week, when Captain George Paul, of the Milford trawler, Marquis [sic], was charged before District Justice Johnston at a Special Court, for trawling inside the limits of Eire's territorial waters.
There were two charges, one for being inside the limit for an unlawful purpose in contravention of the Sea Fisheries Acts (1933), and the second for failing to comply with a requisition made by the Sea Fisheries officer, Captain White, of the corvette Macha.
Mr. T. J. Clarke, State Solicitor, appeared for the Minister of Agriculture, and Mr. J. B. Healy for defendant.
Captain White said that on Monday afternoon, when in the vicinity of Dingle Bay, he saw a trawler five miles away. "I put on full speed and hoisted flags, calling on the trawler to heave-to. I took bearings and fixed her position at two miles south on Inishvickillane. The trawler about-faced, and made out to sea at full speed. I gave chase and fired two shots across her stern, she hove-to, and I told her to follow me to Valentia Harbour which she did."
Mr. Healy said that Captain Paul was 28 years fishing off this coast and this was his first offence. The weather was bad and hazy, and he did not know he was inside the limit. When he saw the corvette approaching he thought she was an English boat. He could not see her flags, and he hove-to when the shots were fired. It was purely an error of judgement and he appealed for a small fine.
The District Justice said that he was satisfied that the first charge was proved. He imposed a fine of £25, with £2 costs. For failure to comply with the requisition of the Fishery Officer he would adjourn the case generally with leave to re-enter if Captain Paul was charged again.
~~~~~~~~~~~~~~~~~~~~~~
From the West Wales Guardian of Friday 13th January 1950:
Asked on Thursday about the prospects of Far South fishing, Mr. J. C. Ward told The Guardian, "The potentialities are great, and I am very pleased with the results. He explained that on the first experimental voyage hake was found south of Cape Blanco, about 600 miles below the canaries. On the present trip, trawls were shot in the same area, but there was practically no fish, and the Company's four trawlers moved nearly 250 miles further south towards Cape Verde, where hauling was more success.
"From wireless reports I understand they are getting heavier catches than last time," added Mr. Ward. "The Maythorn got a wire round her propeller on Sunday, but cleared it, and is carrying on fishing. We expect the first of the boats to arrive back in Milford for the weekend of January 22nd."
The round voyage involves a run of 5,000 miles, equivalent to a return trans-Atlantic trip, and three extra hands are carried on each trawler, because fishing can and does continue around the clock, and stowing has to be carried out smartly in the tropical heat. Their escape from the winter gales on home grounds into the more tranquil conditions around Latitude 20N, and the catches, should ameliorate Milford's pressing problem hake shortage.
Mr. Ward is to be commended on his foresight and courage, and his skippers and crews deserve praise for their eager and fruitful co-operation. The Steam Trawling Company's trawlers concerned are the Milford Duke, Duchess and Marquis (Skippers Saunders, Jobson and Rich), and the Maythorn (Skipper Beckett), while the David Ogilvie (Skipper Tom Donovan) of Messrs. Jenkerson's fleet, and the Barry Castle (Consol, Swansea) are also fishing in the area. The Arthur Cavanagh (Milford Fisheries), in charge of Skipper Arthur Harvey, was stated on Thursday to be still steaming southwards towards the new grounds.
~~~~~~~~~~~~~~~~~~~~~~~~
From the West Wales Guardian of Friday 27th January 1950:
On Friday, Saturday and Monday, five trawlers from the West African grounds landed £24,221 worth of hake at Milford. One of the boats, the Milford Duke (Skipper Albert Saunders) established a new all-time record for a local trawler, grossing £6,110 for a 23-day trip.
Here are the trawlers and their catches, which totalled 3,381 kits or 253 tons of hake:
Friday - Milford Marquis (Skipper Harry Rich) 645 kits, £4,791;
Saturday - Milford Duchess (Skipper Jimmy Jobson) 758 kits, £5,533;
Monday - Milford Duke (Skipper Albert Saunders) 847 kits, £6,110;
Maythorn (Skipper Gilly Beckett) 520 kits, £3,747;
David Ogilvie (Skipper Tommy Donovan) 611 kits, £4,040.
The first four trawlers belong to the Milford Steam Trawling Company, and the Ogilvie to Jenkerson. She is oil-fired, and the others diesel ships.
Mr. J. C. Ward, who inspired the "Far South" experiment, said their boats had completed a round voyage of 4,212 miles, and the first boat to return, the Marquis, had only fished for four days, eighteen days being spent in steaming. "We are going back to the same grounds," he added.
"It was like a summer cruise," said sunburned Skipper Rich. The boats fished in Latitude 20 degrees North.
Following complaints from buyers in other parts of the country about the quality of the fish landed, the future of the "Far South" fishing may depend on the landings from the trips now in progress.
Mr. J. C. Ward said on Thursday, "There have been complaints about the quality of some of the fish landed from the West African Coast fishing grounds, and the Maythorn, which has not got a refrigerator on board, has been diverted to northern waters, as have two of our older steamers which have not been on the southern trips before, but which we intended to send on this trip. The Milford Duchess and Marquis, which have refrigerators aboard, are now on their way to southern waters, and we propose that the Milford Duke shall leave for the same grounds this weekend. The reason the Duke is going later is so that we can spread out the landings. We intend to have another go, and see what happens."
~~~~~~~~~~~~~~~~~~~~~~~~
From the West Wales Guardian of Friday 17th March 1950:
The last of the southern hake landings was made this morning (Friday), when the Milford Marquis docked with 83 kits. We understand that the southern trips have now been suspended until autumn.
~~~~~~~~~~~~~~~~~~~~~~~~
From the West Wales Guardian of Friday 25th May 1951:
The first post-war diesel engined trawler purchased by the Milford Steam Trawling Company has been sold to Holland, and subject to the necessary licence for sale to a foreign country being received, together with Treasury sanction for the deal, she will leave the port shortly for the continent.
The trawler is the Milford Marquis, a sister ship of the Milford Viscount, and is better known by her war time name of Post Boy, when as a minesweeper she saw considerable service in Mediterranean waters.
"We hope that we will be able to replace the Marquis by a new vessel," said an official of the company on Thursday.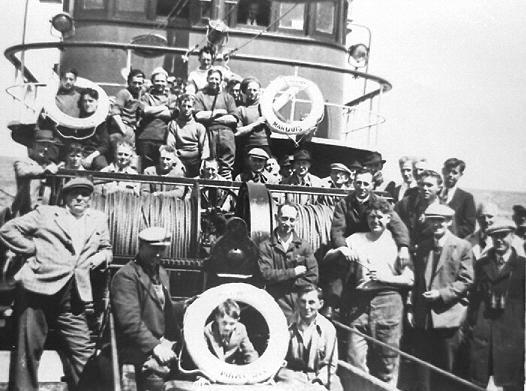 Courtesy of Robert Kettle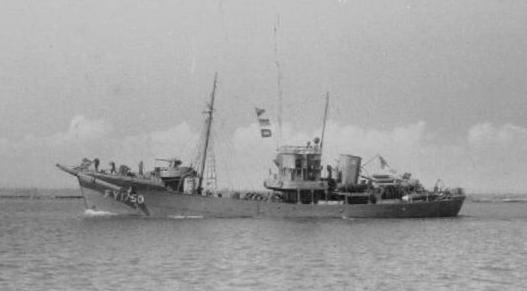 As HMS POSTBOY
Imperial War Museum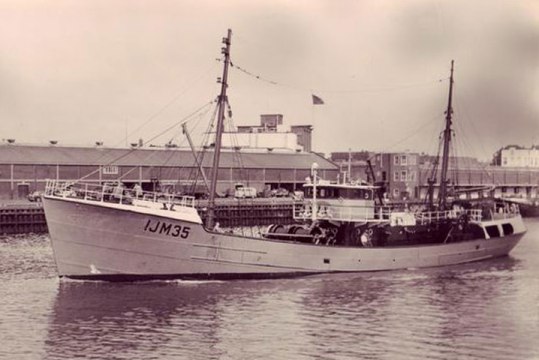 As POSTBOY IJM-35
Thanks to www.scheveningen-haven.nl
Back to Trawlers 1940-88