MILFORD STAR M120
RUDILAIS M120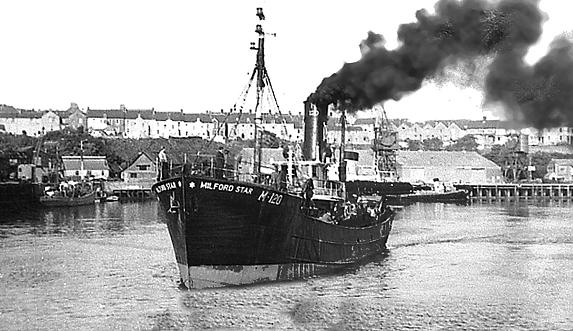 John Stevenson Collection
[See below as RUDILAIS]
Official No: 182006 Port Number and Year: 6th in Aberdeen,1947 (A227)

4th in Milford, 1958

- in Lowestoft, 1964 (LT481)

Description: Round Table Class steel side trawler; steam vessel. Ketch rigged: main and mizzen. Cruiser stern.

Crew:

Registered at Milford: 18 Aug 1958

Built: 1942, by Hall Russell & Co., Aberdeen, as SIR GARETH. (Yard no. 764)

Tonnage: 278.28 grt 108.35 net.

Length / breadth / depth (feet): 126.2 (137.7 oa) / 23.65 / 12.8

Engine: T3-Cyl. 70 nhp. 12 kts. Engine and boiler by builders.

Owners:

As STAR OF THE EAST A227

Apr 1946: Walker Steam Trawling & Fishing Co. Ltd., Commercial Quay, Aberdeen.

Manager: Mrs. Margaret Walker, Ard Beck, Mill Timber, Aberdeenshire.

As STAR OF THE EAST M120

18 Aug 1958: Westward Trawlers Ltd., The Docks, Milford.

Manager: Edgar Erel Carter, The Rath, Milford

30 Sep 1958: As MILFORD STAR M120.

14 Feb 1964: As RUDILAIS.

Manager: Alastair Adams, Eastleigh Drive, Milford. (17 Feb 1964)

Landed at Milford: As STAR OF THE EAST A227: 4 Apr - 6 Jul 1958.

As MILFORD STAR M120: 27 Sep 1958 - 12 Feb 1964.

As RUDILAIS M120: 1 Mar 1964 - 22 Jan 1966.

Skippers: George Mair (1961-63); Vaughan Davies (1965)

Notes:

18 Jan 1941: Ordered.

29 Apr 1942: Completed as SIR GARETH minesweeper, P.No. T.227. 1x12pdr AA; 1x20mm AA; 2x.303 AA mg (2x1).

10 Jul 1943: HMS SIR GARETH (T/Skr. J.P. Smith, RNR) picked up men from the American tanker GULFPRINCE that was torpedoed and damaged by German U-boat U-371 about 30 nautical miles east of Bougie, Algeria in position 37°13'N, 05°12'E. [ Uboat net ]

11 April 1946: Sold to mercantile.

Mar 1966: Vessel towed to be broken up at Passage West, Cork.

Cert. Cancelled & Milford Registry Closed: 18 Dec 1967. Register closed.
Accidents and Incidents:
From the West Wales Guardian of Friday 11th April 1958:

.............. The Aberdeen "hake" class trawler Star of the East arrived at Milford from the Scottish port on Good Friday to join the fleet of Mr. E. E. Carter, M.M. Built in 1942, she too is being prepared for sea. Mr. Carter, who was taken ill whilst visiting Aberdeen, continues to improve at the City Hospital and it is hoped he will be allowed to travel home again.

~~~~~~~~~~~~~~~~~~~~~~~~~

From the West Wales Guardian of Friday 22nd August 1958:

New names appropriate to Milford Haven are to be given to three recently acquired trawlers now fishing from the port. Mr. E. E. Carter's company will rename their vessels Star of the East and Star of the South to Milford Star and Haven Star.

Milford Steam Trawling Company have given notice of their intention to rename the ex-Fleetwood oil burner Admiral Sir John Lawford to Milford Admiral.

~~~~~~~~~~~~~~~~~~~~~~~~~~

From the West Wales Guardian of Friday 26th September 1958:

One New Trawler and Three Converted

Another ultra-modern motor trawler for the Milford fleet will be launched at the Lowestoft yard of Messrs. Richards Ironworks on Monday for the firm of Messrs. Pettit and Youds. The launching ceremony will be performed by Mrs. Virtue Pettit of Milford Haven, and will bear her name, the M.T. Virtue Pettit. She is a sister ship to the 116

1 ft. "hake" class vessel Picton Sea Eagle owned by Picton Trawlers Ltd., and is expected to be in service within eight or nine weeks — a valuable addition to Milford's catching power. Today (Friday) Mr. E. E. Carter's "hake" class trawler Milford Star sails from Appledore for Milford after being converted from coal to oil burning at Messrs. C. K. Harries' yard. She was bought from Aberdeen earlier this year and was formerly the Star of the East. This week-end also at Messrs. Richards Ironworks Lowestoft yard, Mr. W. H. Kerr's drifter trawler Deelite is on her trials after conversion from coal to diesel power and she will rejoin the Milford fleet early next month. Another vessel of the same firm, the Deelux, is also being converted and when she is completed Messrs. Kerr's will have an all-diesel fleet. ...............

Altogether 21 vessels will be oil or diesel powered at the port by the end of the year — nearly half the total fleet of forty-six ships.

~~~~~~~~~~~~~~~~~~~~~~~~~~~

From the West Wales Guardian of Friday 24th November 1961:

SLUMP WEEK

It was a great pity that the maiden landings of Milford's two new trawlers, the Atlantic Seal and the Juniper, should have coincided with an unexpected week of slump, the worst of the year in the port.

No less that 329 kits of hake were landed but quite a quantity of "needles" and "brokers" found their way for cat food.

Five big hake boats, practically half of the port's fleet in this class, landed on Monday, but prices have fluctuated badly. Ray, which was £9 10s. on Wednesday, dropped to £6 10s. yesterday.

Week's top trip was the Milford Star (Skipper George Mair), whose landing was spread over Monday and Tuesday and who had 43 kits of hake and 101 of cod.

Next came the new Juniper (Skipper Alf Beckett), whose catch would have fetched hundreds of pounds more on an average market. He had a100 kits of hake and his grossing was £1,669.

The Nobel (Skipper A. Riby) had 87 of hake on Saturday and Skipper Arthur Harvey, in the new Atlantic Seal, had 73 kits of hake.

~~~~~~~~~~~~~~~~~~~~~~~~~~~

From the West Wales Guardian of Friday 24th December 1961 :

TRAWLERS' DASH TO PORT

Deckhand Injured in Fishing Accident

The Milford Haven sister trawlers, the Haven Star and Milford Star, both dashed into Stornaway in the outer Hebrides last Thursday to land one injured and one sick man.

...............

The same day, the Milford Star, (Skipper G. Mair), another vessel owned by Mr. E. E. Carter's firm, Westward Trawlers, Ltd., also put into Stornoway, to land the Mate, Mr Gordon Allerton, Cromwell Road, who was taken ill at sea. He was given medical attention and was looked after at the Royal National Mission to Deep Sea Fishermen at Stornoway.

~~~~~~~~~~~~~~~~~~~~~~~~~

From The Irish Times of Wednesday 17th January 1962, p.1:
MORE SHIPS MISSING OFF IRISH COAST
Crew taken off coaster
Irish Times Reporter
TWO more ships were reported to be missing off the Irish coast last night after another day of gale-force winds and high seas. The search continued during the day for two trawlers which are also missing.
..................
TRAWLER ASHORE
During the day, the Milford Haven motor trawler Milford Star sent out an SOS stating that she was ashore north of Skye, off the Scottish coast. The captain said that she was making water fast and that he was attempting to beach her. The Swedish ship Ojala, and the British ship Thelma, answered the Milford Star's distress call and were standing by
From the West Wales Guardian of Friday 9th February 1962:
DAMAGED TRAWLER
Milford Star Ready For Sea Again
Skipper George Mair and his crew leave this week-end for Port Glasgow to re-join the trawler "Milford Star".
It is more than three weeks since the "'Milford Star", limped into Loch Snizort. She had gone aground off the Isle of Skye in a snow storm and another Milford trawler, the "Juniper" (Skipper Alf Beckett), stood by her for ten days before returning to the fishing grounds.
Damage sustained by the trawler, described by the owners as 'superficial', has now been repaired.
~~~~~~~~~~~~~~~~~~~~~~~~~
From The Irish Times of Friday 15th February 1963, p.4:
Trawler refloated
The British steam trawler, Milford Star, which went aground on a mud bank off Whitepoint, Cobh, early yesterday morning, was refloated without assistance by the high tide.
The vessel put into Cork Harbour to bunker and went aground at the height of a rainstorm.
Her distress calls were answered by the Marine Transport Services Club and the Cork Harbour Commissioners pilot launch.
These two vessels stood by the trawler which had developed a list to port but was not in any immediate danger. With the flooding of the tide the vessel was set free and having taken on bunkers put to sea again at noon.
~~~~~~~~~~~~~~~~~~~~~~~~~~~
From the West Wales Guardian of Friday 6th March 1964:
SKIPPER IS SUSPENDED:
MILFORD INQUIRY VERDICT
The Ministry of Transport Court of Inquiry at Milford Haven found this morning that the stranding of the trawler Milford Star last August was solely caused by the fault of her 65-year-old master, Mr. George Mair, whose skipper's certificate was suspended for one year as from today.
The Commissioner Mr. Waldo Porges, Q.C., announced that the Court found that the stranding was solely caused by the wrongful act or default of the Skipper in placing too much reliance on the Decca Navigator without recourse to other means of navigation and proceeding at full speed in fog.
The Court found that after the stranding the Skipper took all proper steps for the preservation of his vessel and crew.
The Court commented: "At no time during the voyage was any use made of the echo-sounder and the patent log was not streamed after leaving Belfast. Skipper Mair was content to rely solely upon the Decca Navigator in visibility which precluded any probability of navigational marks or lights being visually observed. The Court considers such an attitude to be very reprehensible.
"Largely as a result of neglecting to make use of his other available aids to navigation, the skipper failed to ascertain in due time that the alteration of course to nor-nor-east had been wrongly made because of a mistaken reading of the Zone-letter on the Decca Navigator."
The Court recommended that the importance of imparting information from time to time during the progress of the voyage to those in charge on the bridge as to the course to be steered and other matters relevant to the navigation should be impressed upon skippers. Easy access to the appropriate charts should be available to those in charge of the bridge.
The Court further emphasised that reliance upon the Decca Navigator to the exclusion of other navigational aids cannot be excused.
Skipper Mair, who has held a Master's certificate since 1922, said afterwards: "I will be retiring sooner than I planned. I intend to return to Scotland."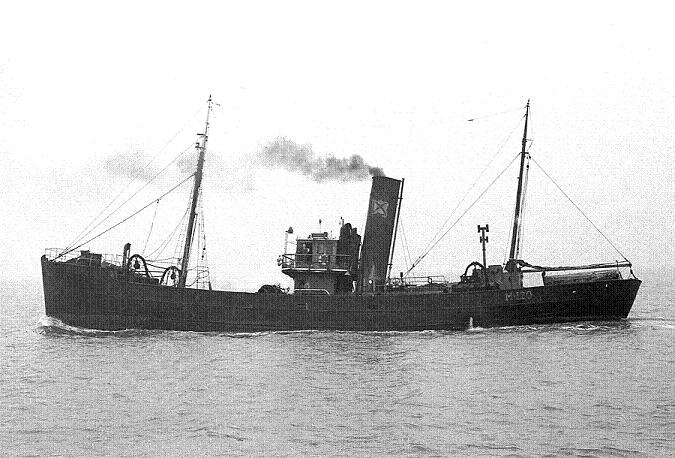 As RUDILAIS
Photo by Peter Brady, Fleetwood Maritime Heritage Trust.
From the West Wales Guardian of Friday 29th January 1965:
BACK TO SEA.— Two local trawlers return to sea this weekend after refit. They are the Rudilais (Skipper Vaughan Davies), belonging to Westward Trawlers, and the Nobel (Skipper Ivor Phillips) belonging to Merchants Ltd. The Rudilais sails tomorrow and the Nobel on Monday.
~~~~~~~~~~~~~~~~~~~~~~~~~~~~~~~~
From the West Wales Guardian of Friday 18th March 1966:
The last of the Milford steam trawlers, the Rudilais, belonging to the firm of Westward Trawlers Ltd., was towed to the Irish port of Cork last weekend for breaking up.
Back to Trawlers 1940-88