NELLIE M144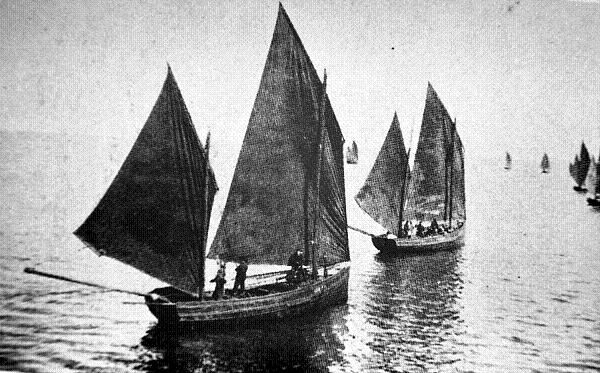 John Stevenson Collection
Official No: 108431 Port Number and Year: 8th in Milford, 1898

- in Lowestoft, 1901 (LT203)

- in Lysekil, Sweden, 1904 (LL444)

Description: Wooden sailing smack; beam trawling and lines. Ketch rigged: jib, mainsail, mizzen.

Crew: 5 men

Registered: 5 Sep 1898

Built: 1898; Milford

Tonnage: 52.44 grt 44.91 net

Length / breadth / depth (feet): 68.4 / 18.6 / 8.3

Engine: (1942) Fitted with a 22 hp Advance motor.

Owners:

5 Sep 1898: Peter Leslie Hancock, Docks, Milford

As LT203

Jan 1901: W. J. Williams, Lowestoft .

1901: W. J. Head, Lowestoft.

As LL444

1904: A. Johansson, O. Ericsson, A. Classon & T. Sandin, Mollosund , Sweden.

1920: A. J. Anderson, Skärhamn, Sweden.

1923: J. G. Berntsson, Hovenaset, Sweden.

1942: Karl F. Radl, Hovenaset, Sweden.

1945: C. A. R. Carlsson, Grundsund, Sweden.

1951: C. E. & M. A. Alfredsson, Vajern, Sweden.

Landed at Milford: 3 Aug - 22 Oct 1898

Skippers: I. Terce cert 1631, age 40, born Brixham; residing - ; signed on 1 Jan 1899

Samuel Mummery 1651, 40, Dover; Station Hill, Brixham; 19 Jan, 11 Jul 1899; 11 Jul 1900

J. S. Pine 6241, 40, Brixham; 30 Sep 1899

E. H. Smith 1768, 30, Brixham; King St., Brixham; 10 Jan 1900

W. Sanders 1058, 38, Brixham; 3 Feb 1900

W. J. Head 3268, 33, Beccles; 1 Clarence Rd., Lowestoft; 22 Jan 1901

Notes: 18 Jan 1953: Bound from Holbeck, Denmark to Moss, Norway with a cargo of brick pipes, stranded in thick fog on Cape Vaslokrok [?], near entrance to Kungsbacka Fjord. Crew escaped in small boat; vessel was a total loss.

[Information kindly supplied by Barry Banham.]

Cert. Cancelled & Registry Closed: 26 Jan 1901. Vessel transferred to the port of Lowestoft.
Accidents and Incidents
Log book entries:
02.03.1899
20 miles SW of St Ann's Head
Strong wind carried away mast.
S. Mummery (Skipper)
20.12.1900
Main mast close to main gaff broken and mainsail torn. Stormy weather.
S. Mummery (Skipper)
02.03.1901
While heaved to off the Godrevy Light Vessel shipped very heavy sea at 9.30 a.m., washing Robert Wigg, Third Hand, and William Garrod, Fourth Hand, overboard. Life buoy was thrown overboard and vessel put about, but no trace of them could be seen. Damage was done by the same sea to the boat and rails.
W. J. Head (Skipper)
J. Wright (Second Hand)
Countersigned - J. W. Crooker, Supt. P.O.M. 4th March 1901.
[ Robert Wigg, 22 years old, born Lowestoft; William Garrod, 19 years old born Lowestoft. ]
_________________________
From the Western Mail of Saturday 17th February 1900:
[Lloyd's telegrams, Friday]
.......................
Nellie ― Plymouth telegraphs: Trawler Nellie, of Milford, in endeavouring to rescue crew of trawler R. T. B. of Looe, previously reported, collided with her; Nellie sank in Sutton Harbour.
~~~~~~~~~~~~~~~~~~~
From the Pembrokeshire Herald and General Advertiser of Friday 8th March 1901:
MILFORD HAVEN.
SEVERE GALE OF THE WELSH COAST.
TWO FISHERMEN DROWNED.
Fishing boats arriving at Milford Haven report several casualties. The fishing smack Nellie arrived in port on Sunday morning, and Capt. W. Head, of Lowestoft, reported having lost two of his men. The Nellie carried a crew of five, and while on the fishing grounds in mid-Channel about 10 o'clock on Saturday morning the smack shipped a heavy sea, which washed overboard Robert Wigg, aged 23, and William Garret, 21. No boat could be launched, and both men, who hailed from Lowestoft, sank almost immediately. They were both single men.
Back to Fishing Smacks