NEMOPHILA M20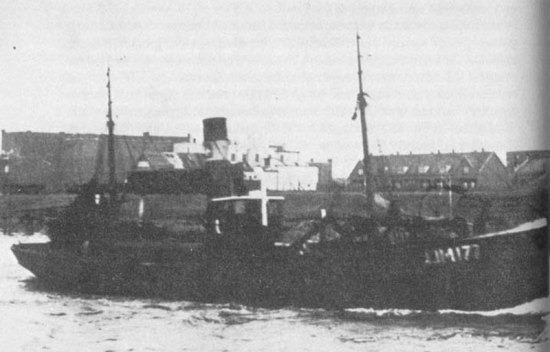 As EMMA IJM177 (see 1917 note below.)
Thanks to www.uboat.net
Official No: 108436 Port Number and Year: 3rd in Milford, 1899

- in Cardiff, 1904 (CF14)

- in Ijmuiden, 1910 (IJM.177)

Description: Steel side / beam trawler; steam screw; coal burner. Ketch rigged, two masts: mainsail, mizzen.

Crew: 9 men (1899, 1909).

Registered at Milford: 20 Mar 1899

Built: J. Duthie & Sons, Aberdeen,1899. (Yard no. 199)

Tonnage: 182.55 gross 34.09 net

Length / breadth / depth (feet): 111.0 / 20.8 / 11.3

Engine: T-3Cyl. 63 nhp.; made by Whyte & Mair, Dundee

Owners:

As M20

20 Mar 1899: Cornelius Cecil Morley, Co. Wexford

William Geoff Davies Goff, Co. Wexford

Managing owner: C. C. Morley

8 Sep 1899: Henry West, 37 Ninian Rd., Cardiff. ) Joint

Joshua John Neale, "Lynwood", Park Rd., Penarth. ) owners.

Managing owner: Henry West.

11 Nov 1904: As CF14


As EMMA IJM.177

1911?: Maatschappij "De Marezaten", Ijmuiden.

Pre 1930: N.V Scheeps Exploitie Maats Emma (Scheeps Exploitie Maats "De Marezaten"), Ijmuiden.


Landed at Milford: 3 Dec 1900 - 4 Nov 1901

Skippers:

John William Setterfield; cert. 3670; Mar 1899.

Alfred Smith; cert. no. 0922, age 42, born Ramsgate; residing 58 Hunter St., Cardiff; signed on 13 Jun 1899

Edwin Cox 4480, 33, Boston; Hope St., Cardiff; 14 Jul 1899; 10 Jan 1900

Charles Isaac Wildridge 1847, 35, Hull; 5 Cambridge St., Cardiff; 31 Mar, 9 Jul 1900; 11 Jan, 4 Jul 1901; 16 Jan, 9 Jul 1902; 14 Jan, 3 Jul 1903; 13 Jan, 13 Jul 1904.

C. Webb 3292, 35, London; 12 Dec 1901.

W. Read 6992, 33, Bristol; 23 Mar 1903.

Notes:

Nemophila is a Californian bluebell.

22/23 Dec 1910: During a gale over two days, most of the crew were injured, the chief engineer had his skull cut open on three occasions, the wheelhouse and cabins were flooded, and the vessel put back to the West Dock, Cardiff. (Weekly Mail, 24th December 1910.)

3 May 1917: Taken as a prize by U43 (Hellmut Jürst) in the North Sea; later released.

1939: Broken up.

Cert. Cancelled & Milford Registry Closed: 15 Nov 1904: Vessel transferred to the port of Cardiff.
Accidents and Incidents:
Log book entries:
18.10.1900
12 miles SW from Smalls Lighthouse
Port quarter bulwark plates and beadings, cement stove in and broken. Whilst engaged in heaving upon net the steam trawler General Roberts, coming with the intention to speak to us, gave his vessel too much headway, which was the cause of the collision.
Charles Isaac Wildridge (Skipper)
03.11.1901
40 miles WNW from Lundy Island
Boiler stays gone to leak badly, caused through excessive heat from fires in the furnaces with the bridges being built too far aft.
C. I. Wildridge (Skipper)
04.12.1903
Bay of Biscay, Lat 48.2N, Long 6.33W
Broken propeller through something passing under our bottom unseen whilst steaming full speed.
C. I. Wildridge (Skipper)
10.12.1903
Cape Finisterre
Whilst heaving up our fishing gear the winch broke down, and the trawl boards being on the ground, a heavy swell running caused the vessel to make a strong drift, and the boards kept digging in under the soil caused the after gallows centre bollards of board chains to buckle and break, and lost the trawl. The cause of it all was through the valve worming being stripped off the rod in steam chest on winch.
C. I. Wildridge (Skipper)
07.03.1904
Superintendent, Mercantile Marine, Cardiff
The skipper's attention has been called to the character for conduct. He states that the men conducted themselves properly on board the trawler, but the drunkenness was reported to him having occurred on shore.
F. Shaw (Supt.)
Back to Trawlers 1888-1914