RANWORTH QUEEN LT176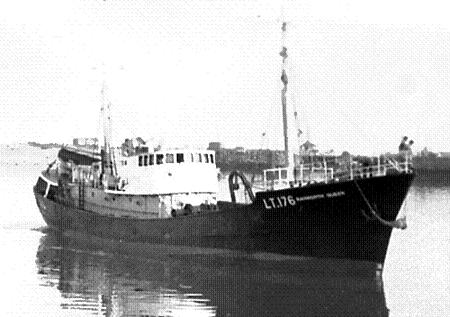 John Stevenson Collection
Official No: 186995 Port and Year: Lowestoft, 1955 (LT176)

Belfast, c.1969 (B94)

Description: Steel side trawler; single screw, motor.

Crew:

Built: 1955, by John Lewis & Sons, Aberdeen. (Yard no. 248)

Tonnage: 179 grt 60 net.

Length / breadth / depth (feet): 102.2 / 21.1 / 9.9

Engine: 2 SA 6 Cyl. 350 hp.

Owners:

As LT176

Mar 1955: Talisman Trawlers, West Hartlepool.

Manager: Arthur W. Soddaby, 38 Church St., Gorleston.

As B94

1969: Blair, Ballyhalbert & Donnan, Portavogie.

Manager (5 Feb1970): W. H.Kerr, Milford

Manager (26 Sep 1970): Peter Wright (Rawlings & Co.,) Milford

c.1972?: Geoma Impek, London, EC1

As WUSHISHI CONQUEST

1973: Nigerian owners.

Landed at Milford: 1970 - 72

Skippers: Clifford Sanders (1970); Harry John (1971)

Notes:
Accidents and Incidents
From a local newspaper, probably the West Wales Guardian of Friday 6th February 1970:
................ Brighter news for the industry is the announcement this week that Messrs. W. H. Kerr Ltd. are taking another boat under their management, bringing the Kerr fleet to eight. The boat is a 100ft. Irish middle-water trawler, the Ranworth Queen, which will sail under Skipper Cliff Saunders with an all-Milford crew. The trawler is expected to make her first trip this week.
~~~~~~~~~~~~~~~~~~~~~~~~
From the West Wales Guardian of Friday 13th February 1970:
Two more trawlers joined the Milford fishing fleet at sea on Saturday. The Ranworth Queen, which had been used for ferrying herrings from Northern Ireland to the Continent, sailed on Saturday under Messrs. Kerr's management, and in charge of Skipper Cliff Saunders on her first trip locally.
Also sailing on Saturday was the crabber class trawler Picton Sea Eagle, which had been laid up for some time. Managed by Norrard Trawlers, she is in charge of Skipper Billy Phillips.
~~~~~~~~~~~~~~~~~~~~~~~~
From the Pembrokeshire Telegraph of Wednesday 3rd June 1970:
The Irish-owned trawler Ranworth Queen, fishing out of Milford for some three months, left the port for good early this week. Managed locally by Mr. W. H. Kerr, Skipper Clifford Saunders was the master. She was tied up a fortnight ago and offered for sale. On Saturday she was sold to another Irish firm, and on Monday a crew from Eire came to take her away. Her departure is yet another blow to the fishing industry.
~~~~~~~~~~~~~~~~~~~~~~~~~~
From the West Wales Guardian of Friday 2nd October 1970:
The Irish-owned trawler Ranworth Queen, which is back again out of Milford, arrived on Sunday, and is due to sail early next week in charge of Skipper TedBowles. She is being managed locally by Mr. Peter Wright of Messrs. Rawlings and Co.
~~~~~~~~~~~~~~~~~~~~~~~~~~~
From the West Wales Guardian of Friday 6th August 1971:
When the Milford trawler Ranworth Queen (Skipper Harry John) was fishing off Lundy, a long cylindrical object came out of the net. On his return to port at the weekend, the "capture", which was believed to be a missile, was reported to the authorities. A naval armaments officer who came from Aberporth to deal with the weapon identified it as an aerial torpedo depth charge.
~~~~~~~~~~~~~~~~
From the West Wales Guardian of Friday 15th October 1971:
The trawler Ranworth Queen, which is managed locally by Mr. Peter Wright, was towed to Ireland last week, with mechanical trouble. She was taken in tow on the fishing grounds by another Milford trawler, the Norrard Star.
~~~~~~~~~~~~~~~~~~~~~~
From the West Wales Guardian of Friday 17th March 1972:
One of Milford Haven's 15 remaining trawlers has been sold and may soon be fishing off the African coast. The 200 ton Ranworth Queen is expected to join a small Nigerian fishing fleet next month and could be crewed by Pembrokeshire men. Negotiations for the sale were handled in London during the weekend and the vessel will be surveyed next week before the agreement is completed.
Although the vessel's impending departure means another blow to the port's dwindling fleet, a new trawler to the port may soon take her place. ...
The Ranworth Queen, 106ft. long and one of the larger near-water trawlers now operating from Milford, has been under [the management of Mr. Peter Wright] since October 1970, but was out of action with engine trouble for two months at the end of last year.
~~~~~~~~~~~~~~~~~~~~
From the West Wales Guardian of Friday 15th September 1972:
After several months in Nigeria a number of Milford fishermen have returned disappointed and disillusioned. They were the crew of the Ranworth Queen.
They had volunteered to take her out and work her there, having been promised company houses and good conditions. Neither of these were forthcoming, and after a bit of hardship the men came home. One was Skipper B. Phillips and his mate, Mr. Norman Phillips, bo'sun Mr. R. J. Berrigan, deckhands Anthony James and Fred Brown, and Chief Engineer Mick Nicholls.
Back to Other Registrations Q-Z