SASOETA M346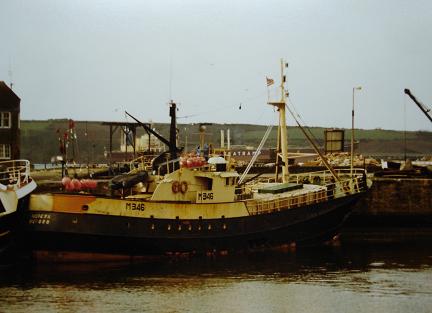 Les Jones Archive
[See also below]
Official No: 700058 Port Number and Year: 8th in Milford, 1982

Description: Steel side trawler, single screw oil burning motor vessel.

Crew: 21
Registered at Milford: 6 Jul 1982

Built: 1974; Astilleros Ardeag S.L., Bilbao, Spain. (Yard no. 78)

Tonnage: 218.56 grt 144.87 net

Length / breadth / depth (feet): 114.8 / 22.7 / 13.1

Engine: Internal combustion engine; oil; 6 cyl. 750 bhp; 11¾ kts; made by Klockner-Humboldt-Deutz.

Owners:

1974: Urarte S.A., Pasajes, Spain

6 Jul 1982: Rawlings (Trawling), 'C' Shed, Docks, Milford.

29 Feb 1984: Building 66, Docks, Milford. [ Change of address. ]

19 Jan 1987: Majorangle, Building 66, Docks, Milford.

As BROSME FH680

1 Jan 1999: Amberalter, Penryn, Cornwall

As BROSME UL576

18 Aug 2008: Owner unknown, but still under same name and registration in January 2011.

Landed at Milford:

Skippers:

Notes:

Sasoeta in the province of Biscay, in the autonomous community of Basque Country, northern Spain.

Brosme is the cusk or tusk, a marine cod-like fish in the ling family.

1991: Same owner and PRN in Olsen's 1992, though Milford Registry closed in April 1989.

Cert. Cancelled & Milford Registry Closed: 11 Apr 1989.
Accidents and Incidents
From an unknown local newspaper of the week beginning 29th October 1984:
Two fishing vessels from Milford Haven were involved in a skirmish with French trawlers off the west coast of Ireland early yesterday. Reports that guns were fired have not been confirmed, but the set-to involved alleged attempts to ram each other in a stormy sea with 30 ft. waves, thought to have lasted about two hours. The incident appears to be part of a running battle between certain boats from Milford Haven and some of their French counterparts over fishing rights.
The Boga and the Sasoeta, both formerly registered at the Basque country port of Ondaroa in Spain, were still at sea last night after the fracas with the two French trawlers. Their company in Milford claimed they had had their fishing lines cut by the French boats despite repeated warnings to the French to change course.
Mr. Jack Crawford, a manager of Crickpoint Ltd., said he had spoken yesterday to the Boga's skipper, Mr. Norman Phillips, by radio.
"He said they warned the two French boats repeatedly that they were encroaching on their lines, but the French took no notice, and sailed on cutting the lines," said Mr. Crawford. "One of the French boats had done this several times before. I don't know the name of it."
Mr. Crawford said his firm's boats had asked for naval protection and an Irish patrol plane had arrived after the incident. A spokesman for the Irish Naval Service confirmed this.
Asked about the reports of gun fire, Mr. Crawford said Skipper Phillips had not mentioned it. "None of our boats to my knowledge has guns on board. There is no way they could - the Customs are very thorough," he added. "The French are inclined to carry shotguns on their fishing boats, they just fire up in the air. I don't think there is any suggestion that they actually fire them at anybody. But they did hit the side of one of our boats in the Bay of Biscay."
.............
Sources have confirmed that the Boga and the Sasoeta and other ex-Spanish boats had been involved in disputes with the French in the Bay of Biscay in the past. These tow boats are "liners", fishing with weighted lines several miles long, each carrying up to 6,000 hooks. When a trawler sails across the lines, as apparently happened in the weekend incident, the trawler nets will pick up not only the lines but their catch, perhaps worth several thousand pounds.
The Boga and Sasoeta are carrying 21 crew members each, of whom approximately three-quarters are local men, and the remainder Spanish. They will return to Milford Haven on Thursday.
..............
~~~~~~~~~~~~~~~~~~~~~~~~~
From the West Wales Guardian of Friday 19th April 1985:
Various operations with Spanish connections have come and gone from Milford over recent years and the only one now remaining is the firmly established Crickpoint Ltd. The company operates four trawlers and two liners from Milford. Their catches are all boxed at sea and shipped straight to Spain on landing. Although there is some Spanish ownership in the company, a major share-holder is managing director John Crawford of Milford. He stressed that the company is a bona-fide U.K. operation.
"Crickpoint is not a flag of convenience operation - it is a genuine U.K. company, registered in London, with U.K. capital and management, British crews and British registered vessels which comply fully with all Department of transport standards," said Mr. Crawford. "We provide work for around 70 to 80 U.K. fishermen, plus shore staff."
The four trawlers are managed by Mr. Crawford, and the two liners by Mr. Ernie Leach. All the vessels are operated on a share basis.
.............
The firm operates two big liners - Boga, a 98ft. and 800 hp vessel, built in 1971, and Sasoeta, a 114-footer which is currently being re-engined in Denmark with a 750 hp B&W engine. She is expected to be back fishing by the end of April. The liners work two to three week trips with a crew of 20, including a Spanish fishing master and Spanish engineer and three other Spaniards. They usually land around 300 kit of boxed fish, which is shipped straight to Spain. The boats work 13,000 short shank hooks on monofilament lines, streaming them in a continuous line if weather conditions permit. Mr. Leach said that the vessels often had problems with French trawlers towing their lines away.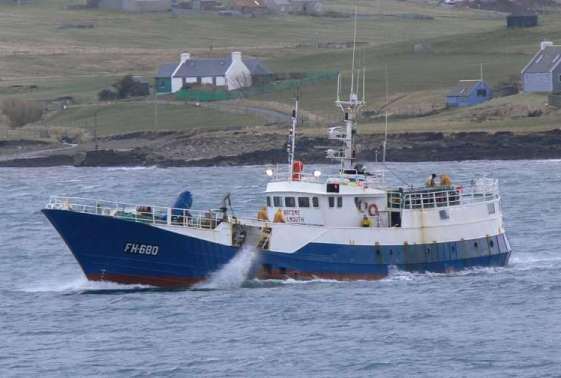 As BROSME FH680
Thanks to www.shipspotting.com
Back to Trawlers 1940-88