SCARBOROUGH LT136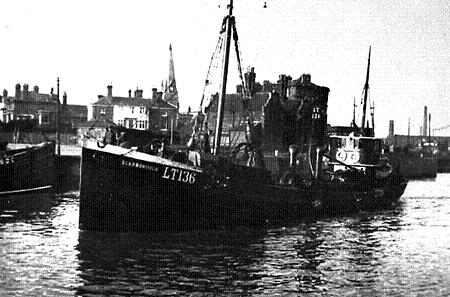 John Stevenson Collection
Official No: 108456 Port and Year: Grimsby, 1897 (GY266)

Lowestoft, 1925 (LT136)

Description: Steel side trawler; steam screw, coal burning. Ketch rigged. Wheelhouse aft. Pareja (pair) fishing.

Crew: 9 men (1897 - 1944).

Built: 1897; by Mackie & Thomson. (Yard no. 139)

Tonnage: 162 grt 55 net (1897); 63 net (1 Jan 1914).

Length / breadth / depth (feet): 104.2 / 20.5 / 10.7

Engine: T.3-cyl; 45 rhp; by Muir & Houston, Glasgow.

Owners:

As GY266

29 Mar 1897: Hagerup & Doughty Co. Ltd., Grimsby Ltd., .

Manager: Fred. E. Hagerup. (Same address.)

Apr 1906: Consolidated Steam Fishing & Ice Co., (Grimsby), 1 Quality Court, London.

Manager: John D. Marsden, Fish Dock, Grimsby.


As LT136

9 Jan 1925: Consolidated Steam Fishing & Ice Co., (Grimsby), Auckland Rd., Fish Docks, Grimsby.

Manager: John D. Marsden, Fish Docks, Grimsby. (1930: Sir John D. Marsden, Bt., Fish Docks, Grimsby.)


1937: Don Trawling Co. (Milford Haven), Docks, Milford

Manager: John C. Llewellin, 11 Priory Rd., Milford.

1944: Cranbrook Shipping Co., Bevis Marks House, London EC3.

Manager: Leonard Frederick Milton.

Landed at Milford: 3 Nov 1937 - 27 Sep 1945

Skippers: Ambrose Setterfield.

Notes:

Oct 1914: Requisitioned by the Admiralty and converted to a minesweeper (Admy.no. 632). 1 x 6pdr.

1919: Returned to owners.

1952: Broken up on Tyneside.
Accidents and Incidents
From an unknown local newspaper dated c. 28th October 1937:

Another pair of locally owned trawlers put to sea on Tuesday night's tide. They were the s.t. Rattray and the s.t, Charmouth, recently purchased by the Don Fishing Company from Fleetwood and Aberdeen, and reconditioned and adapted for the Spanish "Pareja" method of fishing.

This enterprising firm has purchased four more of this class of trawlers from Fleetwood, viz., s.t Aberdeen, s.t. Xania, s.t. Ilfracombe and the s.t Scarborough, two of which have arrived in Milford Docks to be fitted out.

This makes five pairs of boats under the management of Yolland and Llewellyn.

~~~~~~~~~~~~~~~~~~~~~~~~~
From the West Wales Guardian of Friday 22nd August 1941:
Last weekend the Trawler Owners' Association received from the British Fishing Vessels Mutual War Risks Association the following letter.
"The awards committee have awarded a total sum of one hundred pounds (£100) to the skipper and crew of the steam trawler "Scarborough" for meritorious service
on February 20th 1941after enemy attack. The "Scarborough" was bombed out in the Atlantic but the men stuck to their boat and reached home without loss. Owing to the departure to the services and to other ports of members of the crew of the "Scarborough", it was found impossible to mark the occasion with a special presentation and the owners' secretary has sent each share of the reward for valour.
The members of the crew and the amounts each received are.
Skipper Harold King, 10, Waterloo Rd. £ 25.
Mate C. Picton, 28, Upper Hill St. 15.
Bo'sun W. R. Sanderson, (now Royal Navy) 7.
Deckhand G. Smith, (now Fleetwood) 6.
T. Moriarty, Charles St. 6.
Leslie J. Jenkins, 40, Charles St. 6.
E. C. Kellick, (now of Hull) 6.
Cook C. Jones, (whereabouts not traced) 5.
First Engineer F. Lamb, High St., St.Davids 15.
Second Engineer A. Lampard, Shakespeare Ave. 7.
Third Engineer T. Mills, Hubberston Terrace. 5.
Back to Other Registrations Q-Z