SEA GULL M112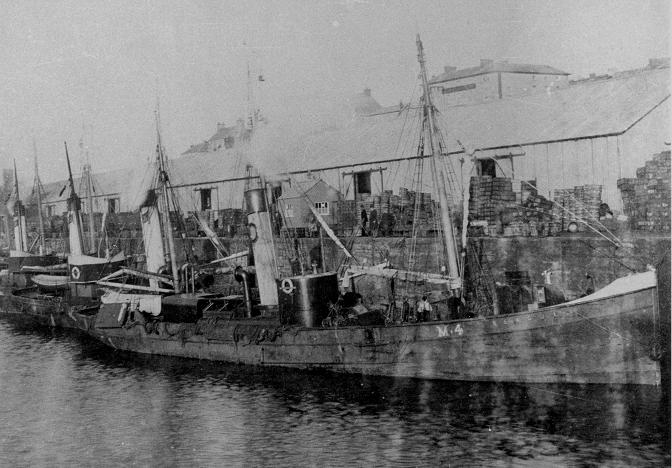 Courtesy of Robert Kettle
(The correct port number was M112 - see Note below.)
Official No: 104113 Port Number and Year: 4th in Milford, 1894. (M112) See note below.

- in Reykjavík, 1905 (RE100)

Description: Steel side / beam trawler; steam screw; coal burner. Ketch rigged: foresail, mainsail and mizzen.

Crew: 9 men (1904).

Registered at Milford: 26 Sep 1894.

Built: Castle Pill Steel Works, Milford (T.R. Oswald),1894. (Yard no. 267)

Tonnage: 146.65 gross 52.23 net

Length / breadth / depth (feet): 104 / 21.1 / 9.95

Engine: C-2Cyl, 50 rhp, by Ross & Duncan, Glasgow. (1874)

Owners:

As M112

26 Sep 1894: Thomas Ridley Oswald, Castle Hall, Castle Pill.

Managing owner.

6 Jun 1905: Walter Henry Smith, 'Belsize House', Goole. (Shipping agent.)

As SEAGULL RE100

13 Jun 1905: G. Einarsson )

Benedikt Stefansson )

Eyjolfur Ofeigsson ) Reykjavik, Iceland

Bjarnhedinn Jonsson )

Landed at Milford: 14 Sep 1894 - 25 Aug 1904

Skippers:

William R. Saunders cert 698, age 32, born Newport, Yorks.; residing 5 Milton Tce., Pill, Milford; signed on 18 Sep 1894; 1 Jul 1895; 1 Jan, 2 Jul 1896

Harry Glansford 1660, 30, Hull; 1 Jan, 6 Jun 1908

J. Clark 612, 42, Grimsby; 20 Jun, 12 Sep, 14 Nov 1898

George Masters 5545, 27, London; Greville Rd., Milford; 14 Nov 1898; 8 Jan, 4 Jul 1900

William Spurgeon 3707, 38, Grimsby; 20 Aug 1900

John Morris 2152, 34, Rye; 18 Nov 1900

A.G. Kippin 5204, 30, Norwich; 7 Dec 1900; 7 Jan, 15 Jul 1901; 2 Jan 1902, 12 May 1904

Ernest Walker 3445, 38, Brighton; 3 Jun 1902

John Henry Dove 2287, 36, Hull; Charles St., Milford; 31 Jul 1902

C. Challis 238, 44, Hull; 5 Nov 1902

J. Nicholls 3975, 42, Plymouth; St. Peter's Rd., Milford; 29 Dec 1902; 1 Jan, 1 Apr 1903

James S. Gray 996, 49, Woodbridge; Great Eastern Hotel, Point St., Hakin; 10 Jul 1903

H. Hills 3190, 32, Ramsgate; 1 Oct 1903

H. Rayworth 3687, 34, Leeds; 7 Nov 1903

Samuel Richards 6941, 23, Neath; 4 Dec 1903

William Milthorpe Dunnil 1074, 46, Bath; 22 Apr 1904

R. Hooper 6686, 44, Plymouth; 4 May 1904.

Notes:

1894: Port number was M112; CHARLES PEARCE (1869 - 1899) was M4.

Cert. Cancelled & Milford Registry Closed: 13 Jun 1905. Vessel sold to foreigners (Danish subjects.) [ Iceland was a part of the Kingdom of Denmark from 1814 to 1918. ]
Accidents and Incidents:
Log book entries:
07.10.1898.
Proceeding out of Milford Docks for the fishing grounds when we collided with the team trawler Exmouth. Damaged her starboard quarter, and Sea Gull's stern, owing to error of judgment of space of canting vessel.
J. Clarke. (Skipper).
20.04.1903.
5 miles from Trevose Head.
Henry James Nichols, age 27, Mate; British, born in Plymouth, residing in Milford.
Cut head, caused by warp slipping out of block and striking the mate's head against rail of ship.
J.Nichols. (Skipper)
[ See newspaper report below. ]
03.11.1903.
Milford Docks.
Damage to the General Roberts' stern. General Roberts coming astern without giving warning by whistle, so we could not get astern.
H. Rayworth. (Skipper).
31.12.1903.
I very much regret that the men who were Skippers at the time carried the following men for a trip or two before signing them on the log. I will take steps to prevent this occurring in future.
Names of the men referred to are as follows:
C. Taylor. Cook, July 10th.
I. Hare. Third Hand, October 13th.
A. Lecoute. Cook, December 23rd.
Yours truly,
T. R. Oswald (Owner).
_______________________________
From The Pembrokeshire Herald and General Advertiser of Friday 24th April 1903:
MILFORD HAVEN
.............
ACCIDENT ON A TRAWLER.- The trawler Sea Gull arrived at Milford Haven on Wednesday and landed the mate in an unconscious condition. He had been knocked down by a warp and hurt his head in falling on the iron deck. Dr. Griffith was in attendance as soon as possible after the vessel's arrival, about 2 a.m. On enquiry we learn that he is still in a critical condition, but is expected to recover.
~~~~~~~~~~~~~~~~~~~~~~~
From The Cambrian of Friday, 2nd September 1904
Swansea Steam Trawlers Put Up
At the Hotel Metropole, Swansea, on Tuesday, Messrs. Leeder and Sons offered, by order of the mortgagees, a fleet of five steam trawlers, the property of Mr. Oswald, bankrupt, namely the Brazilian, Sea Swallow, Sea Gull, Ayacanora, and Birda. The first four had been working in the Swansea fish trade up to date of sale. The Birda needed repairs.
There was no bid for the fleet in one lot. Mr. Leeder asked for a bid over £6,000, saying they had an offer, but were just carrying out their engagement to offer the boats by public auction. Still there was no bid, and the same condition prevailed when the boats were offered separately.
Last of all the trawling smack Reaper, 63 feet in length, built at Brixham in 1883, was offered. Bids began at £100, and the boat was sold to Mr. W. H. Smith and Co., Goole and Hull, for £150.
________________________________
Birgir Thorisson of Iceland has kindly provided the following information:
In 1904, optimism was high in Iceland, which had just been granted home rule. Four men in Reykjavik, two shopkeepers (Benedikt Stefansson and Eyjolfur Ofeigsson), a blacksmith (Bjarnhedinn Jonsson), and a mason (Gudmundur Einarsson), decided to buy a trawler, despite their limited means. They contracted with a fisherman named Jon Bach, who had four years' experience as a deckhand on Hull trawlers, to go to Britain and buy a ship. She arrived in Reykjavik in June 1905 and was delivered to the owners, at the cost of 32.000 kronur (1750 pounds). Jon Bach managed to get his friend and compatriot Arni Eyjolfsson (Byron), who had become a skipper in England, to become her skipper. The ship was named SEAGULL RE 100, but its fishing career was disastrous, (One comment in the press from 1906 was; "It was lying in the harbour with a machine breakdown as usual"). Arni Byron quickly returned to England.
The owners were short of capital, and brought in a wealthy farmer, Thorvaldur Björnsson, who had made money mainly in selling live animals to Britain, (horses for coalmines, and sheep for food). He had in old age sold his farm and moved to Reykjavik and intended to make money in fishing. Thorvaldur soon took over the ship, although G. Einarsson remained in official registers as owners for decades. The ship was painted red, and thus soon was nicknamed (and derided) as Fjósa-rauður (cowshed-red) because of its farmer owner. Both the original buyers and Thorvaldur Bjornsson went bankrupt in 1907. The ship was sold at auction twice in 1907, and in December that year, it was sent on transport mission to the fishing station Vestmannaeyjar. While in harbour, the ship dragged the anchor, and went aground. It was refloated and towed to Hafnarfjordur and broken up there. However the ship wasn´t removed from the register for decades.
The problem with the ship was the engine. For some reason, it was old, obsolete, and presumably reused. I see in my notes that the double-expansion engine was made in 1874.
Back to Trawlers 1888-1914