SEMPER ALLEGRO M130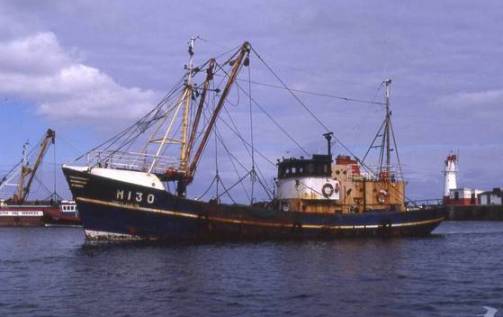 Thanks to www.trawlerphotos.co.uk
(See below under Dutch flag.)
Official No: 712602 Port and Year: - in Scheveningen, 1957 (SCH.67)

- in Lowestoft, 1975. (LT117)

8th in Milford, 1988.

- in Penzance, 1991. (PZ100)

- in Jersey, 2004 (J217)

Description: Steel beam trawler; single screw, motor.

Crew: 6

Registered at Milford: 16 Nov 1988

Built: 1957; Hakvoort, Urk, Netherlands.

Tonnage: 72.23 grt 35.77 net

Length / breadth / depth (feet): 77.0 / 19.5 / 7.8

Engine: Deutz 296hp/221kW

Owners:

As TWEE GEBROEDERS SCH-67 [See photograph below.]

1957: Gebr. J. & P. Wakker.

As CHANDELLE LT117

1975: C. J. Smith, Lowestoft.

1979: Klyne Fishing Co. Lowestoft.

As SEMPER ALLEGRO LT117

1982: Michael B. Thomas, Brixham.

Feb 1985: G. Antoniazzi, Milford.

As M130

16 Nov 1988: S.J., R.T., & M.F. Nowell, c/o Bowjay, Newlyn, Cornwall.

As PZ100

1991: S.J. Nowell, Penzance.

As FRANCES OF LADRAM J217

2004: Waterdance (Jersey), Portman House, Hue St., St.Helier, Jersey.

Landed at Milford: Feb 1985 - ?

Skippers:

Notes:

4 Oct 2003: Picked up 3 survivors of a Cessna 172, 8 miles S. of St. Martins, Scilly Is. [Daily Telegraph, 6 Oct 2003]

4 Mar 2004: Reportedly up for sale. [http://www.newlyn.info/news]

19 Feb 2005: Padstow lifeboat took Frances of Ladram in tow off Trevose Head; taken over by Sennen Cove lifeboat and towed her to Newlyn.

Cert. Cancelled & Milford Registry Closed: 3 Apr 1989.
Accidents and Incidents
From the West Wales Guardian of Friday 8th November 1985:

Record for Milford's lone beamer
Milford Haven's sagging fishing industry got a shot in the arm last week when a local trawler broke the port earnings record.
Milford's only beam trawler, Semper Allegro, owned by Pino Antoniazzi of West Wales Fish Supplies Ltd., landed fish worth £21,500 last week after only six days' fishing in the Bristol Channel.
The previous port record was set some four years ago when Picton Sea Eagle, under Skipper Robert Foster, landed £18,000 worth at Fleetwood following a two-week trip.
The previous record came from 800 kits. Semper Allegro unloaded 100 kits but the catch comprised prime soles, plaice and turbot.
Mr. Antoniazzi said that the 73ft. beamer, which he bought for in excess of £100,000 last February, is now beginning to show a healthy profit. He is looking into the possibility of acquiring another similar vessel.
He added that a great deal of the credit for the vessel's success goes to the expertise and experience of the vessel's skipper, Geoff Cudd, formerly of Dolly Mop, and mate Peter Vanderputt. Both are from Brixham and they joined the company only ten weeks ago.
[In addition, four local men made up the crew of the SEMPER ALLEGRO.]
~~~~~~~~~~~~~~~~~~~~~
From either the West Wales Guardian or the Fishing News of Friday 28th November 1986:
Milford co-op buys two ships
The Milford Haven, Wales, fishing industry has received a boost with the arrival of two ex-Lowestoft side trawlers at the port and another is due to join the fleet shortly.
The Milford Fishing Co-op run companies Norrard and Southard have bought two trawlers from Colne Shipping of Lowestoft and negotiations for a third vessel are under way.
..............
Sources at the port say that, if it wasn't for the co-op, there would be no future for the fishing industry and the port would be used for transit only. Even Milford's one beamer, Semper Allegro, often lands into Brixham rather than Milford.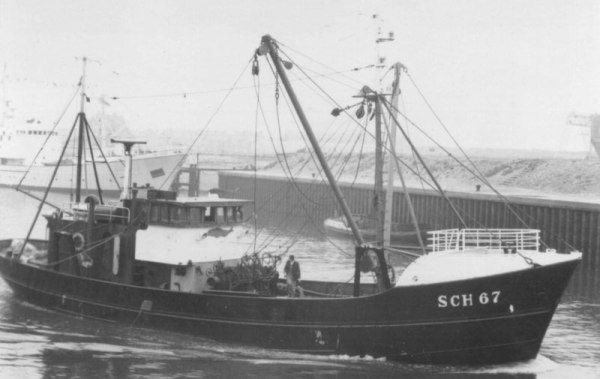 TWEE GEBROEDERS SCH-67
Thanks to www.scheveningen-haven.nl
Back to Trawlers 1940-88