SERRANO HEVIA M11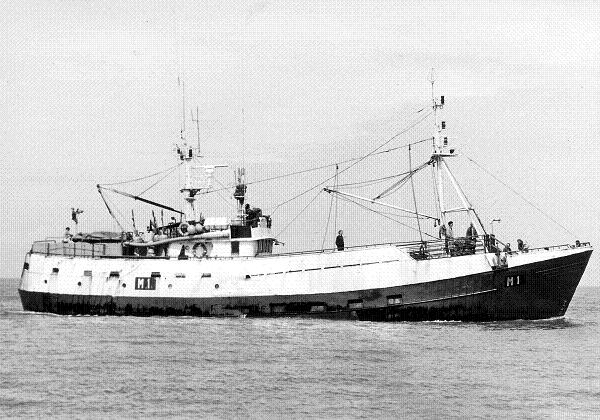 As M1, c.1991
Photo by Peter Brady, Fleetwood Maritime Heritage Trust.
Official No: 711944 Port Number and Year: 6th in Milford, 1986. (M11)

? in Milford, c.1990. (M1)

Description: Steel motor ship; liner and nets.

Crew:
Registered at Milford: 22 Aug 1986

Built: 1969; Astilleros Neptuno, Valencia, Spain.

Tonnage: 220.37 grt 102.66 net

Length / breadth / depth (feet): 88.68 / 23.06 / 11.32

Engine: Oil; 4 single acting 8 cyl. 660 bhp; 12.5 kts; by Naval-Stork-Werkspoor, Cadiz.

Owners:

1968: Ramon Serrano Muniz, Gijon, Spain

As M11

22 Aug 1986: Sun Fisheries, Building 66, Docks, Milford.

As M1

c.1990: Same owners.

Landed at Milford:

Skippers:

Notes:

Serrano Hevia is a Spanish family name.

Cert. Cancelled & Milford Registry Closed: 3 Apr 1989.

[ But M1 in Olsen's 1992 edition, and see 1998 "Times" newspaper article below.]
Accidents and Incidents
From the Western Telegraph & Cymric Times of Wednesday 15th February 1989:
Skipper cleared
The skipper of a trawler which operates from Milford Haven was cleared by the town's magistrates on Wednesday of having an uncertificated second hand on board the vessel Serrand [sic] Hevia.
The vessel, owned by mainly Spanish directors but managed by a Milford Haven-based company, was alleged, by the Department of Transport, to have entered the port on February 2nd without a certificated second hand aboard.
The skipper of the boat, Brian Craig, an Englishman now living in Spain, denied the charge and claimed that the vessel had sailed from La Corunna to Milford Haven ready to sail and not to fish.
The only reason it came into the port was to pick up a newly-made second mate, said the defence solicitor, Mr. Howell Williams.
.............
~~~~~~~~~~~~~~~~~~~~~~~~
The Times, Tuesday, Apr 21, 1998; pg. 4:
Home news
Spaniards face £1m penalties for overfishing
SPANISH fishermen face fines of more than £1 million today after pleading guilty to massive overfishing in British waters.
Thirteen companies and ten skippers admitted more than 100 offences of overfishing, catching protected species and falsifying log books between 1995 and 1997. The offences carry the potential penalty of "unlimited" fines.
Michael Davey, prosecuting for the Ministry of Agriculture, Fisheries and Food, told Haverfordwest Crown Court: "Taken together this is the largest group of offences ever to come before the courts in this country. In some individual cases they also represent the grossest examples of over-fishing ever to have been detected."
One vessel, the Serrano Hevia, was found with 128 tonnes of anglerfish tails on board when the skipper had a licence to catch just two tonnes. Another trawler, the Eder Sands, caught seven tonnes of hake when the population was so dangerously low that the fishing grounds had been officially closed.
All the trawlers which sailed out of La Coruna, in northern Spain, fished for hake and anglerfish off the West Coast of Britain and sailed straight back home with their catches.
Mr Davey said the companies were registered in Milford Haven, Pembrokeshire, in order to qualify for British fishing quotas.
The overfishing came to light after a series of interceptions by fisheries' protection vessels from Britain and Ireland.
"The skippers tended to keep accurate logs because false entries would have meant being detained. But when the logbook entries were analysed the offences were uncovered," he said.
Ministry officials also found logbooks and landing declarations had been altered to suggest some fish had been thrown back or were of a different type.
The defence failed in its latest attempt to have sentencing postponed when Judge Martin Stephens said he "wanted to get on with it" before retiring in seven years' time.
Mr Davey said the quotas protected species under pressure and were altered each month to reflect population levels. "These offences are very difficult to detect," he said, adding that under new European Union rules any overfishing by five tonnes or more would be deducted from the British total for the following year.
Back to Trawlers 1940-88