SOLVA M22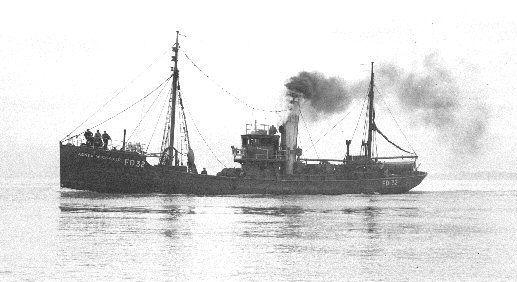 As AGNES WICKFIELD FD32 (1914-53)
Courtesy of Fleetwood Maritime Heritage Trust and The Bosun's Watch
Official No: 128748 Port Number and Year: 5th in Milford, 1909 (M22)

- in Fleetwood, 1914 (FD32)

Description: Steel side / beam trawler; steam screw, coal burning. Ketch rigged: foresail, mainsail, mizzen.

Crew: 9 men (1909)

Registered at Milford: 23 Feb 1909

Built: 1909 by Smith's Dock Co., North Shields. (Yard no. 400)

Tonnage: 218.77 grt 84.65 net.

Length / breadth / depth (feet): 117.4 / 21.6 / 11.8

Engine: T 3-Cyl. 72 nhp. 10 kts. Engine by Shields Engineering & Dry Dock Co., North Shields; boiler by Robert Stevenson & Sons, Hebburn on Tyne.

Owners:

As SOLVA M22

23 Feb 1909: Thomas George Hancock, 23 St. Ann's Rd., Hakin. (Managing owner.) (32/64)

John Davies Harries, Hamilton Tce., Milford. (32/64)

5 May 1914: Charles Hudson, Fish Dock, Fleetwood. (64/64)

23 May 1914: Hudson Fishing Co., Wyre Dock, Fleetwood.

Manager: Charles Hudson, Galloway Road North, Fleetwood.

25 May 1914: As AGNES WICKFIELD FD32

13 Apr 1918: New Docks Steam Trawling Co. (Fleetwood) Ltd., Station Rd., Fleetwood

Managers: Joseph A. Taylor. (Address above.)

William W. Brierley, Orient Buildings, Station Rd., Fleetwood. (1924)

1938: Clifton Steam Trawlers, Station Rd., Fleetwood.

Manager: Hulbert M. Bird. (Address above.)

Landed at Milford: 7 Mar 1909 - 5 May 1914

Skippers:

Josiah Pratt cert. 6106, age 40, born Hull; residing Milton Tce., Pill, Milford; signed on 20 Feb, 6 Jul 1909; 11 Jan 1910

J. S. Barker 8056, 25, Scarborough; 16 Mar 1910

William Henry Fransham 4943, 39, Halversgate; Gwili Rd., Hakin; 1 Jul 1911; 1 Jan, 1 Jul 1912

Robert Woodgate 4187, 46, Beer; 21 Sep 1912

Robert Major Limbrick 9616, 50, London; 11 Nov 1912

Charles Thomas 7371, 32, Neyland; Robert St., Milford; 27 Dec 1912; 1 Jan 1913

W. F. Reynolds 7337, 30, Scarborough; 18 Feb, 8 Jul 1913

Frederick Walter Garton 8606, 27, Hull; 23 Jun 1913

J. Reader 6685; 1913-14

Notes:

Solva is a village on the north coast of St. Bride's Bay, near St. David's and on the road to Haverfordwest; in Welsh: Solfach.

Agnes Wickfield is David Copperfield's second wife in Charles Dickens's novel "David Copperfield".

Aug 1914: Requisitioned as minesweeper AGNES WICKFIELD (Admy. No. 125). 1 x 6 pdr.

1919: Returned to owners.

Nov 1939: Requisitioned by Admiralty as minesweeper (P. No. FY.727)

Dec 1945: Returned to owners.

20 Dec 1952: Vessel broken up by Thos. W. Ward, at Preston.

Cert. Cancelled & Milford Registry Closed: 23 May 1914. Transferred to the port of Fleetwood.
Accidents and Incidents
From the Haverfordwest & Milford Haven Telegraph of Wednesday 3rd March 1909:

On Thursday the handsome new steam trawler "Dinas" made her maiden voyage, which, however, was not very large, fetching £217. The skipper is Mr. Tom Salter, who, when in charge of the ill-fated "Manaos", performed such a deed of valour in securing the safety of the crew. The "Dinas" has been built at the yard of Smith Docks Trust, South Shields, for Messrs. Hancock and Harries.

Another new steam trawler for the same firm, viz., the "Solva", is also on the fishing grounds in charge of Skipper G. Pratt.

________________________

Log Book entry:
24.12.1912.
St. Ann's Head.
Carried away small boat. Cause - shipped a heavy sea.
Robert Major Limbrick. (Skipper) .
[ See newspaper article below. ]
~~~~~~~~~~~~~~~~~~
From the Haverfordwest & Milford Haven Telegraph of Wednesday 1st January 1913:
THE GALE FELT AT MILFORD HAVEN
The gales which have prevailed all round the coast were severely felt at Milford Haven, for the greater part of last week. ... All the trawlers arriving at the fish market from Thursday onwards numbering about 25 all report terrible weather at sea, from every direction. The Lynmouth off the Smalls had an awful experience and was almost submerged as was also the Fishergate, and the Solva too reported a similar story of the battle with the mountainous seas. Almost every vessel was damaged in someway or another, some of course worse than others. Bridge windows were smashed and gear carried away, and more than one ship had her lifeboat washed away. Several vessels have had to seek shelter at various places on the Irish coast and those at sea were unable to fish and some of them returned with very small catches for about 15 days. A few of the boats, which have been on the Portuguese and Morocco grounds, have made good voyages of hake and soles, the Albion grossing £400 on Thursday. The home waters however are not productive and fish is scarce and unless the weather abates there will be a continued shortage of supply for some time yet.
~~~~~~~~~~~~~~~~~~~~~~~~~~~~~
From the Haverfordwest & Milford Haven Telegraph of Wednesday 8th October 1913:
On Saturday, Messrs Hancock & Harries, steam trawler owners, received a wire stating that an accident of a serious nature had occurred on their steam trawler "Solva", off the Irish Coast, and that the ship had put into Castletown, Berehaven, and landed its chief engineer, Mr Albert Mathias, whose head, the wire stated, had been crushed in the ship's engine. The injured man was taken by motor car to the North Hospital, Cork.
In the absence of any details of how the accident occurred, and the exact extent of the injuries, the relatives of the injured man were kept in a state of anxiety which was intensified on Monday morning, when in reply to their enquiries, a telephone message was received by Mr. A. J. Rust, stating that the injuries were were a fractured skull and jaw.
A wire was also received by the owners of the vessel, and this stated that the upper and lower jaw were fractured, the teeth loosened, and head crushed, and in two or three days' time Chief Mathias would be placed under x-rays for examination.
He is the son of Mr Jonathan Mathias, Beach House, Pill, and his wife and two young children, with whom much sympathy is felt in their anxiety. The brothers left for Cork yesterday..
~~~~~~~~~~~~~~~~~~~~~~~~~~
From the Haverfordwest & Milford Haven Telegraph of Wednesday 13th May 1914:
MORE TRAWLER CHANGES.
During the past week the steam trawler Dinas has changed owners, having been acquired bv Mr G. H. D. Birt from Messrs Hancock & Harries. Her sister ship, the Solva, has now left for Fleetwood and satisfaction is expressed that the Dinas is to remain at this port. Mr Birt is also about purchasing the steam trawler Norman from Messrs Neale of Cardiff. This vessel formerly sailed from Milford Haven and her return will be welcome. Mr Brand is at present away for the launch of his firm's latest trawler at Aberdeen and this vessel will therefore be round in the course of a few weeks. All this is good news for the port.
~~~~~~~~~~~~~~~~~~~~~
From the Haverfordwest & Milford Haven Telegraph of Wednesday 8th July 1914:
LOCAL TRAWLER'S SALVAGE SERVICES.
TANK STEAMER IN DISTRESS.
In Dublin on Friday Mr Justice Boyd delivered judgment in a series of claims made by the owners of the steam trawlers Apley (Neyland Steam Trawling Co.), Isaak Walton, Nogi and Solva, Hancock and Harries, Milford Haven, against the owners of the Dutch tank steamer Rotterdam for salvage services rendered to the vessel during several days in February last when she lost her rudder and stern post and was helpless in bad weather about 70 miles off the south-west coast of Ireland. The value of the vessel was roughly estimated at between £30 000 and £40,000. The value of the trawlers was about £600 each.
Mr Justice Boyd, in delivering judgment, said the assessor and he had very carefully considered the evidence. They were of opinion that the trawler Apley had rendered services which entitled her to £600, that was £350 more than the sum which the owners of the Rotterdam had lodged in court. With regard to the Isaak Walton, £350 had been lodged as compensation. The court thought that she was entitled to £700. In the case of the Nogi, they thought that, instead of £200 lodged in court, the compensation ought to be £300, and that was the sum fixed by the court. As to the Solva the court had come to the conclusion that she did very little service. £200 had been lodged in court as a reward for her services, and the court believed that the sum was sufficient for the owners of that vessel for what she had done. Therefore the action by the owners of the Solva would be dismissed.
The hearing of the case lasted several days.
Back to Trawlers 1888-1914