SUTHERNESS M97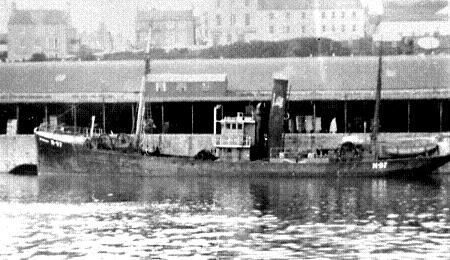 John Stevenson Collection
Official No: 136250 Port Number and Year: 35th in Hull, 1915 (H331)

2nd in Milford, 1946

Description: Steel side trawler; steam screw, coal burning. Ketch rigged: mizzen sail.

Crew: 9 men (1915); 12 men (1946).

Registered at Milford: 29 Mar 1946

Built: by Cook, Welton & Gemmell, Beverley, in 1915. (Yard no. 313)

Tonnage: 269 gross 107 net

Length / breadth / depth (feet): 123.8 / 22.75 / 12.25

Engine: T 3-Cyl. 78 nhp. 10kts. Engine and boiler by Amos & Smith, Hull

Owners:

As FORWARD HO H331

26 May 1915: S. T. White & Co. Ltd., St. Andrews Dock, Hull.

Manager: Samuel T. White. (Same address.)

1926: Charles Hudson, 'The Moorings', Chestnut Ave., Hessle, E.Yorks.

Managing owner.

1927: Seaward Fishing Co. Ltd., St. Andrew's Dock, Hull.

Manager: Charles Hudson. (Same address.)

1929: Herbert Field, 'The Balcony', North Roadway, St. Andrew's Dock, Hull.

Manager: Charles Hudson. (Same address.)

Archibald Hudson, 'St.Catherine's', Swanland Rd., Hessle, E.Yorks. (c.1932)

As SUTHERNESS H331

1933: Trident Steam Fishing Co., St. Andrew's Dock, Hull.

Manager: George A. Ledger.

As SUTHERNESS M97

29 Mar 1946: Edgar Erel Carter, The Docks, Milford.

Managing owner.

Landed at Milford: 25 Apr 1946 - 6 Jun 1961

Skippers: J. Binham (1945); Jack Clark (1950s); Sid Hearn (1950s); Bruno Linke (1961).

Notes:

Jul 1915: Requisitioned as FORWARD HO and converted to a minesweeper. 1x6pdr. (Ad.No.1560).

1919: Returned to owners.

Jun 1940: Requisitioned as SUTHERNESS (P.No. 4.174) and converted to an auxiliary patrol vessel.

Sep 1945: Returned to owners.

10 Jun 1961: Foundered 15 miles off Islay. No lives lost. [See story below.]

Cert. Cancelled & Milford Registry Closed: 22 Jul 1961
Accidents and Incidents
From the West Wales Guardian of Friday 19th October 1945:
Two well-known Milford skippers, John Binham, Yorke Street, and Charlie Thomas, Torrington House, Great North Road, met with with painful accidents at sea this week. Skipper Binham on the "Sutherness" (Messrs. Carter) twisted to avoid spray and hurt his back. Skipper Thomas, working on the trawler "Dandolo" (Milford Fisheries) was struck in the abdomen by a trawl board.
~~~~~~~~~~~~~~~~~~~~~~~~
From the West Wales Guardian of Friday 22nd April 1949:
Two members of the Westward Trawling Company's "Sutherness" were put ashore at Berehaven, Ireland, last week, having been injured when a heavy sea washed them against the casing. They were the bosun, Mr. F. Aldridge, 49 Robert Street, and Third Hand, Mr. J. Goldsmith, 17 Nubian Crescent, Hakin.
During their stay in hospital (they are now home) they were visited by Mr. E. C. Carter, who was holidaying in Ireland.
~~~~~~~~~~~~~~~~~~~~~~~~~~~~~
The Times, Monday, Jun 12, 1961; pg. 7; Issue 55105; col B

News in Brief
ADRIFT FOR TWO HOURS.- After being adrift on a raft for nearly two hours the crew of 11 of the Milford Haven trawler Sutherness (269 tons), which sank off the Islay light early on Saturday, were picked up by the ore-carrier Bishopsgate (12,875 tons), and landed at Greenock.
~~~~~~~~~~~~~~~~~~~~~~~~~~
From the West Wales Guardian of 16th June 1961:
MILFORD TRAWLER SANK IN TWENTY MINUTES
When the Milford trawler Sutherness sailed last Thursday afternoon one of her regular crew, 57-year-old Joseph Pace missed his ship – he was on the way to Swansea gaol for a month for a drunkenness offence.
At I a.m. on Saturday the 123ft. Sutherness sank off the island of Islay, Scotland. One of eleven-man crew saved from a life raft was Fireman Dennis Kelly, who replaced Joe at the last minute.
NO PANIC
The Sutherness, owned by Mr. E. E. Carter, M.M., of Westward Trawlers, Ltd., sank twenty minutes after a leak developed in a main injection valve and five minutes after her master, 35-year-old Skipper Bruno Linke had ordered his men to leave the ship, whose decks were then awash.
They were in a life raft 100 yards off from the trawler when she sank stern first.
Two hours later the trawlermen were picked up safe and sound by the 18,000-ton iron ore carrier Bishopsgate.
"There was no panic at all. Every man remained cool and did exactly the right thing. I was proud of my crew," the genial Polish-born Skipper told the "Guardian" at his home at 119, Waterloo Road, Hakin.
Skipper Linke and his shipmates were landed at Greenock, Scotland, on Saturday afternoon and left for home that night. They were met at Carmarthen railway station by car on Sunday evening by Mr. Carter himself and his manager, Mr. Alec Adams.
The crew were: Skipper Linke; Mate J McDougall, 94, Coombs Drive; Bo'sun Dick Burder, 20, Langford Close, Johnston; Third Hand S. Farrow, 16, Riga Avenue, Neyland; Deckhands Harry Briggs, 8, Eighth Avenue, Brittania Estate, Pembroke Dock, and Paul Zacharski, 26, Nubian Crescent, Hakin; Cook Fred Forster, 12, Brooke Avenue, Milford Haven; Chief Engineer Hedley Laugharne, 33, Charles Street, Neyland; Second Engineer Joe Dalton, 34, Augustine Way, Haverfordwest; Firemen J. Wrobel, 60, Picton Road, Hakin, and Dennis Kelly, 26, Lower Hill Street, Hakin.
Although 40 years old, the Sutherness was well-known as a sturdy sea ship. She sailed from Milford on Thursday afternoon for the fishing grounds off Barra Head, Scotland.
ENGINE ROOM FLOODED
Skipper Linke, in matter-of-fact terms, told our reporter what happened as he relaxed in his home. "I was on watch in the wheelhouse at 12.40 a.m. on Saturday," he said. "We were steaming north to the Barra Head grounds and were about 15 miles off the island of Islay. The weather was perfect. Chief Engineer Laugharne suddenly burst in and shouted, 'Quick, quick, she's making water fast.' I went aft with him and by the time I got there the engine room was half flooded. The Chief told me that water had started to gush in through the main valve. He tried to stem it but failed and gave the alarm. I ordered the crew who were off watch to be roused and went to the radio to send out a 'May Day' distress message giving our position. I got a very quick response from Oban Radio. Afterwards I spoke to a few ships in the vicinity who offered to come to our assistance. The last ones I spoke to were the Fleetwood trawlers Broadwater and Red Crest. The crew had gathered on deck and had all the life-saving equipment ready. By then the ship was nearly half submerged and the decks were awash. I gave the order to abandon ship and we all jumped into the lifesaving raft which is certainly a wonderful invention. We got about 100 to 150 yards off when we saw the Sutherness go down by the stern. Then we waited to be picked up. The raft was very comfortable and one of the men had been able to save his transistor wireless. So we had a little music to cheer us up."
Skipper Linke said: "I could see ships all round us in the distance and we were sure we would be picked up pretty soon. It was the Bishopsgate which reached us first and took us aboard. The Captain and crew gave us a wonderful reception and did everything they could for us. We reached Greenock at 4 p.m. on Saturday. Everyone was very kind to us there. The Royal National Mission for Deep Sea Fishermen fed us and the Shipwrecked Mariners' Society issued us with whatever new clothes we wanted. Overnight accommodation had been arranged but we all wanted to get home as soon as we could."
Skipper Linke added: "Mr. Leonard Jamieson, Gorsewood, the Charles Street draper, was going to come to sea for a trip with me this trip but decided to wait and come on the Sutherness next trip."
Mate McDougall and Fireman Kelly joined the crew of the trawler for a trip because their regular ship, the Caldy, owned by the same firm, was laid up.
Cook Fred Foster, who was roused from sleep when the trawler started to sink, said: "We immediately prepared to leave the ship, which was sinking steadily. If the weather had not been so good there could have been loss of life."